Former Cards Motte, Chambers see other side of Cubs rivalry
Both players ready to take advantage of new opportunity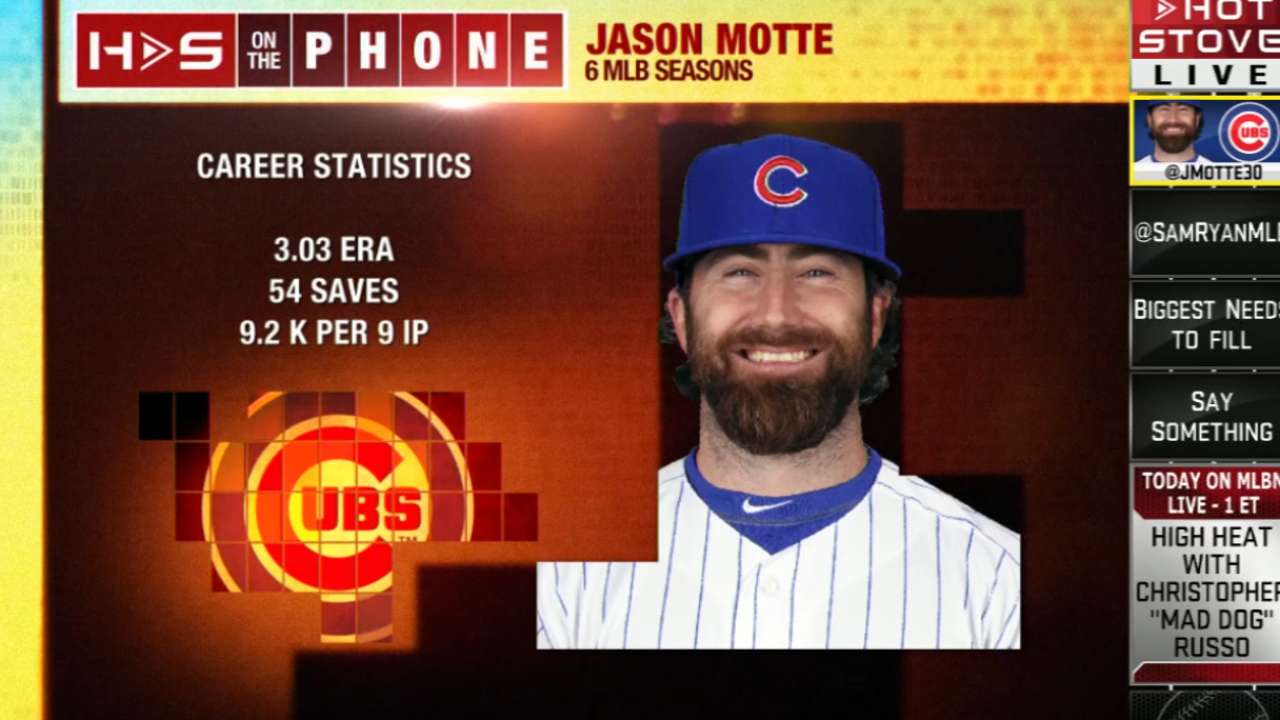 MESA, Ariz. -- The history between the Chicago Cubs and St. Louis Cardinals has been intertwined for more than a century. The legendary Ernie Broglio for Lou Brock trade may be the most notable, but many players have suited up for both clubs. Included in the select group are Bruce Sutter, Dizzy Dean, Dennis Eckersley and Leo Durocher.
Now you can add former Cardinals Jason Motte and Adron Chambers to that list. Chicago signed Motte to a one-year deal worth $4.5 million and gave Chambers a Minor League deal and a non-roster invite to Spring Training.
"My job is the same: to go out there and get people out," Motte said. "There are a bunch of good ballplayers, so it's just about going out there, handling your business and doing what you need to do and take care of."
After Tommy John surgery forced Motte to miss the 2013 season, he had a down year in '14 with a 4.68 ERA in 29 appearances. Before the operation, he recorded 42 saves in '12 and posted a 2.25 ERA in '11. Motte also pitched the ninth inning in Game 7 of the Cards' '11 World Series victory.
On his way to a title, Motte learned a few lessons he hopes to instill in the Cubs' clubhouse.
"It's just about keeping a positive attitude and everybody cheering everybody on regardless of what your role is," Motte said. "We're a team, we're a family. We've got to go out there and pull for each other."
Motte admitted those memories of St. Louis are still fresh, but he will also have a new perspective of Busch Stadium from the visitors' bullpen when the Cubs and Cardinals meet this season in St. Louis.
"It will be pretty cool," he said. "I have met a lot of friends and people along the way, so it will be great to see them. There are a couple places I know I'll have to go eat."
Chambers watched Motte clinch the '11 World Series from the Cardinals' dugout. He was an emergency callup for Matt Holliday, who injured his right pinkie finger during Game 6. Chambers played for the Cards through '13. He spent last season splitting time between the Blue Jays and Astros Minor League systems.
Chambers told Cubs manager Joe Maddon he's just thankful for the opportunity and to have some friendly faces from his time with the Cardinals around the clubhouse.
"I'm just happy I've still got a chance to play," Chambers said. "Edwin [Jackson] and Jason [Motte], they're like big brothers to me. Having those guys around on a new club like this is very beneficial for me. I'm going to try and take full advantage of it."
Motte plans to do the same as he and Chambers move on from their time as Cardinals. They're now ready to perform in a Cubs uniform.
"I'm going to go out there and give it all I've got," Motte said.
Nick Krueger is a junior journalism student at Arizona State University. This story is part of a Cactus League partnership between MLB.com and ASU's Walter Cronkite School of Journalism and Mass Communication. This story was not subject to the approval of Major League Baseball or its clubs.