Andrelton playing it safe with sore oblique
Shortstop hopes to be cleared for full baseball activities by next week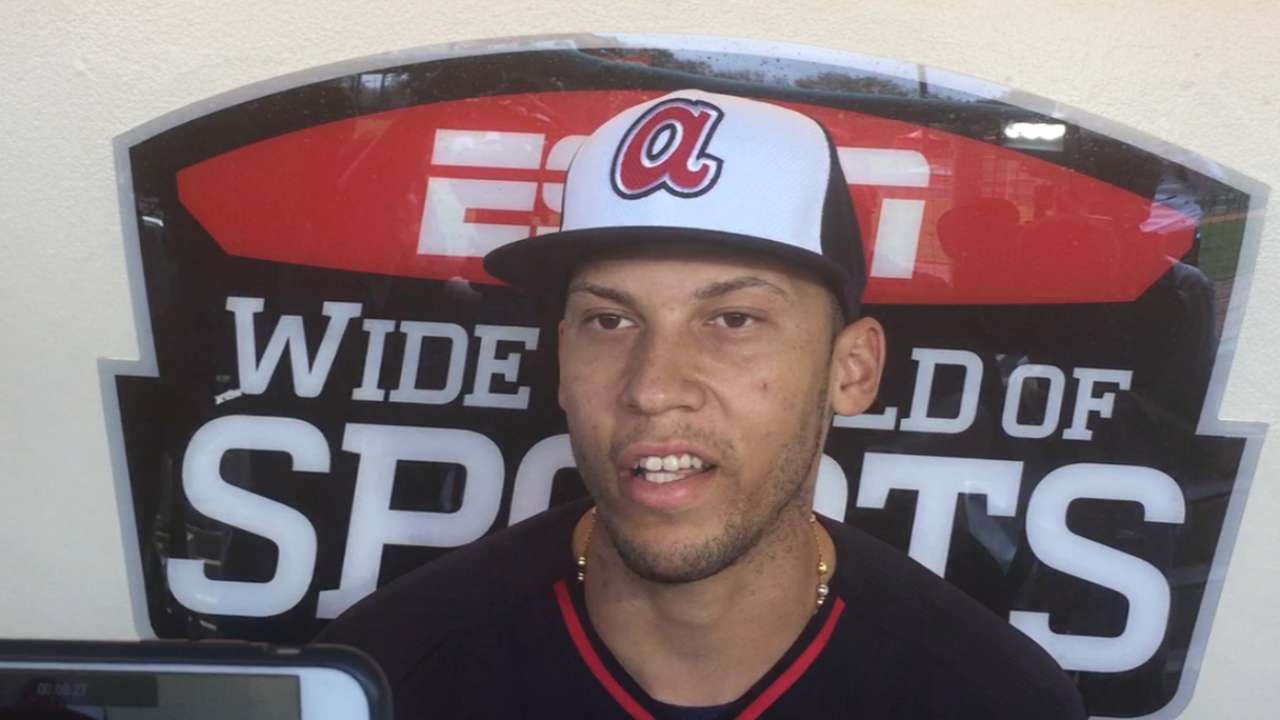 LAKE BUENA VISTA, Fla. -- When Andrelton Simmons entered Fredi Gonzalez's office on Thursday morning to inform him that he has been recently dealing with a sore left oblique, the Braves' manager viewed this as a sign that his high-energy shortstop is starting to understand the importance of keeping minor ailments minor.
"Two years ago, he wouldn't tell anybody anything, and the next thing, it's a big deal," Gonzalez said. "So good for him that he is starting to know that kind of stuff. … Good for him that he's maturing and growing up. Let's let the little stuff stay little. I'll be the last one that wants him off the field [when he's healthy]."
With that being said, the Braves did not allow Simmons to do much more than simply take the field as they staged their first full-squad workout on Thursday morning at ESPN Wide World of Sports Complex. The 25-year-old shortstop was permitted to take ground balls during infield drills, but he will need to wait at least a few more days before he is allowed to begin running and swinging a bat again.
"The past couple of years, they've had trouble with me staying in the trainer's room and just taking my rest," Simmons said. "I want to be out there. I like being out there taking ground balls and diving and hitting. So I'm trying to learn to be patient."
Simmons initially felt discomfort in his left side after completing a batting-practice session approximately two weeks ago. He aggravated the ailment when he attempted to resume his regular preseason preparations just a couple of days later.
"It feels pretty good right now," Simmons said. "I'm just being cautious. It's the first day of Spring Training. I'm just being cautious and trying to get it to 100 percent."
Simmons hopes to be cleared to resume all baseball activities by next week. He said this ailment is not nearly as severe as the left oblique strain he tried to play through when he was attempting to make Atlanta's Opening Day roster near the end of his first Major League Spring Training in 2012.
The oblique strain suffered two years ago essentially erased any hope Simmons had of making the jump from the Class A Advanced level to the Majors. But after spending two months with Double-A Mississippi, he rose to Atlanta and immediately began establishing himself as a Gold Glove shortstop.
Simmons has been credited with 88 Defensive Runs Saved through his first three Major League seasons. This mark trumps the combined totals of J.J. Hardy (36) and Zack Cozart (35), who rank second and third among all Major League shortstops during this span.
Mark Bowman is a reporter for MLB.com. This story was not subject to the approval of Major League Baseball or its clubs.