Before donning special helmet, Stanton takes first live BP
Having not faced a pitcher since being hit in face, slugger tracks pitches, but doesn't swing
JUPITER, Fla. -- The result wasn't very eventful, but the occasion was monumental for the Marlins. Giancarlo Stanton stepped into the batter's box on Thursday morning and saw live pitching for the first time since being struck in the face by a pitch at Milwaukee last September.
It was a significant step, but it wasn't very exciting, as Stanton tracked all 10 pitches he saw. The slugger didn't swing at any of the five offerings from right-hander Henderson Alvarez in his first round and lefty Brad Hand in his second.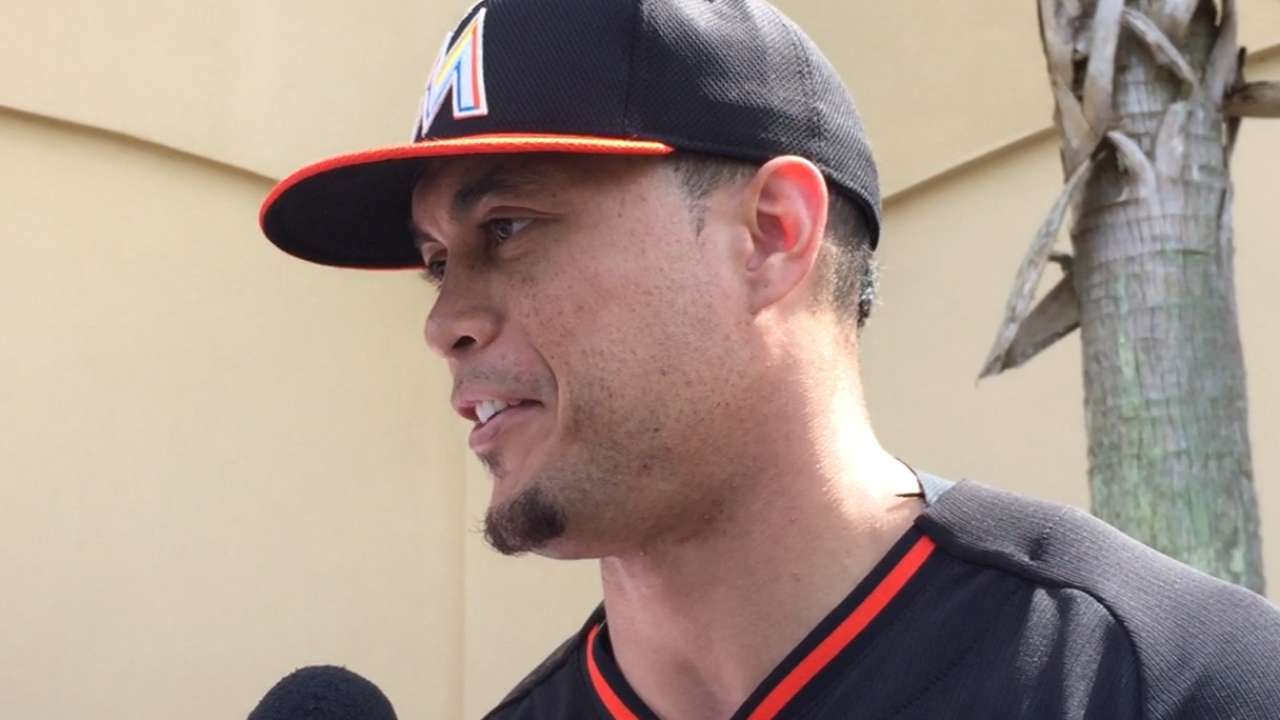 "I wanted to minimize any expectations on either side," Stanton said. "I didn't think I would have any thoughts about it [the injury], and I didn't when I was in there."
Stanton will be wearing a specialized helmet that features a face guard this season. But on Thursday, he didn't have the new model, so he ended up wearing a helmet from last year.
The personalized helmet was manufactured by Schutt Sports, a Litchfield, Ill., company known for designing football helmets. Stanton flew to Illinois on Monday on Marlins owner Jeffrey Loria's private jet.
• Photos of Stanton's face guard being designed
The design differs from the solid shield worn by St. Louis' Jason Heyward. Stanton's helmet resembles more of a football face mask. The bars even feature the letter "G" for Giancarlo.
"It's just what I envisioned, thinking about it," Stanton said. "We're kind of in new territory there. It took a while to get developed and processed."
The bars are made of light-weight carbon steel, and it can withstand pitches close to 100 mph.
"We tested it about 90-100 [mph]," Stanton said. "It will have a little bend in there. So would the Heyward face mask. So, it has enough [strength] that I'm confident I will be OK."
Stanton sustained facial fractures and dental damage when he was struck in the face by a Mike Fiers fastball last Sept. 11 at Miller Park.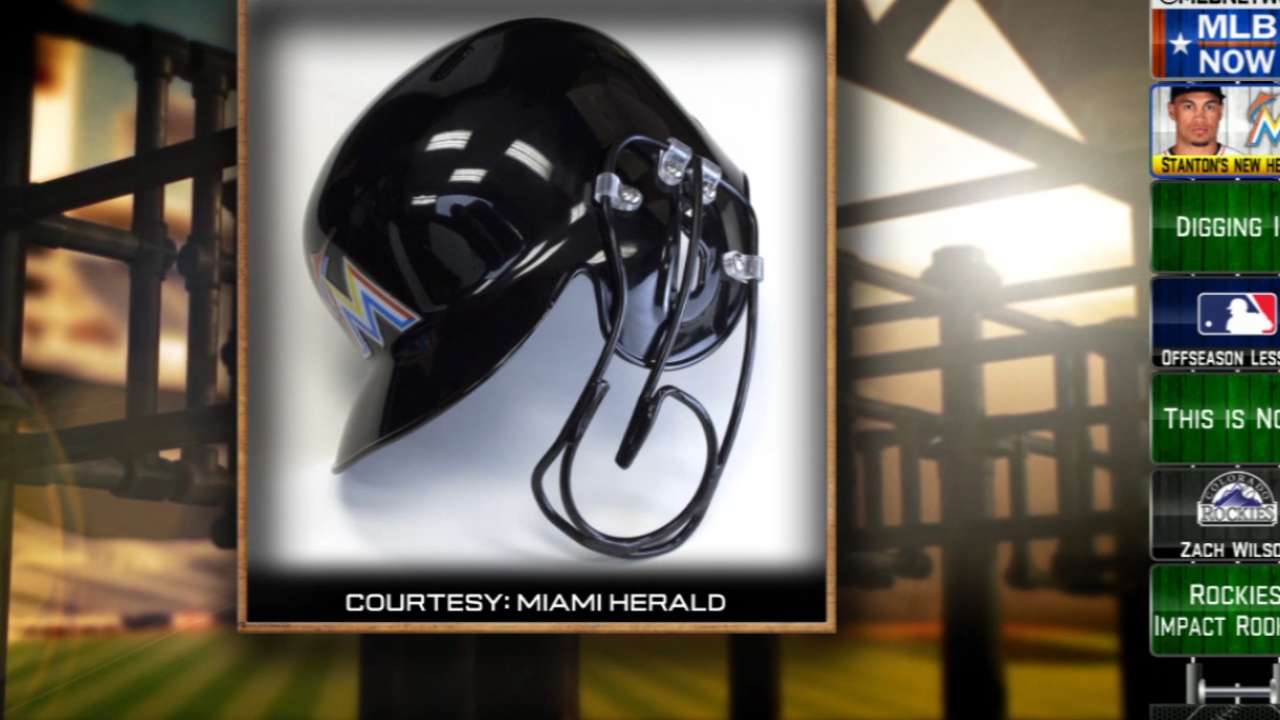 "It was great to see him back in there, knowing what he went through," Marlins manager Mike Redmond said. "He's feeling good. He's healthy. It was great seeing him get in there. The anticipation for everyone has been building up. It was good seeing him get in there, and now, hopefully, we can move on."
If there were any mental scars remaining, Stanton isn't showing them. He's maintained throughout the offseason he wasn't going to let the incident weigh on him.
Actually, the antsy one on Thursday was Alvarez. The right-hander admitted to being a little nervous facing his All-Star teammate. A couple of pitches Stanton faced were a bit outside.
"It comes with the territory," Stanton said. "Everybody is making an overly big deal about it, so you take some extra precaution the first couple of times."
Leading up to Thursday, Stanton insisted he wouldn't think about the injury the first time he stepped into the box. That single-minded focus has helped the 2014 National League home run champion put the injury in perspective.
Stanton also entered Spring Training at full-speed, with no limitations.
Miami began full-squad workouts on Tuesday, and Stanton and the rest of the position players eased into their batting practices, facing coaches the first couple of days.
Much of Miami's optimism entering this season is based on Stanton being healthy and continuing to blossom as a star. In 2014, he led the NL in home runs (37) and was second in RBIs (105). He finished as the runner-up to Clayton Kershaw in the NL MVP Award voting.
Joe Frisaro is a reporter for MLB.com. He writes a blog, called The Fish Pond. Follow him on Twitter @JoeFrisaro. This story was not subject to the approval of Major League Baseball or its clubs.