Herrera taking aim at spot on Opening Day roster
Rule 5 Draft pick in outfield mix after strong showing in winter ball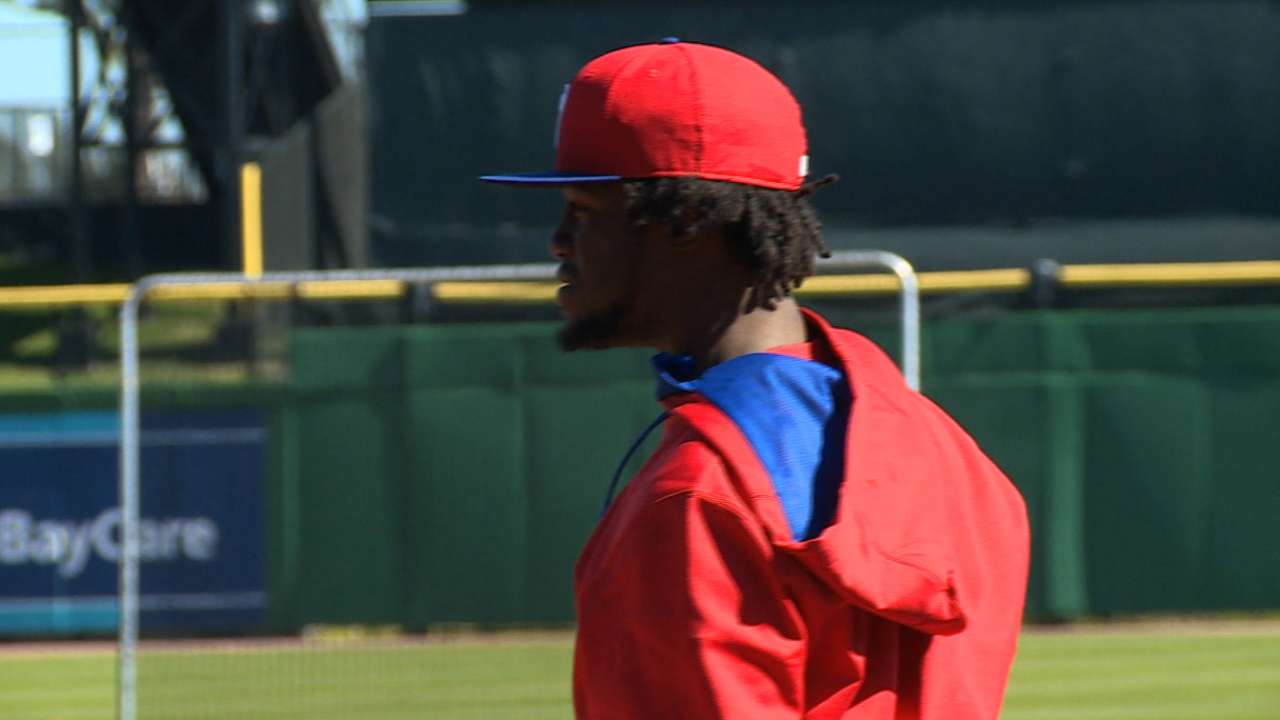 CLEARWATER, Fla. -- Nearly every time a Rule 5 Draft pick enters Spring Training, somebody likes to mention Rule 5 success stories like Johan Santana, Dan Uggla, Shane Victorino and Joakim Soria. They are the best of the best.
There are many more times a Rule 5 pick does not survive camp and returns to his former team, or survives the entire season with his new team but fails to make a significant impact at the big league level. The Phillies hope Odubel Herrera, whom they drafted with the eighth overall pick in December's Rule 5 Draft, leans more toward Victorino (2004 pick) than Michael Martinez (2010 pick).
"I feel good about it and excited about it when I received the news," Herrera said Thursday morning at Bright House Field.
The Phillies jumped at the opportunity to draft Herrera, who won the Double-A Texas League batting title last season and the batting title this winter in the Venezuelan Winter League. He has played mostly infield in the past, but this spring, the Phillies are looking at him as an outfielder. He played exclusively center field in Venezuela, but he also will see time in camp in left and right.
Because the Phillies aren't counting on making the postseason in 2015, Herrera has an excellent chance to make the Opening Day roster and stick with the team for the entire season. Domonic Brown, Ben Revere, Grady Sizemore and Darin Ruf figure to have the inside track at four of the outfield jobs. Herrera could be the fifth.
"We feel like we're taking a shot on a prospect," Phillies pro scouting director Mike Ondo said in December. "We've always viewed this guy as an offensive utility guy. The difference is this year, toward the end of the year, he started playing in the outfield. He's a good athlete. He has some speed. He obviously has a feel for hitting. We like the bat speed."
Herrera hit .321 with 16 doubles, four triples, two home runs, 48 RBIs, 12 stolen bases and a .775 OPS over 96 games for Double-A Frisco in 2014. His OPS ranked 10th among Texas League hitters with 300 or more plate appearances. He then hit .372 with 14 doubles, three triples, six home runs, 27 RBIs, eight stolen bases and a .988 OPS in winter ball.
The 23-year-old showed more pop in Venezuela. How much more does he have?
"You're going to see," Herrera said with a smile.
In the previous 10 Spring Trainings, the Phillies had 10 Rule 5 picks in camp. Three made the Opening Day roster: Ender Inciarte (2013), Martinez ('11) and David Herndon ('10). Inciarte only lasted a few days before the Phillies returned him to Arizona for Ezequiel Carrera. Martinez and Herndon survived the seasons.
Many forget, but Victorino didn't make the Opening Day roster in 2005. The Phillies offered him back to the Dodgers, but they declined. The Phillies got incredibly lucky there. Victorino re-signed with the Phillies, and he spent most of the season in Triple-A before getting a callup in September. He established himself as an everyday outfielder and helped the Phillies win the 2008 World Series.
"I'll try to do the best I can, and if I make team as a Rule 5, I'd like to do that and follow his steps," Herrera said.
Todd Zolecki is a reporter for MLB.com. This story was not subject to the approval of Major League Baseball or its clubs.