K-Rod inks two-year deal with Brewers
All-Star closer saved 44 games a season ago in Milwaukee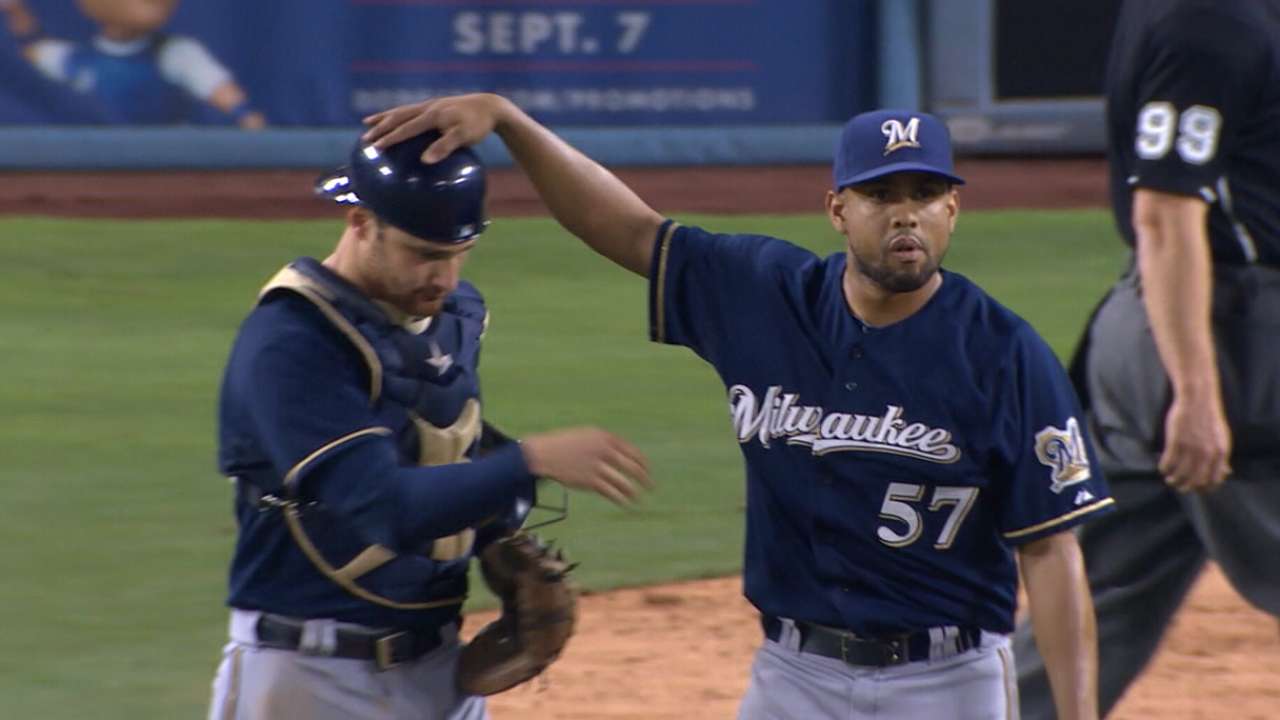 PHOENIX -- It's Francisco Rodriguez to the Brewers ... again.
The veteran reliever agreed Thursday to a two-year, $13 million free-agent contract that includes a club option, giving the Brewers their closer and reuniting Rodriguez with the team that has acquired him on five separate occasions since July 2011. Milwaukee won't make a formal announcement until Rodriguez passes a physical exam and the club clears a 40-man roster spot.
"One of the things we focused on was the depth in our bullpen, and bringing back a closer who's very durable put everybody back into a natural spot," said Brewers principal owner Mark Attanasio, who negotiated the deal with agent Scott Boras. "It actually turns a bullpen which may have been looked at as thin into a bullpen that has some depth when you go through it."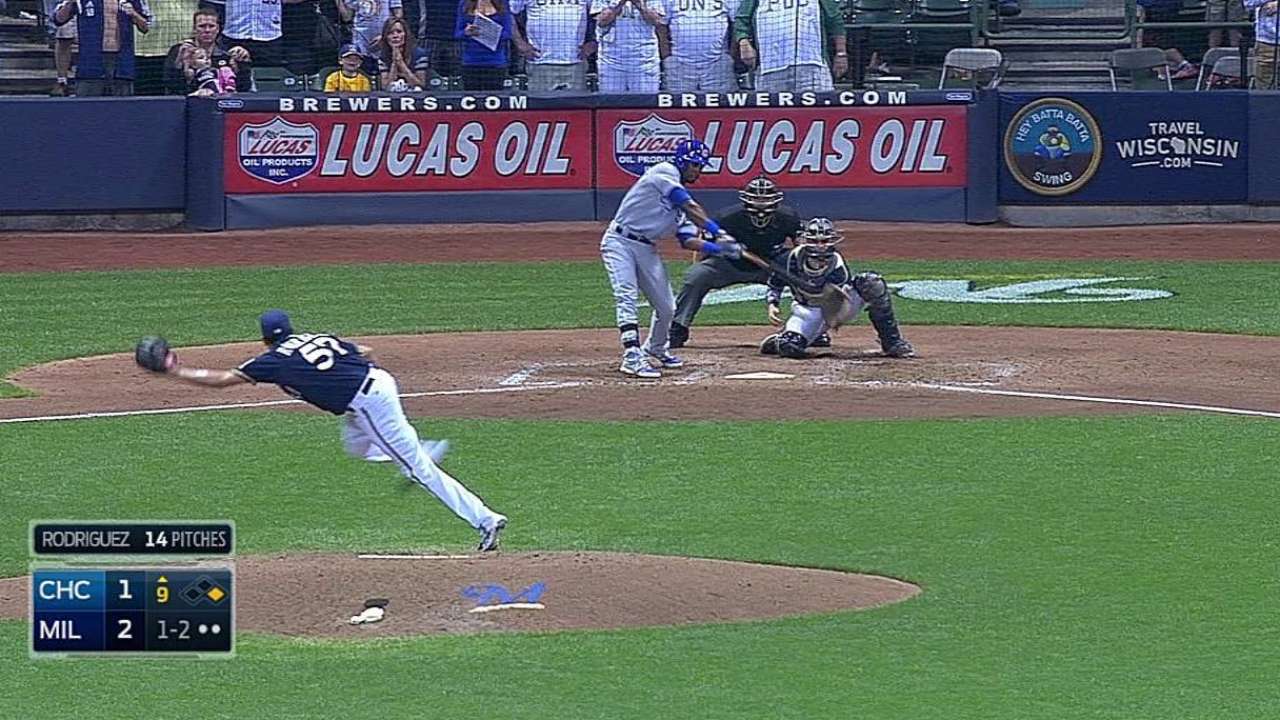 Rodriguez re-established himself as closer material last season, when he made the National League All-Star team, led the Majors with 66 games finished, converted 44 of 49 save chances and posted a career-best 0.99 WHIP.
Rodriguez has already played parts of 13 Major League seasons, but he just turned 33 last month. He ranks 10th in Major League history with 348 saves, 10 shy of former Angels teammate Troy Percival for ninth on the list.
"He's a tremendous asset," right fielder Ryan Braun said. "He's somebody that's comfortable in the ninth inning. There aren't a lot of guys that are comfortable in that situation. He's never afraid of the moment. He always embraces the challenge. He takes the ball every single day. He has pitched through multiple injuries.
"For a guy with that kind of closer experience, it's really going to be beneficial to us, so we're all excited about it. The more guys you have with closing experience, the better it will be for the team over the course of the season."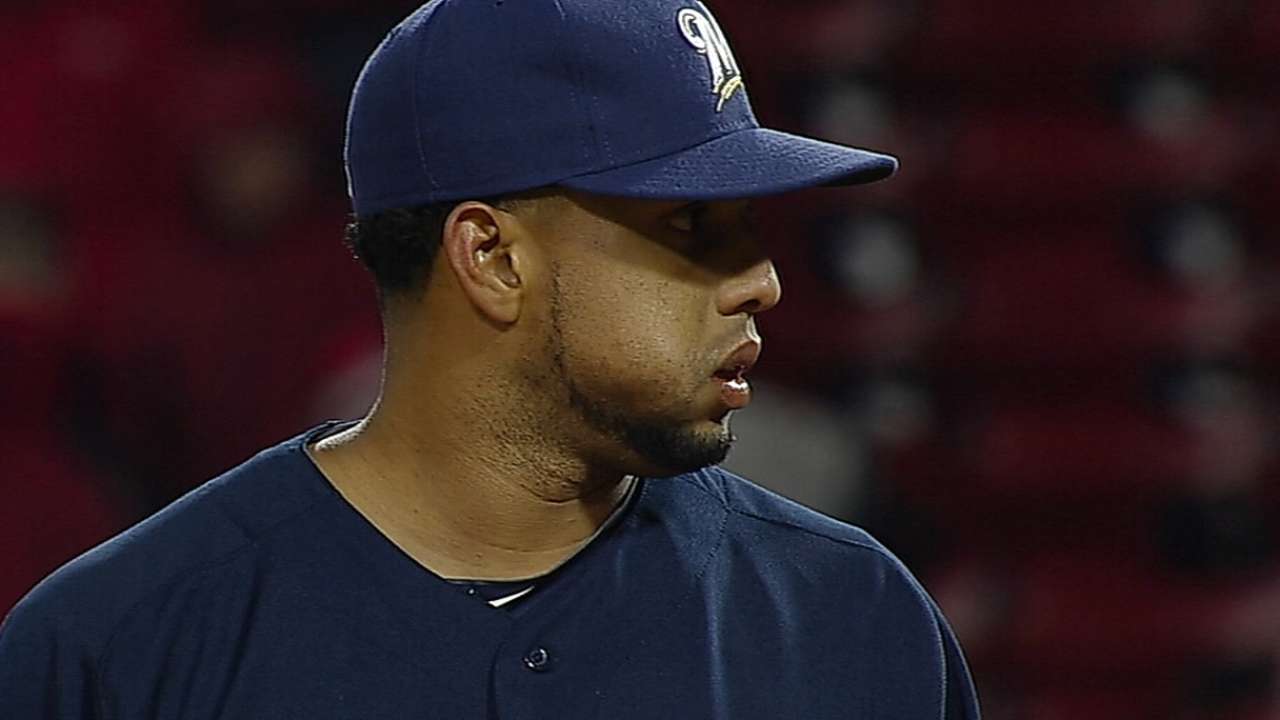 One Brewers player who had been in contact with Rodriguez said he turned down a two-year offer from the Marlins to re-sign with Milwaukee. Rodriguez also had one-year offers with a high salary, but he opted for the two-year guarantee.
"It's always been clear that he wanted to be here," Attanasio said. "When we get inbound calls from free agents saying they want to be with us, that means something to us."
Said catcher Jonathan Lucroy: "We got a lot better. Frankie has been good for us. He was good for us last year. Hopefully he can continue to do that this year. We've got some depth now."
Rodriguez leads the Brewers in transactions over the past four and a half years. Milwaukee acquired him in a trade with the Mets the night of the 2011 All-Star Game, and he also accepted arbitration from the Brewers in December '11 and re-signed as a free agent in '13 and '14.
The timing of his arrival in Brewers camp is dependent on Rodriguez securing a work visa.
Adam McCalvy is a reporter for MLB.com. Read his blog, Brew Beat, and follow him on Twitter at @AdamMcCalvy. This story was not subject to the approval of Major League Baseball or its clubs.