MLB.com Columnist
Mike Bauman
Pitching will eventually determine Red Sox's fate
Lack of ace to lead rotation not a concern to Farrell, Nieves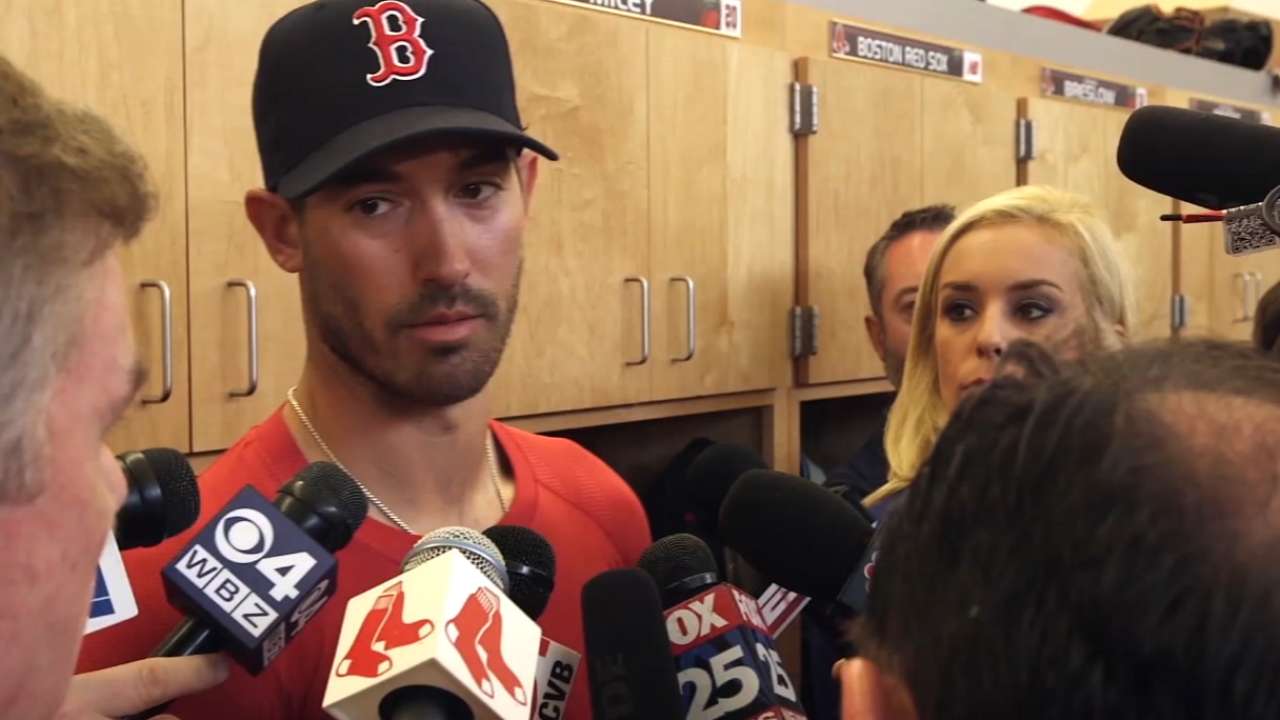 FORT MYERS, Fla. -- There has been much attention paid to a dramatically improved Red Sox lineup, and justifiably so.
But so often, entire seasons rise or fall on the performance of the pitching, particularly the starting pitching.
There can be no dispute about the lineup upgrade. The Red Sox committed $318 million to Pablo Sandoval, Hanley Ramirez, Rusney Castillo and most recently, Yoan Moncada. Moncada won't be in the Boston lineup immediately, but when you factor in the return from injury of Dustin Pedroia, Shane Victorino and Mike Napoli, the whole thing shouts two words: Run production.
On the run prevention side of the game, there was a lot of work done on the rotation, too. Clay Buchholz is the most tenured member. Joe Kelly was acquired last season at the Trade Deadline, and during the offseason, Boston picked up Rick Porcello, Justin Masterson and Wade Miley.
Each of these pitchers has a big league track record, and each is indisputably talented. But the skeptical reading on this rotation is that it lacks a true No. 1. It does not have what is commonly referred to as an ace. So maybe it won't quite be good enough for the Red Sox to make another climb from the bottom of the American League East to the top of the baseball mountain with another World Series championship.
This argument does not go anywhere with either manager John Farrell or pitching coach Juan Nieves.
"They're five guys who are already established in the Major Leagues," Farrell said. "Each guy individually has had successful years in their own right. They're all in their upper 20s, 30 being the oldest. When you look at those three combinations, that's ingredients for consistent success."
Nieves was the pitching coach for the 2013 World Series championship team. He helped to transform that pitching staff, stressing rigorous preparation. The "no No. 1" stuff misses the point for him.
"To me, anybody who is scheduled [to start] for that day, that's my No. 1," Nieves said Thursday. "And he is our No. 1. And he's going to go out there prepared with a game plan. Physically, he'll be as strong as possible, he'll be fundamentally prepared, as much he is capable, and of course, he'll be mentally and physically prepared for that game.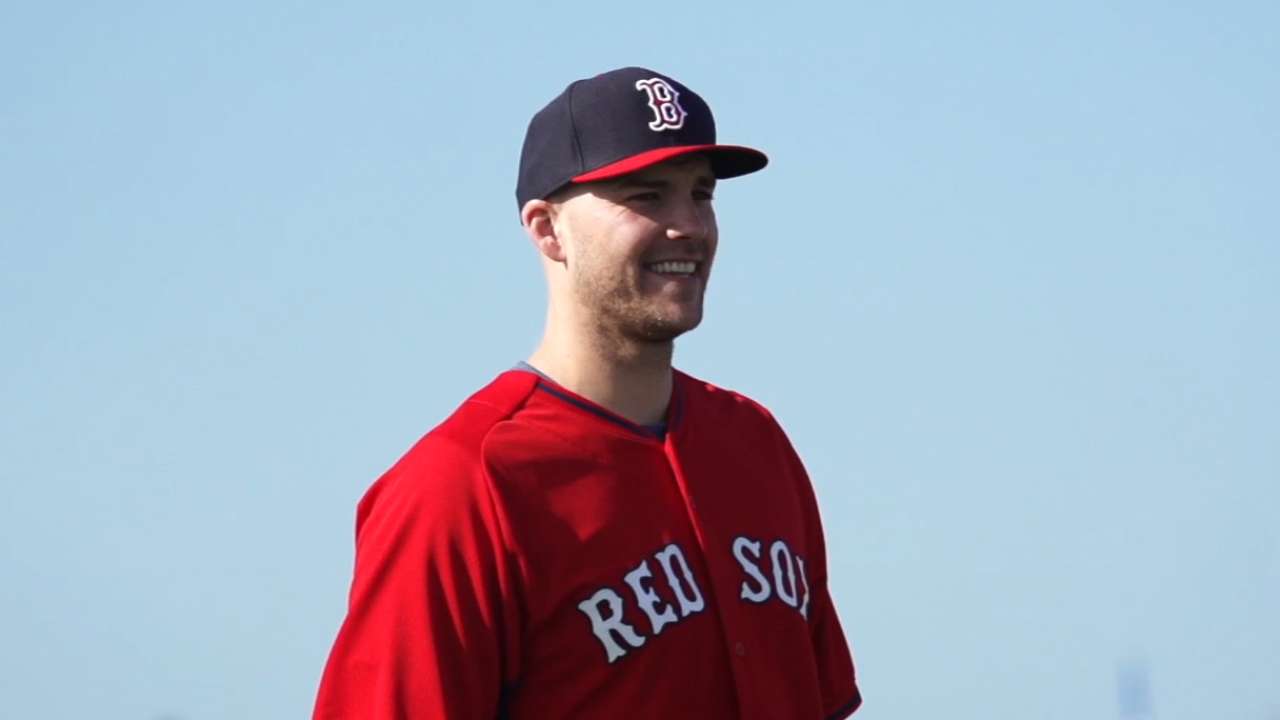 "To me, that's the key for anybody who goes out there. And for the whole season, after every rotation of those first five guys, everybody is a No. 1. It doesn't matter. To me, I'm a firm believer in that. The guy that is out there is my No. 1 that day."
The same philosophy holds for Nieves with the use of the bullpen. His reliever who enters the game in the seventh inning is the closer for that inning. Roles change, pitchers adjust and only performance matters.
"With our team in '13, [Felix] Doubront was our fifth starter and he was behind the eight-ball the whole time, until the second half," Nieves said. "He pitched really well in the second half. He didn't pitch in the World Series or the playoffs as a starter, but he came out of the bullpen twice and threw four incredible innings for us in the World Series."
What matters, Nieves stresses, is not having a pitcher designated as an ace. What matters is having starters pitching like No. 2 or 3 second starters. The Red Sox had that going for them in 2013.
Nieves worked his way up through the White Sox organization, eventually becoming the bullpen coach at the Major League level. That experience brought up another non-No. 1 example.
"Another team I was very familiar with, the 2005 White Sox, we didn't have Felix Hernandez or anybody like that," Nieves recalled. "But [Mark] Buehrle pitched like a No. 1, [Jon] Garland pitched like a No. 1, [Jose] Contreras pitched like a No. 1, after [Orlando Hernandez] went down. Bobby Jenks replaced [Dustin] Hermanson as the closer and becomes an elite closer, 100 mph with a great curveball. So I think it's just a team effort."
As they were in 2013, Red Sox starters this season should be fully prepared to compete and fully prepared to pitch, and fully prepared to pitch in a specific game.
"It's knowing the task at hand and executing it to the best of your ability on every pitch," Nieves said. "Very simple terminology. I'm sure everyone has heard it. It's all about getting ahead, throwing first-pitch strikes, getting leadoff outs, attacking the strike zone, knowing that you're always in attack mode. Once that ball leaves your hand, you're a fielder and then you think about the next pitch. It's basically simple, but it's a long season. And you have to have sort of a rhythmic mentality. No matter what happens, you've got the next pitch."
Let's say that sound and comprehensive approach is consistently followed. And let's accept what Farrell contends when he says his club has enough talent in its rotation "for us to pitch and play deep into the postseason."
If those assumptions are correct, then the Red Sox, with their revamped lineup and their rejuvenated rotation, can be winners of everything again. The alleged lack of a No. 1 starter will be forgotten, replaced by a bunch of pitchers performing the way the Red Sox hoped they would perform.
Mike Bauman is a national columnist for MLB.com. This story was not subject to the approval of Major League Baseball or its clubs.