All-Star? Crawford focused on consistency
Giants shortstop unfazed by talk of Midsummer Classic potential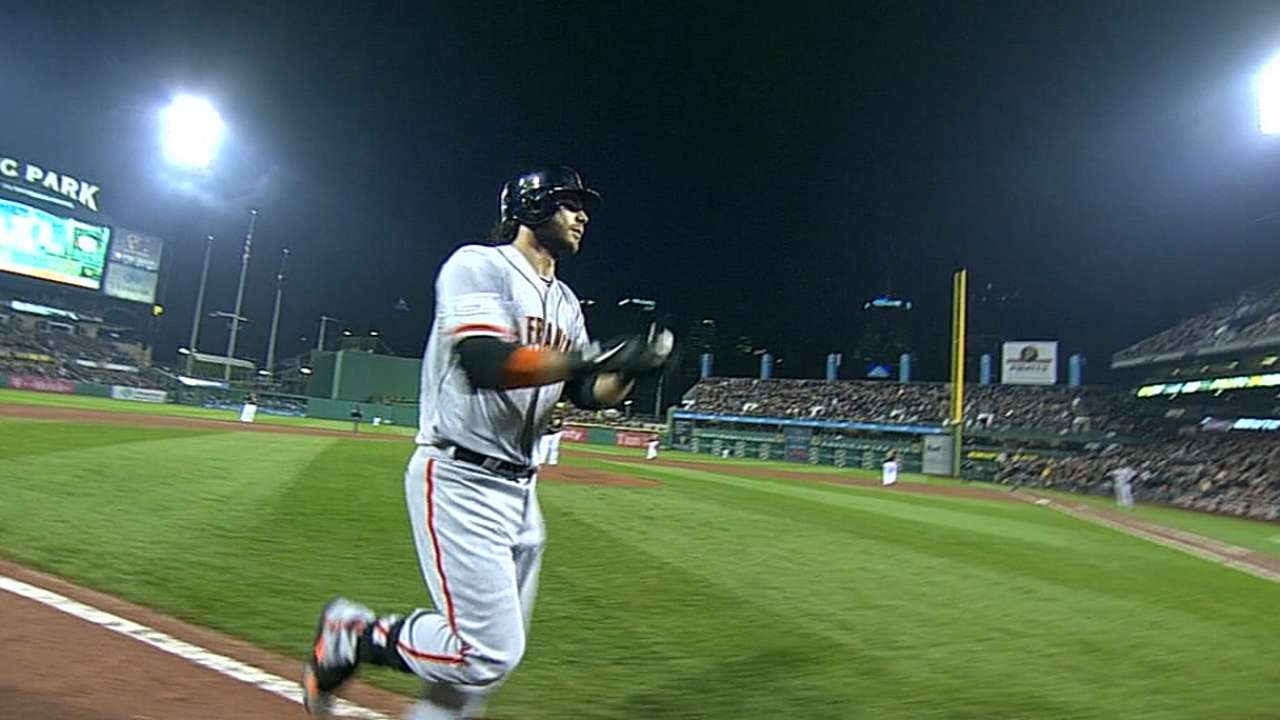 SCOTTSDALE, Ariz. -- Giants general manager Brian Sabean wasn't issuing a challenge when he said earlier this month that the club envisioned "an All-Star-type season" from Brandon Crawford. Sabean simply was rendering his opinion of the shortstop's potential.
Anybody who has seen Crawford wield his line-drive swing, unleash searing throws and display the range of a hawk would know that Sabean's thoughts were planted firmly within the realm of the possible.
Manager Bruce Bochy agreed. "This guy's gifted," Bochy said Wednesday of Crawford.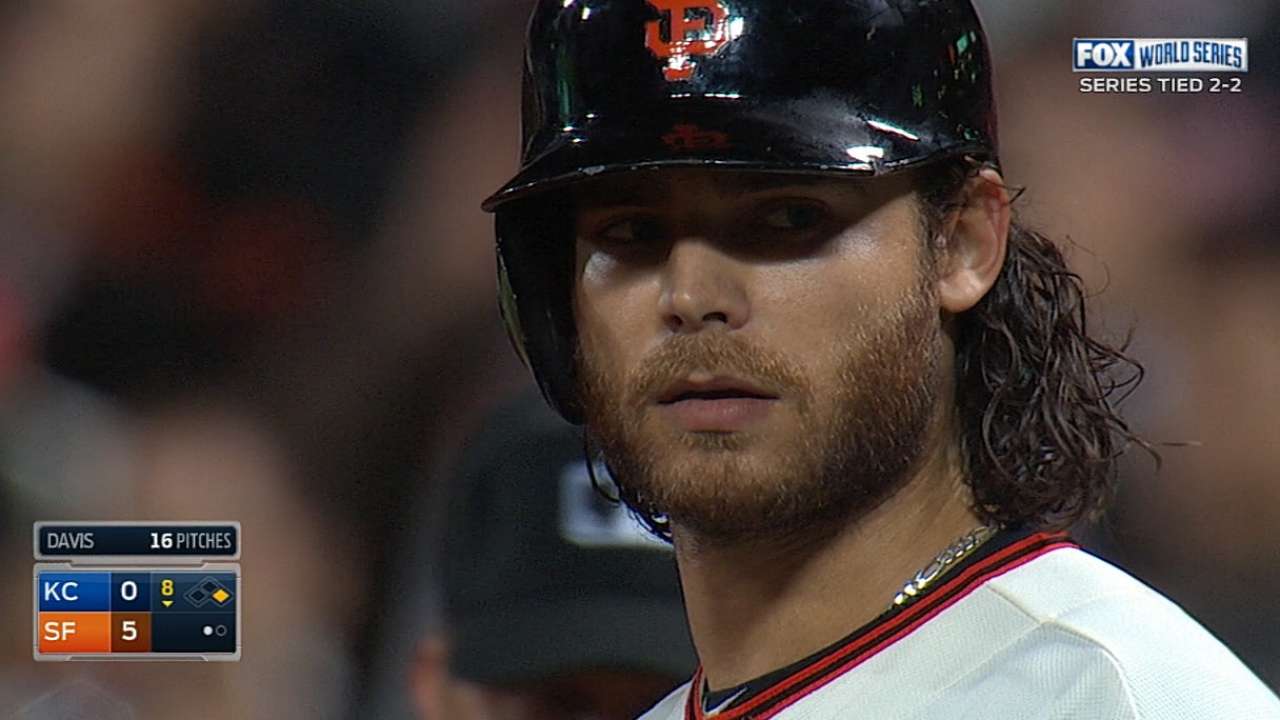 As every accomplished athlete should, Crawford maintained perspective. He knows he possesses the capability to be recognized among baseball's best. But his behavior would merit a three-base error if he dwelled on accolades within his reach instead of ground balls within his grasp.
"That's not something I go into the season thinking, 'I'm going to make the All-Star Game this year,'" Crawford said. "But I wasn't blown away or shocked or anything when he said that. I think I'm capable of it. That would be a really cool thing to be a part of."
The path Crawford must take to reach this plateau is clearly marked.
"This year, personally, I'd like to stay a little more consistent because the last two years I've gotten off to hot starts and I kind of fade off," he said. "I'd like to shorten the bad streaks."
In 2013, Crawford hit .272 before the All-Star break and .209 afterward. An injured right index finger hampered his performance.
"That kind of changed my mechanics a little bit," he said. "Then I got into some bad habits I think that affected me."
Crawford succinctly explained last year's offensive fluctuations: "There was no excuse." He hit .311 in his first 14 games, but by June 4 his batting average rested at .233. He batted .300 through the rest of June, then hit .158 in July and August.
Crawford recovered to hit .365 in September, setting up the grand slam he swatted in the Oct. 1 Wild Card Game at Pittsburgh. It shattered a scoreless tie, propelled the Giants to an 8-0 triumph and helped put them on course to win the World Series.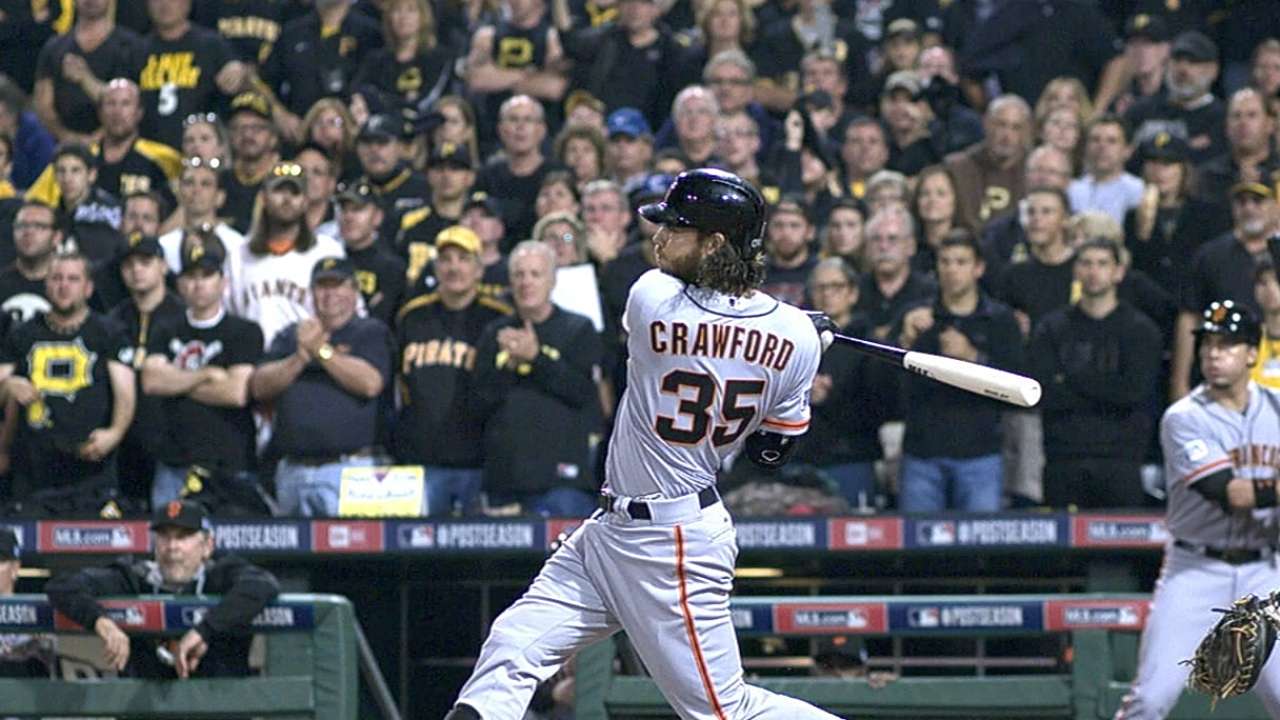 Approaching his fourth full Major League season at age 28, Crawford can supplement his natural gifts with experience.
"I feel [that] has helped in becoming a better player," Crawford said. He added, "Being part of a couple of World Series championships will give you some sense of comfort."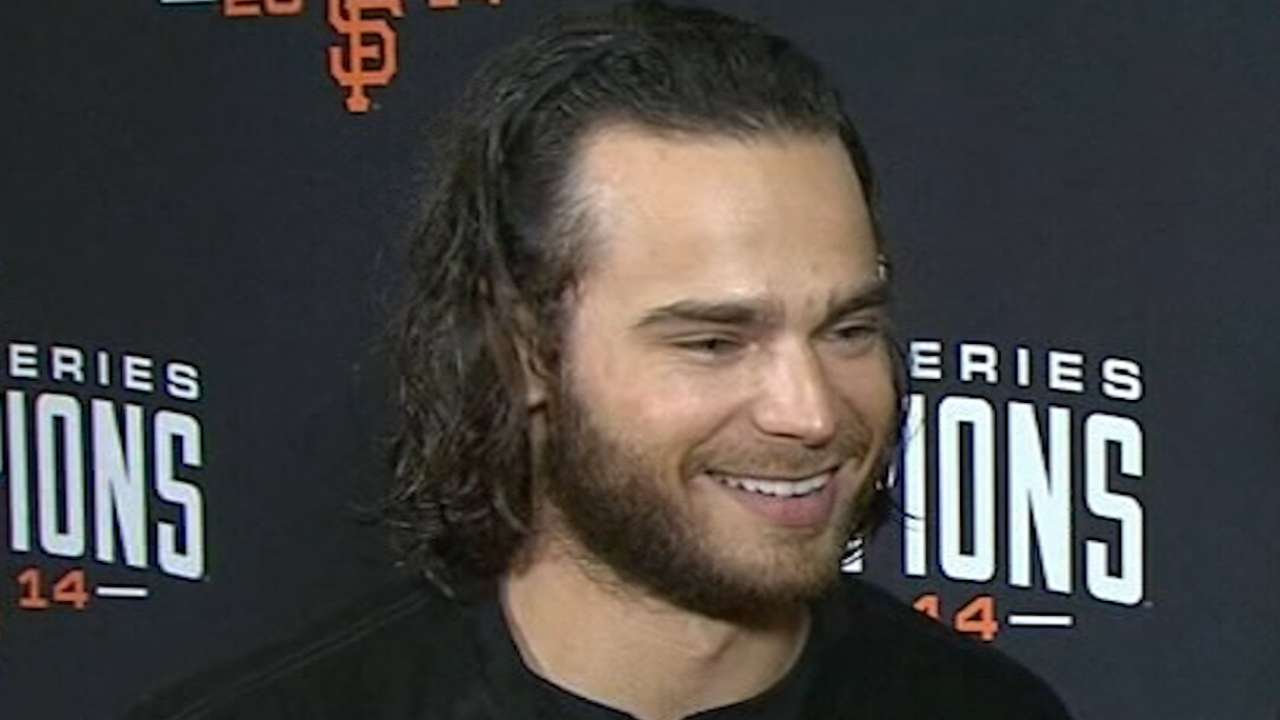 As a lifelong Giants fan who grew up in the Bay Area, Crawford would be an excellent fit to continue the lineage of accomplished shortstops who have performed for San Francisco, including Jose Pagan, Chris Speier, Royce Clayton, Rich Aurilia and Omar Vizquel. Like making the All-Star team, this is another daydream Crawford must resist.
"Obviously I'd love to be part of that -- to be here eight to 10 years or the rest of my career, something like that," he said. "But that's another thing you can think about too much and put pressure on yourself. Just go out and play the game."
Chris Haft is a reporter for MLB.com. Read his blog, Haft-Baked Ideas, and follow him on Twitter at @sfgiantsbeat. This story was not subject to the approval of Major League Baseball or its clubs.