Fans a priority as D-backs aim for strong start to season
Hall, Hale address team on first day of full-squad workouts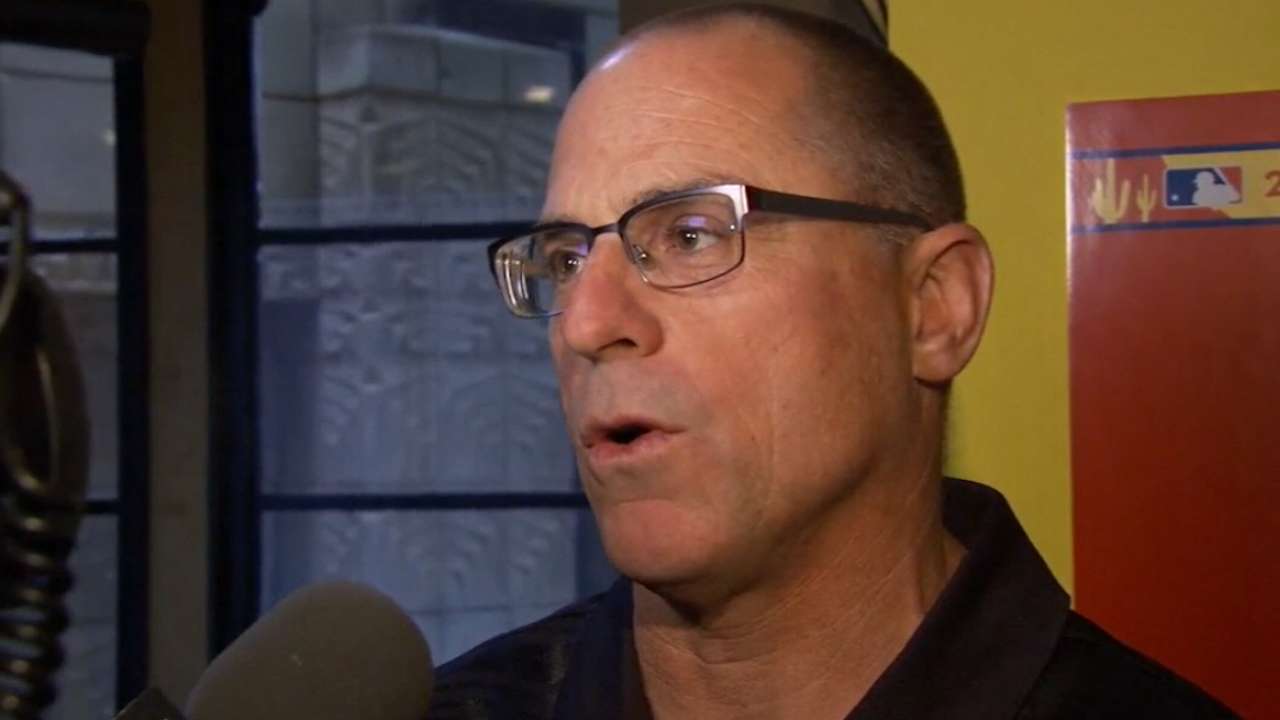 SCOTTSDALE, Ariz. -- The D-backs went through their first full-squad workout of the spring Wednesday, and before they took the field, they were addressed by manager Chip Hale and team president/CEO Derrick Hall.
Chief baseball officer Tony La Russa will talk to the team at some point soon while general manager Dave Stewart prefers to talk individually with players.
As usual, Hall's talk dealt with the organization's expectation that players spend time signing autographs and interacting with fans.
When it comes to expectations after a 98-loss season in 2014, Hall was more subdued than previous years.
"I'm not overly optimistic, I'm not pessimistic," Hall said. "I'm just trying to be hopeful more than anything, because in baseball anything can happen. You don't get excited coming off a season -- as fans or as an organization -- when you know you've got the first pick in every round [of the Draft]. That means you didn't do very well."
Season ticket renewals are running around 85 percent, which Hall said was remarkable, all things considered.
It's a full squad kind of day. #DbacksSpring pic.twitter.com/fq7hTLfSNE

- Arizona Diamondbacks (@Dbacks) February 25, 2015
When it comes to the team payroll, Hall said the organization is comfortable having it in the $90 million to $91 million range, but that, as of right now, it is higher than that. In addition, the roughly $16.5 million paid in the Yoan Lopez signing -- $8.27 million plus a 100 percent penalty -- has to be figured in, even though it's not technically part of the big league payroll.
"Because whether you count the Lopez signing in your Major League salary or not, money is money all coming from the same spot," Hall said. "So we're going to have to get creative in trying to find flexibility again, but I'm not worried about it because we have so many options."
Because of the competition for spots up and down the roster, the D-backs might be able to more easily move salary. Whether that's toward the end of Spring Training or before the Trade Deadline, like last year, remains to be seen. If the team gets off to a good start and attendance spikes, that could make deals less likely.
"We're certainly not looking now to move players," Hall said. "We're not looking at that at this point. We're looking to put the best 25 out there and see how successful we can be and if we have to make adjustments during the year, like we did last year, then we will. It's very results driven. It really is. There's a formula to it in our [financial] projections, but if the team comes out of the gate 8-22 it impacts your revenues, obviously, and it's hard to catch up. So last year, let's hope that doesn't repeat itself."
The D-backs have long had a strict policy against including performance bonuses in contracts, but that might change.
"Not that we're completely abandoning a philosophy or position in the past, but again if it makes sense to adjust that a little bit we're open to it," Hall said.
Steve Gilbert is a reporter for MLB.com. Read his blog, Inside the D-backs, and follow him on Twitter @SteveGilbertMLB. This story was not subject to the approval of Major League Baseball or its clubs.