Descalso brings postseason experience, intangibles
Rockies counting on infielder's winning attitude to help team contend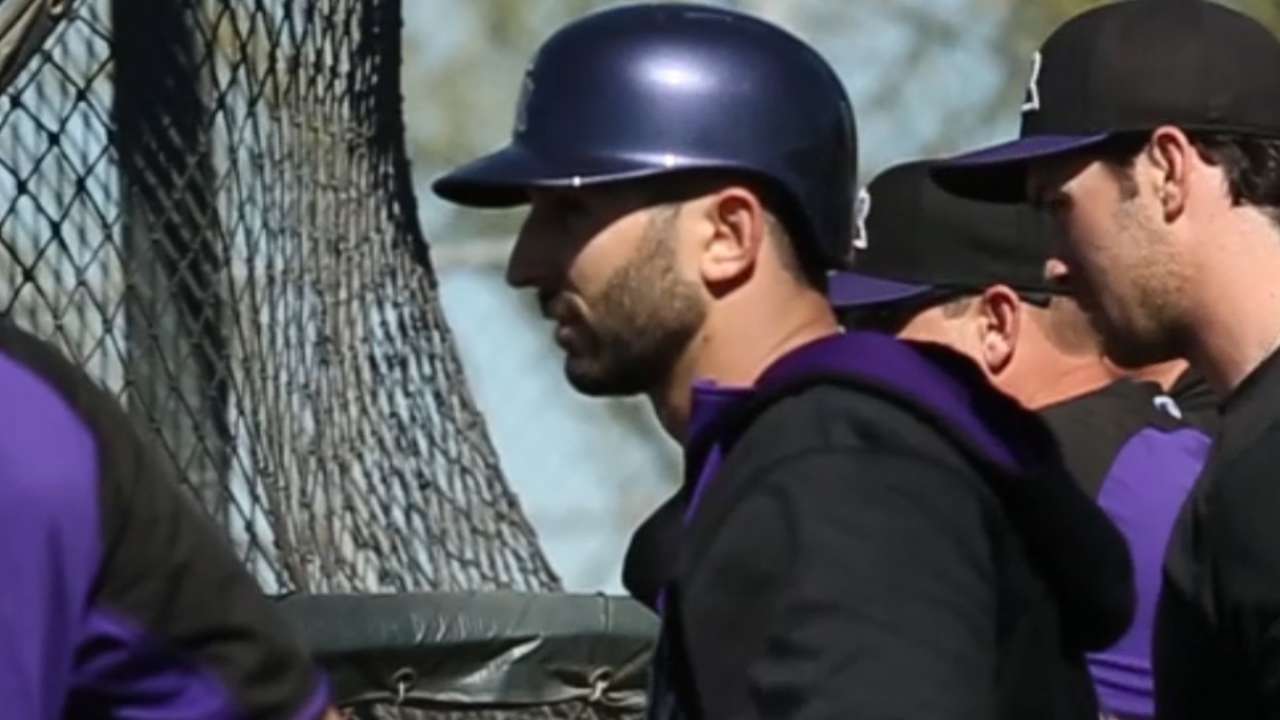 SCOTTSDALE, Ariz. -- The surroundings were new for infielder Daniel Descalso, but being with the Rockies quickly felt like home.
Descalso, 28, spent the last five seasons with the Cardinals, and had postseason playing time the last four. The Rockies signed him to a two-year, $3.6 million contract to have someone who knew winning. Earlier this week, when shortstop Troy Tulowitzki called a meeting, it felt like St. Louis to Descalso.
"Over there, we had those little meetings quite often," Descalso said. "Anyone can be a leader. Talking about the game is a great way to improve yourself and as a team. It can be a lost art. The talent here is as good as anyone's, and if we can get guys to pull together we will be successful."
In signing Descalso, the Rockies went for a little art while executing the science of setting up a team that's trying to end a string of four losing seasons and contend.
Descalso brings a .243 career batting average as a part-time player. In this sabermetric world, the question is always whether a team can get similar production for less with a younger, less-expensive player. The Cards, after all, non-tendered Descalso after last season.
But the Rockies see value in Descalso's experience in a number of ways:
• When the Cards won the World Series in 2011, Descalso replaced an injured David Freese at third base, hit .264, and defensively was good enough to be a Rawlings Gold Glove Award finalist. Last year, when the Rockies lost Gold Glover Nolan Arenado, third base fell into such disrepair that the team shifted first baseman-outfielder Michael Cuddyer there and watched him suffer a left shoulder fracture diving for a ball.
• In addition to 200 career games at third and 174 at second, Descalso has 114 games at short. Losing Tulowitzki for a long period would wreck this season, but Descalso can play shortstop if necessary. Otherwise, the most experienced shortstop options are Charlie Culberson (.195 last year) and Omar Quintanilla (.207 with the Mets).
• Descalso has done it before, for a winner. Manager Walt Weiss, assistant general manager, player personnel Jon Weil and general manager Jeff Bridich investigated and liked assessments of Descalso's makeup.
"I tell [the team] our value in this game is directly tied to our ability to help a team win, period," said Weiss, whose team has been bereft of experienced bench options since he took over before the 2013 season. "That may look different for different players. They may provide so much production, that's how they impact games. Other guys impact games [in ways] that are intangible."
"I've got a pretty good understanding of who I am as a baseball player," Descalso said. "Whether it's a sac fly or making a good play on defense, my attitude is if I can help a team win that night, I'm doing my job. I take pride."
Thomas Harding is a reporter for MLB.com. Read his blog, Hardball in the Rockies, follow him on Twitter @harding_at_mlb, and like his Facebook page, Thomas Harding and Friends at www.Rockies.com. This story was not subject to the approval of Major League Baseball or its clubs.