Cruz, Weeks make noise on first day of Mariners camp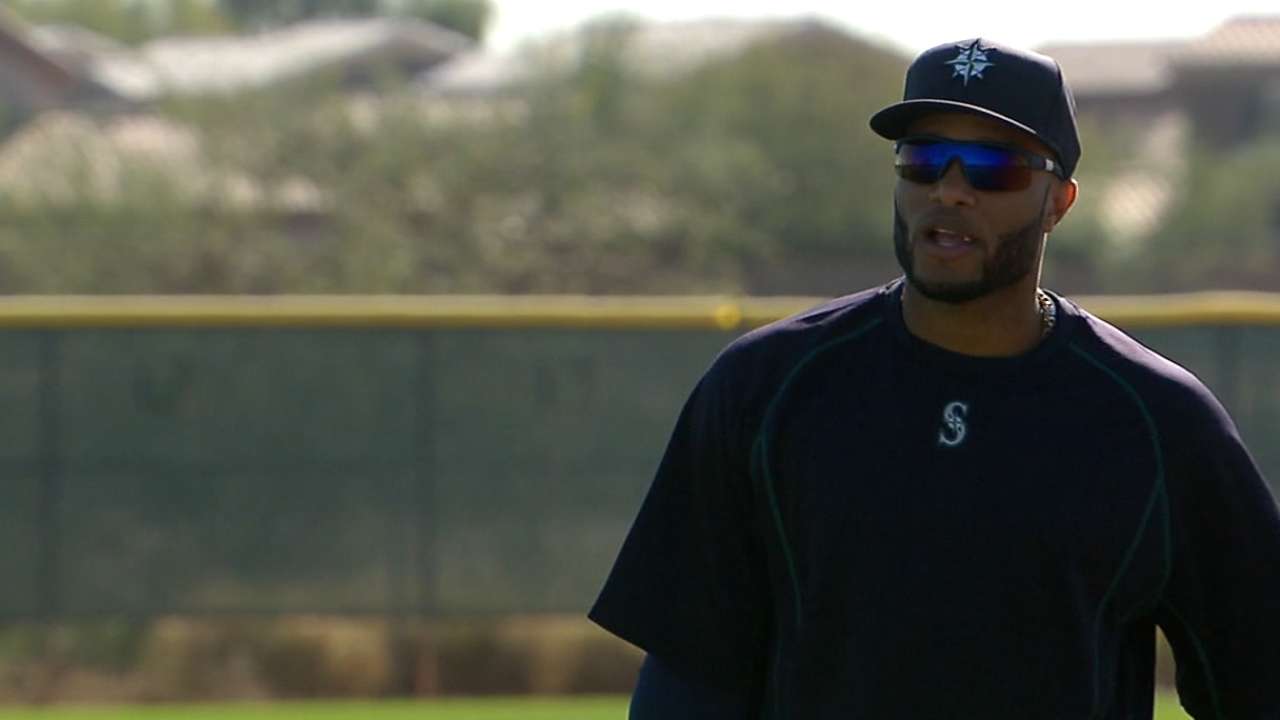 PEORIA, Ariz. -- A Mariners team looking to add some right-handed punch trotted out two new veterans to fill that gap Wednesday, as Nelson Cruz and Rickie Weeks took the field for the first time with their new club.
At Seattle's first full-squad workout, it was hard to ignore the thump-thump in batting practice of Cruz and Weeks. The powerful presence of Cruz -- last year's Major League home run leader -- was evident as he blistered line drive after line drive into the outfield gaps and over the fence at the Peoria Complex practice field.
But Weeks, a late-offseason signee, looked athletic and imposing in his own right as the 5-foot-10, 220-pound veteran brings a potent stick and new willingness to play different positions. Weeks, who played only second base in his 11 seasons with the Brewers, spent his first day with the Mariners working exclusively in the outfield.
Manager Lloyd McClendon says Weeks will adapt to a utility role that could include splitting time with Dustin Ackley in left field, which would give the Mariners another left-right possibility to go along with Seth Smith and Justin Ruggiano in right field.
Weeks handled his first outfield reps without much problem.
"Obviously there are some things I need to work on, but for the most part, things went pretty well," said Weeks. "Today just brought me back to high school. That's the last time I played outfield fully. So it brought all that back."
Introducing himself to a new team for the first time since being drafted as the second-overall pick by the Brewers in 2003 was an adventure of its own for the Florida native.
"It's like the first day of school," he said. "It's like coming to a new teacher and new guys in the clubhouse. For the most part, it's just me trying to learn names and all that. That's probably the hardest part right now."
Cruz could relate, though the big man from the Dominican Republic has played for five franchises in his pro career and is coming off a one-year stint in Baltimore, where he introduced himself well with a 40-homer, 108-RBI season.
He signed a four-year, $57 million deal with Seattle, so this will be home for the foreseeable future and he was eager to get started.
"I was waiting for this day for a while, so it's finally here," Cruz said after the first workout. "It came pretty easy. The whole team embraced me pretty well."
It helps that he's already friends with Robinson Cano and Felix Hernandez, and that trio walked out to the field together for the first practice.
"They're the leaders. They're the head of the team," Cruz said. "There's no one better to follow than those two guys."
But, like Weeks, he chose Seattle for more than just friendly banter. Both veterans said they were attracted by the chance to play for a club that went 87-75 and appears on the rise.
"I liked everything," Cruz said of why he signed with Seattle."Top to bottom, the chemistry that I saw last year is amazing. And what I've seen this year is awesome. Everybody is on the same page, everybody is pulling for the same goal, which is going to the playoffs."
Greg Johns is a reporter for MLB.com. Follow him on Twitter @GregJohnsMLB as well as his Mariners Musings blog. This story was not subject to the approval of Major League Baseball or its clubs.