Luebke determined to pitch again after two Tommy John surgeries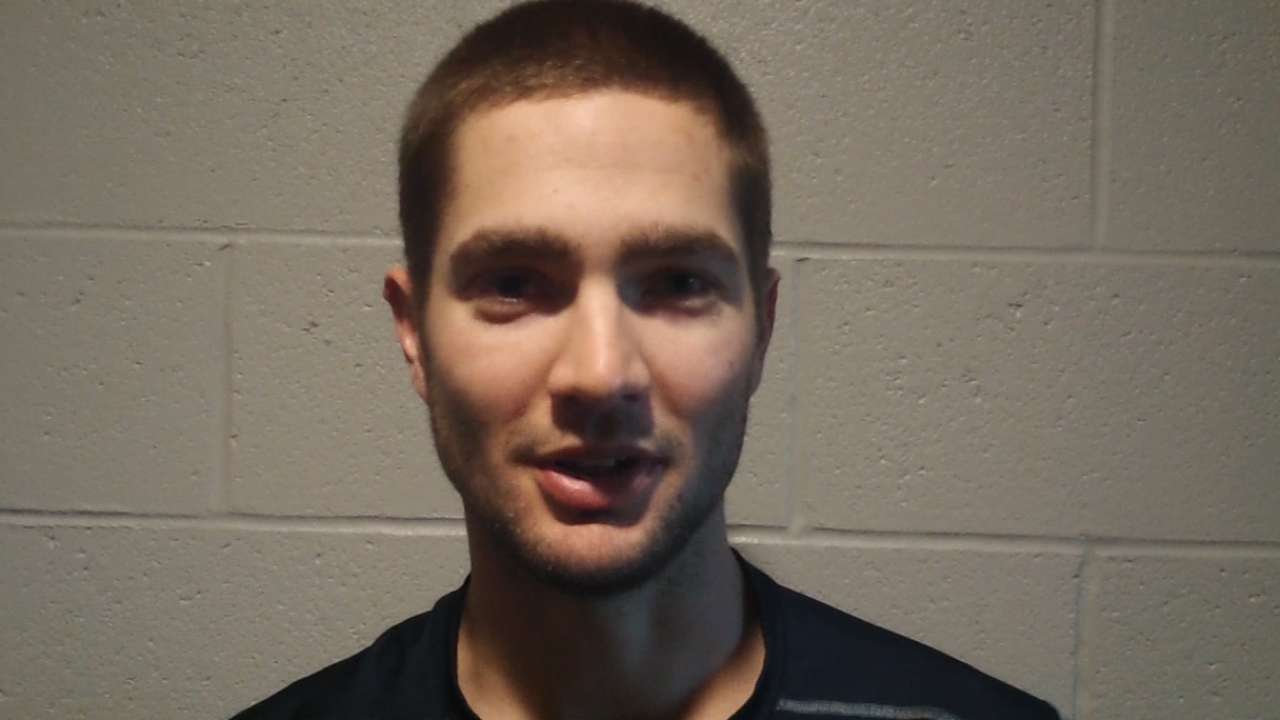 PEORIA, Ariz. -- The fog of anesthesia was just beginning to clear that morning last February when Cory Luebke, resting inside of a recovery room after his second Tommy John surgery in 21 months, noticed there was a couple in the room with him.
The man happened to be Hall of Famer Cal Ripken, the Iron Man himself. Ripken was at the Pensacola, Fla., clinic of noted surgeon James Andrews with his wife, who had also had surgery.
Still fighting the haziness, Luebke wondered if this was a cruel joke, some twisted commentary on his own frailty.
"Mr. Reliable and then it's me, Mr. Unreliable," Luebke joked recently.
It's nice to be able to joke again, because Luebke, who turns 30 on March 4, wasn't always in a laughing mood given his terrible run of misfortune -- reconstructive surgery on his left elbow in May 2012 and then another last February when the graft from the first surgery didn't take.
And it's certainly easier to smile today because Luebke is throwing again at Padres camp, playing catch from 90 feet with his sights set on 115 feet next week, then 120 feet the following week.
While the gains may seem small and the timeline might be hazy with no defined endpoint, there is a real sense that after falling far from relevancy, after infinite hours of rehabilitation and nearly three years after he last set foot on a big league mound, Luebke can now see himself doing it again this season.
When this happens, he won't be the only one reveling with delight.
"When it [surgery] happened the first time, I was devastated. When it happened a second time, I was heartbroken for Cory," said Padres pitching coach Darren Balsley. "But he probably handled it better than I did. Cory was so strong.
"That's why I want to see him throw one more pitch in a big league game."
Luebke made four appearances late in 2010 and then found a spot, first in relief and then as a starter in '11 when he a 3.29 ERA in 139 2/3 innings. The Padres were impressed and, betting on his upside, gave him a club-friendly contract extension in the spring of 2012 that guaranteed him $12 million.
"The neat thing for me was he knew he still had a long way to go. He knew he didn't have it all figured out," Balsley said.
Luebke, a homegrown pitcher drafted with the 63rd overall pick in 2007, produced immediate returns to start the 2012 season. He allowed one run in 5 1/3 innings against the D-backs on April 11 then allowed one run in seven innings against the Rockies on April 16.
"He listened and he understood what he needed to do in order to be a successful pitcher at this level," said Padres manager Bud Black. "What we saw was him becoming more of a complete pitcher.
"He was dealing."
Luebke's fifth start of 2012 was April 21 at Petco Park, a Saturday night.
"Is that me and Halladay?" Luebke asks when reminded of that night.
Facing the Phillies and Roy Halladay, Luebke tossed eight scoreless innings, needing just 110 pitches. It was a fastball-slider-changeup mix that proved devastating, as he allowed two hits, two walks with five strikeouts.
"It wasn't like I felt overconfident, but I knew I could pitch," Luebke said.
But on a night where seemingly nothing went wrong for Luebke, something did.
A pitch sequence in the third inning where Luebke "humped up" to blow a 95 mph fastball by Juan Pierre for a strikeout took a toll, one that ultimately would derail his season and career.
"I knew how I wanted to get him out," Luebke said. "… But I had a little nervy feeling [in the elbow] after that."
His between-starts bullpen session that week was "a little rough," he said. He took a couple of days off from throwing. When he warmed up for his next start at AT&T Park in San Francisco on April 27, he felt something was amiss.
He allowed two runs in six innings and then left the game when he felt his elbow beginning to coil up.
"I was thinking, 'Crap this is what it feels like,'" he said. "I didn't have the blowup, but it probably was not that far away."
Luebke had surgery on May 23 performed by Dr. Lewis Yocum, one of the final surgeries he performed before he passed away later that year.
Luebke pressed ahead with his rehabilitation, emboldened by the stories of others who had come back from the surgery. He would put in the time, the work, the rehabilitation and resume his career, just like everyone else. His promising career, one just beginning to take flight, was on hold -- not in jeopardy.
But on his path, Luebke got the sense that something wasn't quite right with the elbow. He was missing marks of where he should be, and how he should feel, even though recovery is so individual.
"There was some doubt with me with the first rehab when we got to the 12-, 13-month mark and I didn't feel what I imagined I should feel like. It was a continuous struggle. I remember thinking, 'What's going on here?' I remember telling my dad, 'This isn't right,'" Luebke said.
On Jan. 31, 2014, Luebke had an MRI that showed another tear in the ulnar collateral ligament in his left elbow, which meant another surgery and another 12 to 18 months of rehabilitation before he could pitch again.
"I was crushed for him," Black said. "I know Cory's work ethic and his general feelings toward the team and the organization, and I'm sure it was extremely hard on him mentally."
During his second surgery, Andrews used a tendon from Luebke's right knee that was long and strong enough to include three loops to secure the tendon to the bone. He also told Luebke that the odds of someone needing a second surgery of this type were "5 to 10 percent."
In the Padres' clubhouse alone, there are three pitchers who have had Tommy John surgery twice -- Shawn Kelley (2003 and 2010), Josh Johnson (2007 and 2014) and Luebke.
Steep odds, but it can be done. And in Luebke's eyes, it will be done.
"My dad always tells me that something good is going to come of this, that we don't know what it is yet but eventually there's going to be some light at the end of this tunnel," Luebke said.
Asked if he truly believes that's the case, Luebke pauses for a moment and then finishes his thought.
"I think so, I do. Come May, it will be three years. I try not to think about it [returning] too much because it makes me want to speed things up. But as things go well and anticipation builds, it's going to be hard to describe."
Corey Brock is a reporter for MLB.com. Keep track of @FollowThePadres on Twitter. This story was not subject to the approval of Major League Baseball or its clubs.