Ryan hopes for larger role in Yankees' infield
Defensive dynamo seeks more at-bats against left-handers in 2015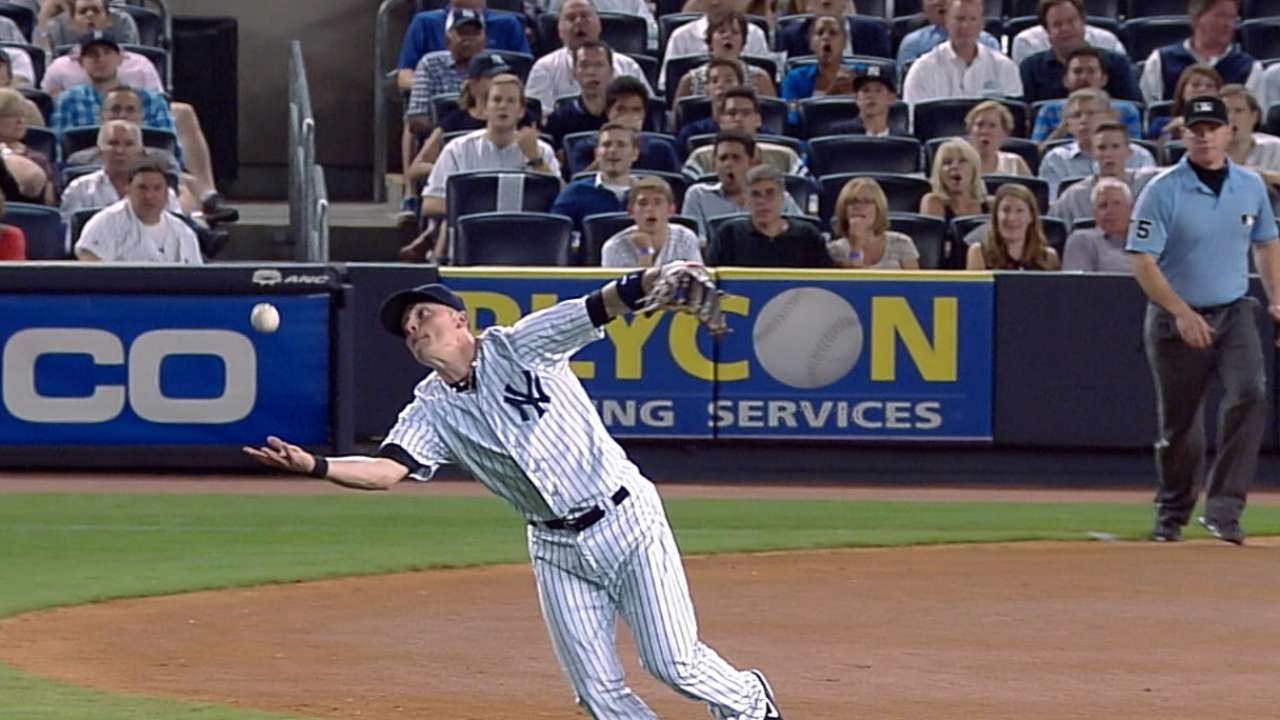 TAMPA, Fla. -- Brendan Ryan knows what the back of his baseball card has looked like for the last few seasons, but the Yankees infielder believes that he can be counted on for more than just a good glove.
"My average was terrible, but I felt like I hit the ball way better than my average showed," said Ryan, who batted .167 in 114 at-bats last year. "I just didn't have much love. When you don't have a whole lot of love with few at-bats, things get blown out of proportion. I think I did some things well last year."
Ryan appeared at every infield position for the Yanks last year and is a .245 career hitter against left-handed pitching, prompting the Yanks to discuss using him as part of a platoon at shortstop with Didi Gregorius, who has struggled against lefties. Ryan could also help back up second baseman Stephen Drew.
"It's something that we'll definitely look at," manager Joe Girardi said. "Didi is a guy that, I'm going to give him the benefit of the doubt and have him work on the things that he needs to work on. Stephen has been a guy that's had success in his career, but if you're going to spell a guy, that'd be the day that you'd spell them."
Ryan, who is in the second year of a two-year, $4 million contract, said that he has not yet spoken to Girardi or general manager Brian Cashman about what his role will be.
"If Drew or Didi is dominating with left-handed hitting, then they've earned the right to play," Ryan said. "We want to win. Hopefully it's the same the other way around; if I'm getting it done and helping us win, hopefully I'll get to play a little more, too."
Ryan said that he is hoping for a healthy spring after starting last year on the disabled list. He is also looking forward to working on his swing with new hitting coach Jeff Pentland, whom he knows from their time with the Mariners.
"I've made it easy to label myself just a defensive guy," he said. "I'm not going to go out there and hit .400 and hit 40 homers or anything like that, but I can definitely be serviceable and hit .260 or .270. I've gotten away from some things that I did really well in St. Louis."
Bryan Hoch is a reporter for MLB.com. Follow him on Twitter @bryanhoch and read his MLBlog, Bombers Beat. This story was not subject to the approval of Major League Baseball or its clubs.