Darvish, Chirinos getting comfortable together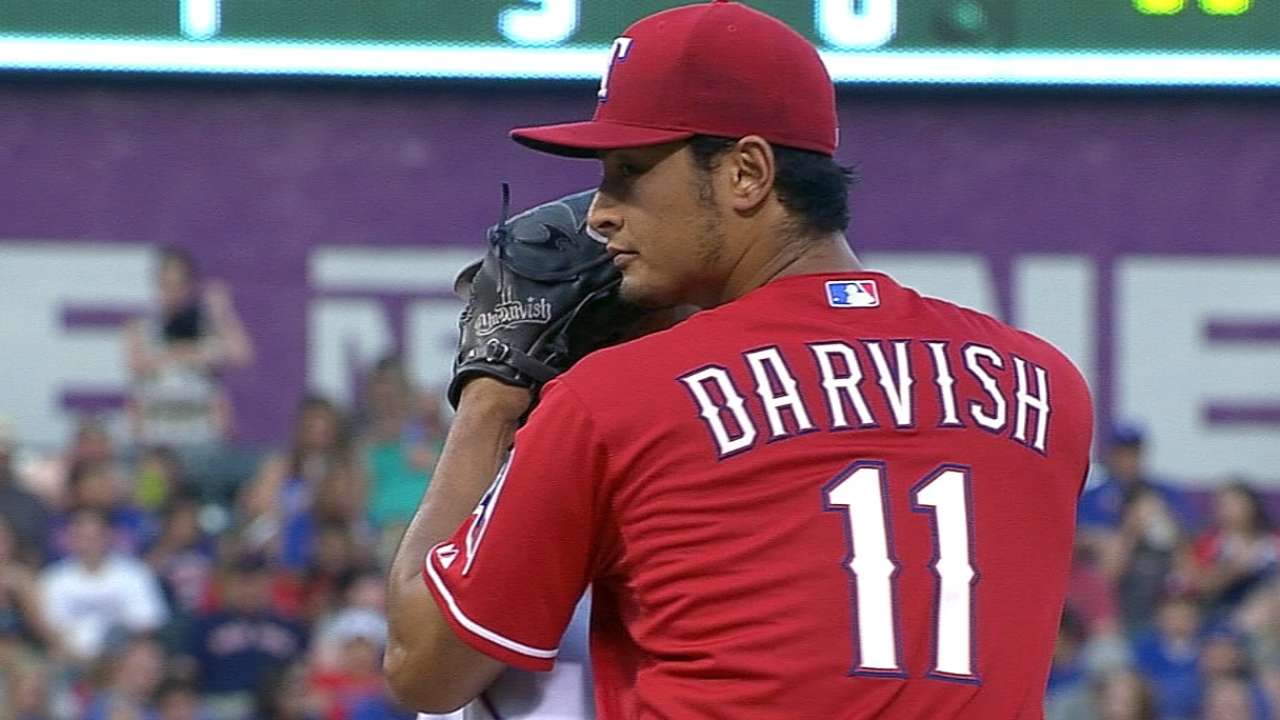 SURPRISE, Ariz. -- Rangers pitcher Yu Darvish threw live batting practice on Wednesday and Robinson Chirinos was his catcher. Darvish seemed to be fine with that arrangement.
"It doesn't matter," Darvish said. "Even during the games I'm OK with Chirinos."
That has not always been the case. Darvish can be finicky and demanding about who catches him in a game and Chirinos did not catch him last season after an April 28 loss to the Athletics.
Even though Chirinos ascended to be the Rangers' No. 1 catcher, Chris Gimenez was behind the plate for 12 of Darvish's final 17 starts while J.P. Arencibia caught three and Geovany Soto had the other two.
Arencibia and Soto are no longer here. Gimenez is here but signed to a Minor League contract to provide Triple-A depth. Unless something unexpected happens, Chirinos and Carlos Corporan are expected to be the Rangers catchers going into the season.
"He is our No. 1 pitcher, so yeah I want to catch him," Chirinos said.
Darvish worked out at Globe Life Park this winter. Chirinos was there as well and tried to talk to Darvish about being able to work together.
"I think we have a good relationship," Chirinos said. "I talked to him a lot and got his feedback on where he wants me to set up and what kind of pitches he wants to throw. I think we're on the same page and building a better relationship."
Manager Jeff Banister would prefer to stay away from the idea of personal catchers for particular pitchers.
"I like to think all of our pitchers are capable of throwing to all of our catchers and being comfortable throwing to the appropriate catcher who needs to start that night," Banister said. "Chirinos is our catcher. Chirinos is going to need nights off throughout the season so Corporan is a really nice catcher to have to go behind the plate.
"I feel confident our pitchers will develop a relationship with whomever is behind the plate. We want these guys as comfortable as can be but they also have to be comfortable with the catcher behind the plate."
Darvish likes to call his own game and can throw as many as eight different pitches. The Rangers come up with a plan for every game but if Darvish gets in trouble early, he's apt to abandon the plan. If he doesn't like the feel of his best pitches early in the game, he also has a tendency to try lesser pitches rather than stick to his strengths.
"You have to get on the same page with him because his mind works differently than the average bear," Gimenez said. "He has so many pitches at his disposal, it took me a few starts. After that, he was easy. He is picky, liking things a certain way. I watched a lot of video to see what he likes and needs.
"Catchers like to be in charge and if you feel strongly about a certain pitch, you go out and talk to the pitcher. But he's going to throw the pitch he wants. He'll look at you and say, 'I'm going to throw it, you catch it.' He believes in his pitches, you've got to learn that and the quicker the better."
T.R. Sullivan is a reporter for MLB.com. Read his blog, Postcards from Elysian Fields, and follow him on Twitter @Sullivan_Ranger. This story was not subject to the approval of Major League Baseball or its clubs.