Francona eyes balance for busy bullpen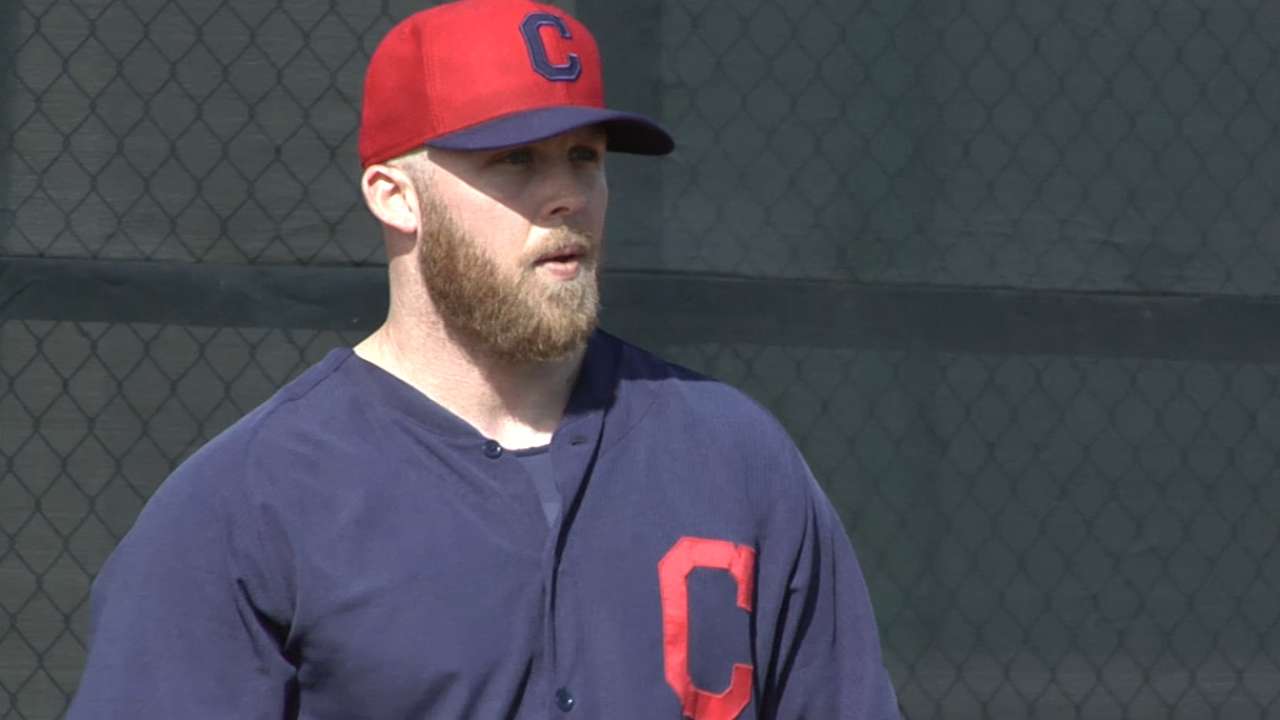 GOODYEAR, Ariz. -- Given their high appearance totals last year, the Indians will soon be mapping out the respective spring workloads of heavily-used relievers Cody Allen, Scott Atchison, Marc Rzepczynski and Bryan Shaw.
"We actually are in the process now," Indians manager Terry Francona said, "with the guys that pitched a lot, walking through how they would like to prepare for the season, because they're all so good about understanding what they need to accomplish."
Last year, Francona set a single-season American League record with 573 relief appearances from his bullpen. Cleveland also became the first team in AL history to have four pitchers (Allen, Atchison, Rzepczynski and Shaw) with at least 70 appearances each in the same year. Allen (76 games in 2014) and Shaw (MLB-high 80 games) have been two of the most-used relievers over the past two years, too.
Francona said one way to ease those relievers into things this year is to have them pitch in lower-intensity environments. For example, when the time comes to have those pitchers work on consecutive days, the second game would likely be in a Minor League contest rather than a Cactus League game.
"The biggest thing is common sense and listening to them," Francona said. "They're getting ready for a long season. They're not necessarily trying to prove themselves here, but like hitters, you want to be ready when the season starts."
Here are some more notes and quotes from Wednesday:
• The Indians continue to work hard with shortstop Jose Ramirez on improving his English, because they feel it will help him improve in areas such as understanding scouting reports and taking charge on the field. Said Francona: "Baby steps is probably the best way to put it. Some guys have a little better ear for it or it comes a little easier. He is trying and we're spending time with him."
• Back in November, Francona and Carlos Santana were a part of the Major League All-Star team that traveled to Japan for a series of exhibition games. Francona, who was on the coaching staff, said it was good to get that one-on-one time with the Indians' first baseman. "There was a lot of time I had with Carlos where it wasn't just baseball," Francona said. "I thought it benefited us both."
• A year ago, Santana was training to be Cleveland's primary third baseman and backup catcher -- a split role that changed later in the regular season. Santana is now the Indians first baseman, but the part-time transition to third did pay dividends. Said Francona: "The work he did trying to play third really transferred over to first base. I thought he was really athletic."
• Third baseman Lonnie Chisenhall and utility man Zach Walters both participated in Wednesday morning's workout. Both players missed Tuesday's practice while dealing with flu-like symptoms. Left fielder Michael Brantley worked out Wednesday, but was held out of some activities due to lower back soreness.
Jordan Bastian is a reporter for MLB.com. Read his blog, Major League Bastian, and follow him on Twitter @MLBastian. This story was not subject to the approval of Major League Baseball or its clubs.