Gonzalez expects 'controlled chaos' as camp fills up
Braves expecting 65 healthy players as club begins full-squad workouts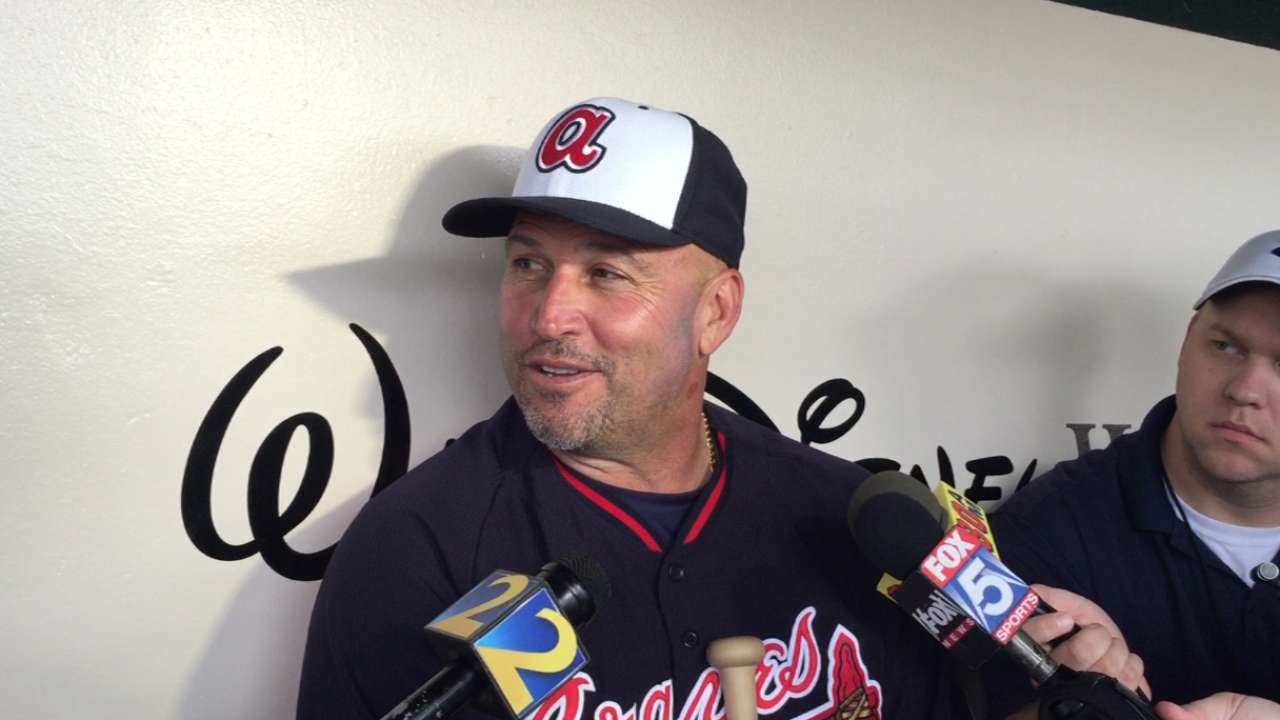 LAKE BUENA VISTA, Fla. -- After spending the past few days watching a slew of pitchers' fielding drills and bullpen sessions, Braves manager Fredi Gonzalez is ready to take another step toward the regular season when he oversees his team's first full-squad workout on Thursday.
Braves president of baseball operations John Hart said he usually likes to bring somewhere between 52-55 players to his big league camp. But with some uncertainty surrounding a few different positions, he compiled a multitude of depth options this winter and consequently will have a total of 65 healthy players in camp.
"All those [back] fields are going to be like an ant farm," Gonzalez said. "Everybody is going to be going everywhere. It's going to be chaos, but it's going to be a controlled chaos. It's going to be fun. I'm looking forward to it."
Most of the Braves' position players had reported to camp by Wednesday. The club is not sure when to expect Dian Toscano, the recently signed Cuban outfielder who is expected to begin the season with Triple-A Gwinnett. But there is at least some hope Toscano might arrive within the next week.
Catcher Jesus Flores, a non-roster invitee, has had visa issues that delayed his entry into the United States. But Gonzalez said there is a chance Flores will be present on Thursday.
"I'm really impressed by the position players," Gonzalez said. "Everybody is here. I think I saw everybody. So, that's good. I think everybody is itching to get going. I know some of the guys that live up north are excited about getting into the warmer weather and starting to swing the bats a little bit."
Mark Bowman is a reporter for MLB.com. This story was not subject to the approval of Major League Baseball or its clubs.