Syndergaard feeling more comfortable at Mets camp
Top prospect admits to being overwhelmed last spring, pressing at Triple-A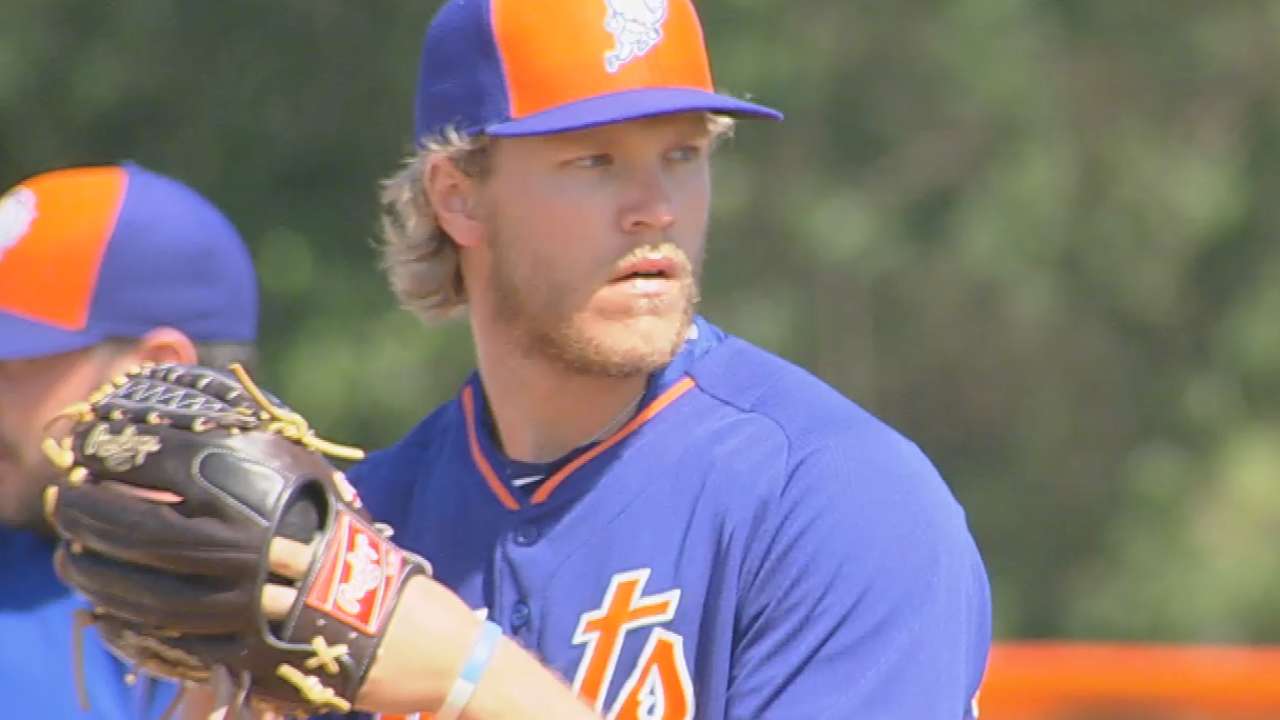 PORT ST. LUCIE, Fla. -- It was enough that Noah Syndergaard was struggling. It was enough that Syndergaard was sweating out his days in the Las Vegas desert, long past the time he expected to become a member of the Mets.
All of that was enough. It came to a point around the All-Star break when Syndergaard was so sick of reading the critical tweets directed at him, so tired of seeing the unflattering descriptions in print, that he deleted the Twitter application off his phone entirely. He didn't want to know.
Syndergaard, who struggled to acclimate even to the positive attention that engulfed him last spring, instead learned to deflect it.
"I actually feel a lot more comfortable," Syndergaard said Wednesday, surrounded by a noticeably smaller media contingent. "This is probably the fifth or sixth day of Spring Training, and I'm just now doing an interview. Last year, it was the first day, walking to my locker I was getting interviewed. I kind of got my feet wet a little bit and feel a lot more comfortable now."
A year after reporting to Port St. Lucie as the talk of camp, a wunderkind whose upper-90s fastball and cartoonish weightlifting regimen dwarfed even Matt Harvey or Zack Wheeler's prospect hype, Syndergaard admits to feeling overwhelmed. Never blessed with Harvey's brashness or Wheeler's natural calm, the Mets' No. 1 overall prospect struggled with the attention that follows a once-in-a-generation talent. Then injuries undermined him early at Triple-A Las Vegas and he never quite recovered, posting a 4.60 ERA in 26 starts.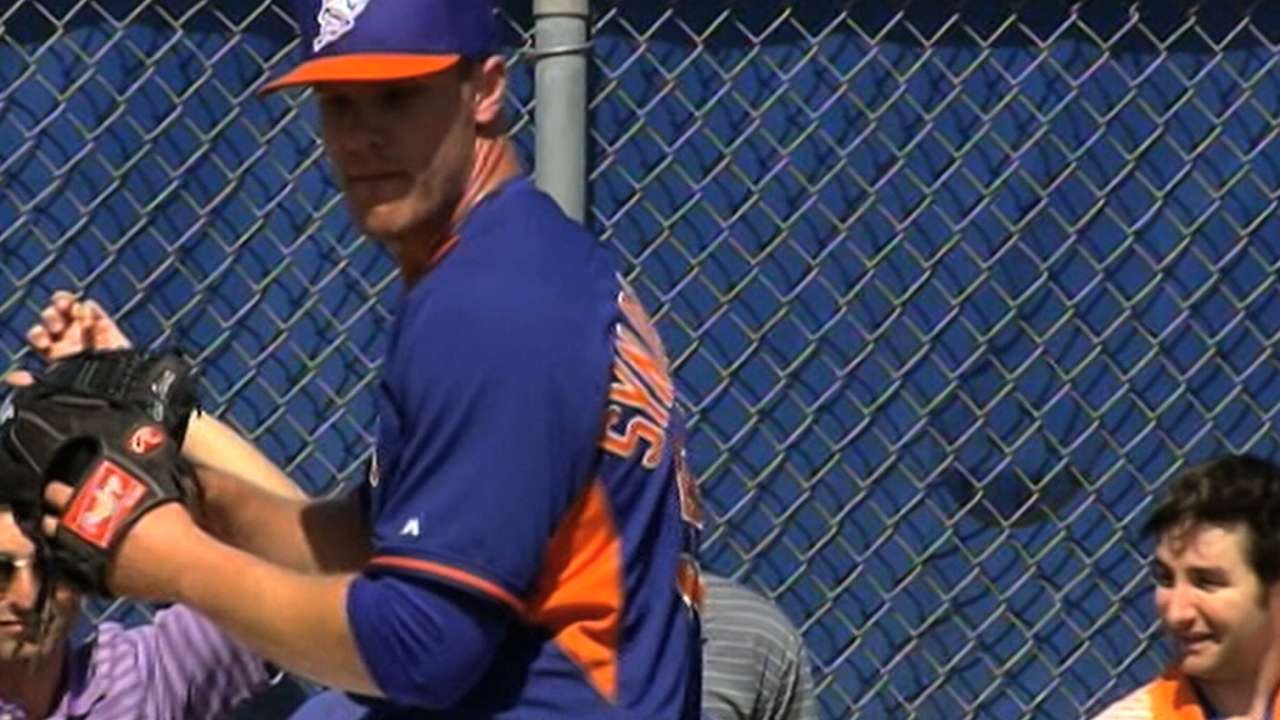 Though Syndergaard's skill set remained obvious, as evidenced by 145 strikeouts vs. 43 walks in 133 innings, his confidence waned.
"I started really pressing, getting really tense last year, because I paid attention to the Super Two deadline and I got too much in my head," Syndergaard said, believing he would be called up -- like Harvey and Wheeler before him -- once that arbitration deadline passed. "When it wasn't happening, I started pressing a little more."
Now, finally, perhaps that pressure has eased. Though Syndergaard remains one of the game's most promising prospects, Harvey -- not him -- is the talk of camp. And because Syndergaard has virtually no chance of making the Opening Day rotation, he can worry less about meeting expectations and more about improving, in the hopes of keeping his return to Las Vegas brief.
"We think the world of him," manager Terry Collins said. "We think the world of his stuff. Right now, where's he going to fit? He'll determine that."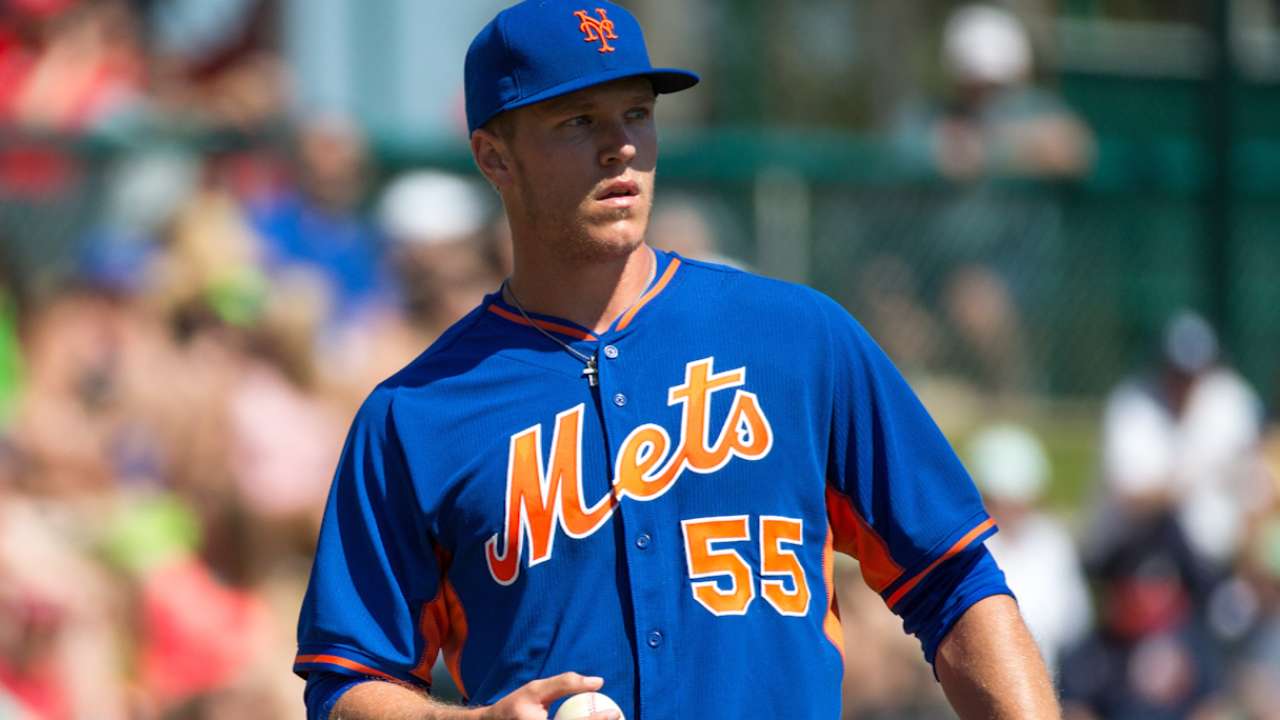 For Syndergaard, incentive should be easy to find. He still quite clearly remembers brushing his teeth in a Reno, Nev., hotel room last September, the morning after being eliminated from the Pacific Coast League playoffs. When Syndergaard checked his phone and saw a missed call from Sandy Alderson, he assumed the general manager wanted to congratulate him on being a September callup.
Instead, Alderson told him to go home for the winter without stopping in Flushing.
"It was kind of heartbreaking, but I went home, let things relax for a little bit, then got back on my workout program and just enjoyed time in the offseason," Syndergaard said. "But yeah, it's disappointing. Being in the big leagues has been my dream since I was a little kid. Having someone tell you that ..."
Syndergaard trailed off.
"I use that as a little extra motivation. I don't want to hear that call from him again."
Anthony DiComo is a reporter for MLB.com. Follow him on Twitter @AnthonyDicomo. This story was not subject to the approval of Major League Baseball or its clubs.