Hamilton meets with MLB about disciplinary issue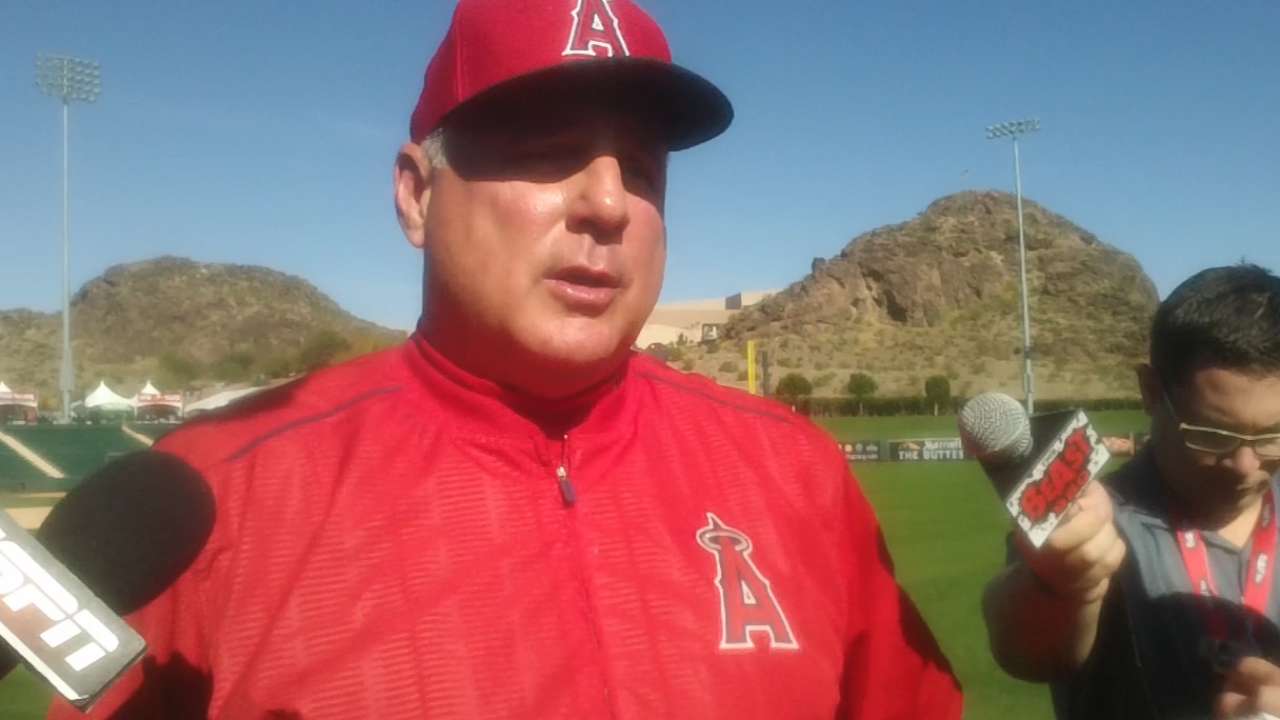 TEMPE, Ariz. -- Josh Hamilton met with Major League Baseball officials at the Commissioner's Office on Wednesday regarding a disciplinary issue, the Angels confirmed, but the team declined to provide specifics about the meeting, wasn't certain when it might hear from MLB and was bracing for the possibility of a suspension.
The Los Angeles Times first reported news of the meeting in New York. CBSSports.com reported that Hamilton, who was suspended from 2004-06 because of issues related to cocaine and alcohol abuse, admitted to having a drug-related relapse this offseason, which is what precipitated the meeting.
Hamilton wasn't assigned a locker at the start of Spring Training and has been in Houston, staying with a friend who doubles as a part-time accountability partner while rehabbing from surgery on the AC joint in his right shoulder. The Angels haven't been certain when Hamilton will arrive at camp and haven't been able to guarantee that he'll report at all.
Hamilton's agent, Michael Moye, did not return a message seeking comment. MLB spokesmen said the league had no comment.
Angels center fielder Mike Trout said he hasn't spoken to Hamilton recently and wasn't completely aware of what might be at issue, but said, "He's going through a lot of stuff."
"It's greater than baseball," Trout added Thursday morning. "He's a friend to all of us; he's part of the family. He's part of the team. I don't know any of the details, so I can't really talk about that. But we miss him and hope everything works out."
Angels general manager Jerry Dipoto declined to comment on reports surrounding Hamilton's possible relapse, but did ensure that the 33-year-old outfielder is actively progressing toward baseball activities and "his [injury] rehab has gone according to plan."
The Angels were resigned to the fact that Hamilton would start the season on the disabled list and have acknowledged that his rehab could spill into May. Any timetable for his return could be further complicated if there is disciplinary action, but Dipoto maintained his stance that he isn't pursuing any potential replacements from outside the organization.
The Angels have no idea what to expect from Hamilton in the third year of a five-year, $125 million contract.
"We'll see," Dipoto said. "We'll see."
Major League players who test positive for a drug of abuse are initially put on a treatment program and aren't suspended unless they fail to comply. Hamilton would technically qualify as a first-time offender because his previous transgressions occurred when he was a Minor League player, but there's language in the Joint Drug Agreement that allows MLB to treat drug-of-abuse instances on a case-by-case basis.
The Angels wouldn't be responsible for paying Hamilton during a suspension.
"We're going to take one step at a time," Angels manager Mike Scioscia said. "There is no sense in getting too far out in front because information is still evolving."
Hamilton went from a can't-miss, blue-chip prospect in 1999 to a drug addict who was out of baseball for nearly four seasons to a superstar who started five straight All-Star Games from 2008-12. During that five-year stretch with the Rangers, Hamilton had public, alcohol-related relapses in January 2009 and February 2012.
Hamilton's last reported bout with drugs occurred in October 2005, but he's maintained that staying clean is a daily struggle.
"I'm a drug addict," Hamilton told USA Today in an interview shortly after being reinstated in June 2006. "It's not terminal, but there is no cure. It's hell on earth. It's a constant struggle. And it's going to be like that for the rest of my life."
In his first two years with the Angels, Hamilton presumably stayed clean but didn't produce. He posted a .250/.307/.432 slash line with 21 homers and 79 RBIs in 151 games in 2013 and batted .263/.331/.414 with 10 homers and 44 RBIs in 89 games in 2014, a season in which he spent most of September rehabbing injuries to his right side. He then went 0-for-13 in the Angels' Division Series sweep to the Royals.
Doctors were hopeful that extra offseason rest would counteract the need for surgery, but Hamilton felt pain when he began to swing at full force again and had surgery to shave some bone from his arthritic right shoulder on Feb. 4, a procedure that came with an estimated recovery time of six to eight weeks.
With second baseman Howie Kendrick dealt to the Dodgers in December, the Angels were hopeful of a bounceback year by Hamilton. They even brought in his lifelong friend, Johnny Narron, to be their Triple-A hitting coach in part because Narron could work with Hamilton in Spring Training.
From the start of 2007 until the end of 2011, when he became the Brewers' hitting coach, Narron acted as Hamilton's accountability partner, holding his money, staying in adjacent hotel rooms on the road and always being by his side at the ballpark. Shayne Kelley took over the role in 2012 and joined him with the Angels in 2013, but Hamilton downsized the role for 2014, instead having someone around only on the road and never in the clubhouse.
Scioscia believes Hamilton "was comfortable in our environment" and doesn't believe clubhouse atmosphere "had anything to do with what we're talking about."
"I think our organization and our clubhouse is as supportive as any organization I've been around in almost 40 years," Scioscia said. "We have a great group of guys, a good camaraderie."
The Angels' thoughts are mostly about Hamilton's well-being, not his impact on the roster. Hamilton is married, has four daughters at home and has dedicated the past 9 1/2 years to staying on the right path.
"I support him as a person," said Angels starter C.J. Wilson, who was also Hamilton's teammate in Texas. "When you have something going on, given what Josh has been through, you're looking out for him as a person first, and his family."
Alden Gonzalez is a reporter for MLB.com. Read his blog, Gonzo and "The Show", and follow him on Twitter @Alden_Gonzalez. This story was not subject to the approval of Major League Baseball or its clubs.