Martin, Dickey have makings of strong partnership
Blue Jays' battery works together on knuckler for first time, shares mutual respect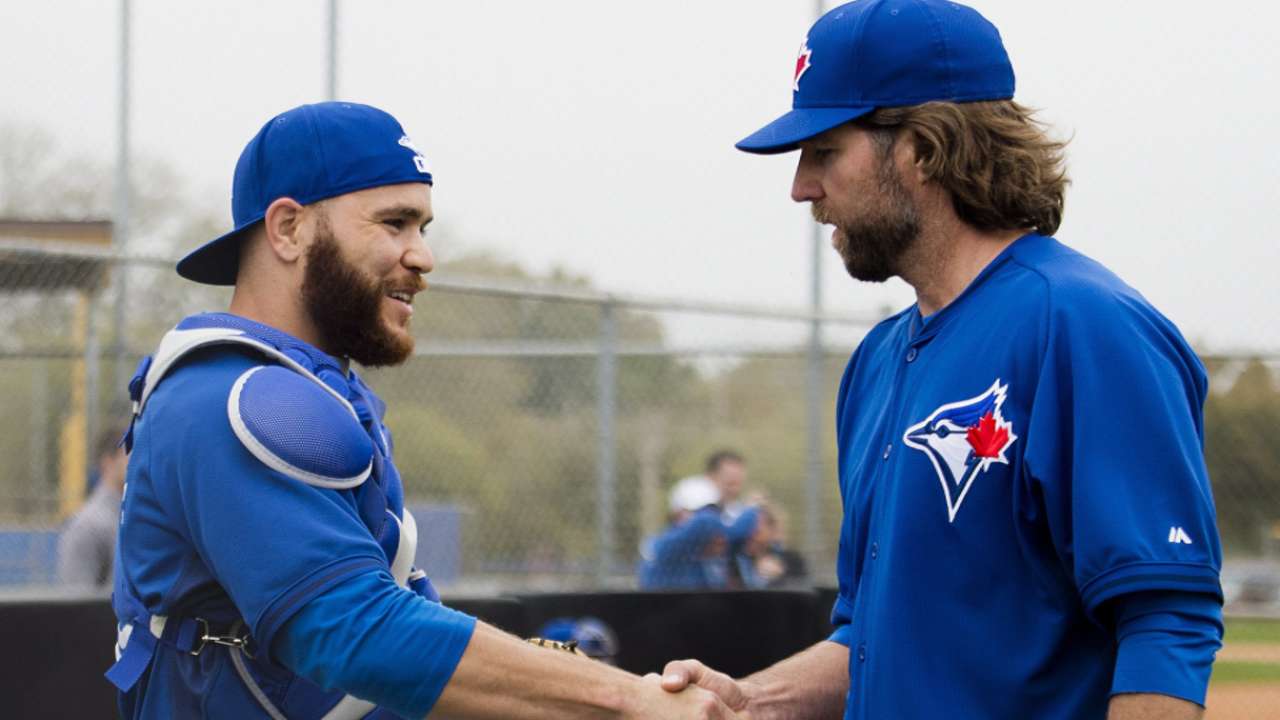 DUNEDIN, Fla. -- For the third time in as many years, R.A. Dickey has started Spring Training with a new face behind the plate. Unlike previous seasons, though, there's a sense that this pairing with Russell Martin will actually work.
J.P. Arencibia and Erik Kratz auditioned for the role in the past, but neither has the pedigree of Martin. Dickey threw to the Blue Jays catcher for the first time on Wednesday morning, and after the bullpen session was over, everybody came away saying all of the right things.
The session wasn't exactly flawless, as Martin dropped a couple of pitches, but that's also to be expected at this time of the year. More encouraging is that Martin's skill set was on full display, with his soft hands handling most of the knuckleballs with relative ease.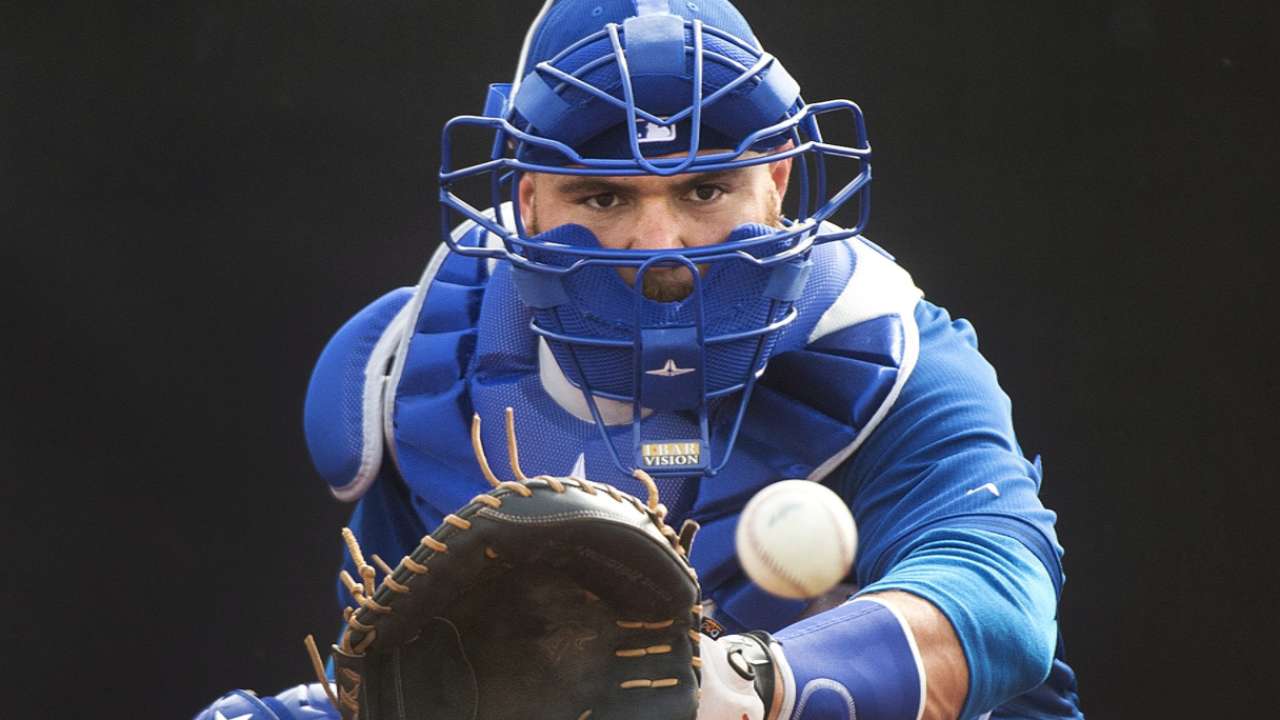 "I think he's probably a little bit impressed with how I'm able to catch it and not struggle too much," Martin said. "I'm not making it look too pretty back there, but I think as long as I catch the ball, I think that's the most important part."
Martin will spend the first few weeks of Spring Training adjusting to his new role. The unpredictable nature of a knuckleball that can move any direction requires not only a different glove but also a completely new stance for Martin behind the plate.
The nine-year veteran caught the bullpen session with his body turned at a 90-degree angle from the mound. The sideways approach is designed to increase his mobility behind the plate and allow his athleticism to take over when the knuckleball takes an unexpected turn.
There was constant communication between the two during their initial meeting. Martin talked almost the entire time and at one point commented, "That's nasty, man" after a particularly effective knuckleball. Later, Martin said: "Don't tell me what's coming, I want to see how I react," in reference to the variances of speed Dickey often uses.
When it was over, the two met in the middle for the traditional handshake that marks the end of every bullpen session.
"I promise I'll get better," Martin said during that encounter. That had to be appreciated by Toronto's veteran starter, but it also might not have been needed because, regardless of what Martin might have thought, Dickey came away impressed.
"Russell's a great athlete, and more than that, he has a real willingness and desire to unpack what it takes to catch it well," Dickey said. "I don't anticipate us having any trouble, I think he's going to be able to do it.
"He wants to be good at his craft, and he is. It shows in his pedigree and the things he has been able to achieve. ... I knew that coming in. What you're really not aware of, until you work with someone first hand, is really how athletic a guy is. He's a real good athlete behind there, and because of that, I think he's going to have a really good chance at catching it."
Gregor Chisholm is a reporter for MLB.com. Read his blog, North of the Border, and follow him on Twitter @gregorMLB. This story was not subject to the approval of Major League Baseball or its clubs.