Cabrera ready to prove his worth to Orioles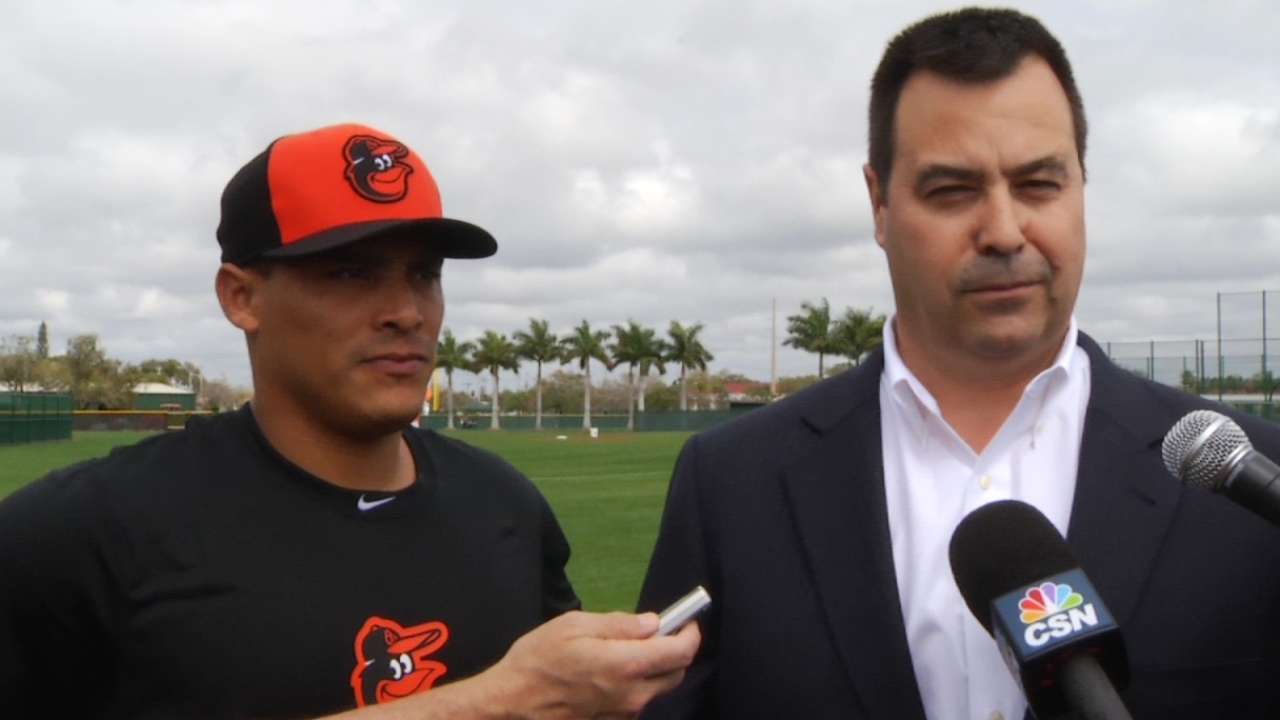 SARASOTA, Fla. -- New Orioles infielder Everth Cabrera has reached a plea agreement stemming from a resisting arrest charge in September, and will be eligible to play in 2015 while on probation.
Cabrera, who will wear No. 1, paid a fine and will have to do community service, according to Orioles executive vice president of baseball operations Dan Duquette.
Resolving the issue -- which originally had a court date set for April -- was vital to adding Cabrera, according to both Duquette and manager Buck Showalter.
"It was a prerequisite," Showalter said of finalizing the one-year, $2.4 million contract on Wednesday. "That's why it took as long as it did [after word leaked of an agreement]. It wasn't going to happen until it did and we felt comfortable with it."
Cabrera, who was also suspended in the Biogenesis scandal, is hoping for a fresh start in Baltimore.
"We always learn from, [and I did from] making the mistakes I did," he said. "I'm fresh. My mind is fresh and I'm ready to move [on]. I'm ready to play baseball and happy to be here."
The Orioles have a recent history of taking on players with some baggage, including Nelson Cruz last season. Cruz was also implicated and suspended in Biogenesis and flourished on a one-year deal with the O's.
"You can say the same thing about Delmon [Young]. Almost more so than Nelson," Showalter said of bringing a player with previous indiscretions into the clubhouse. "That part of it I feel real confident. [I've] already seen a couple things today, you see guys running from field to field. … I don't have a lot to compare it with.
"You talk about a clean slate and [an] open mind, that's what's going on right now with him."
Cabrera could see time in the outfield this spring, but not initially. The 28-year-old, who could make another $600,000 in incentives, said it doesn't matter to him where he plays.
"I'm open to everything," said Cabrera, who has 99 stolen bases over the past three seasons. "I have a little experience playing center field, right field. I want the opportunity and I want to play."
Another key component in the Orioles' decision was Cabrera's offseason attention to getting his legs back. Duquette said Cabrera spent the past eight weeks at St. Thomas University, "working to resolve some of the soft tissue injuries" that resulted in hamstring issues and limited him last season.
"He's young, he's hungry, he's made the All-Star team in 2013," Duquette said of Cabrera. "He can play a premium, skilled defensive position. He's a switch-hitter. He's an outstanding baserunner and a premium basestealer. So, he's got a lot of assets that could help the ballclub, and I'm sure we will find some spots to help us win some ballgames."
Added Showalter: "I'm not going to walk around behind [Cabrera] or browbeat him. I'm going to see if he takes the opportunity he's given here and runs with it."
Brittany Ghiroli is a reporter for MLB.com. Read her blog, Britt's Bird Watch, and follow her on Facebook and Twitter @britt_ghiroli. This story was not subject to the approval of Major League Baseball or its clubs.