Comeback candidate Masset could carve niche in Miami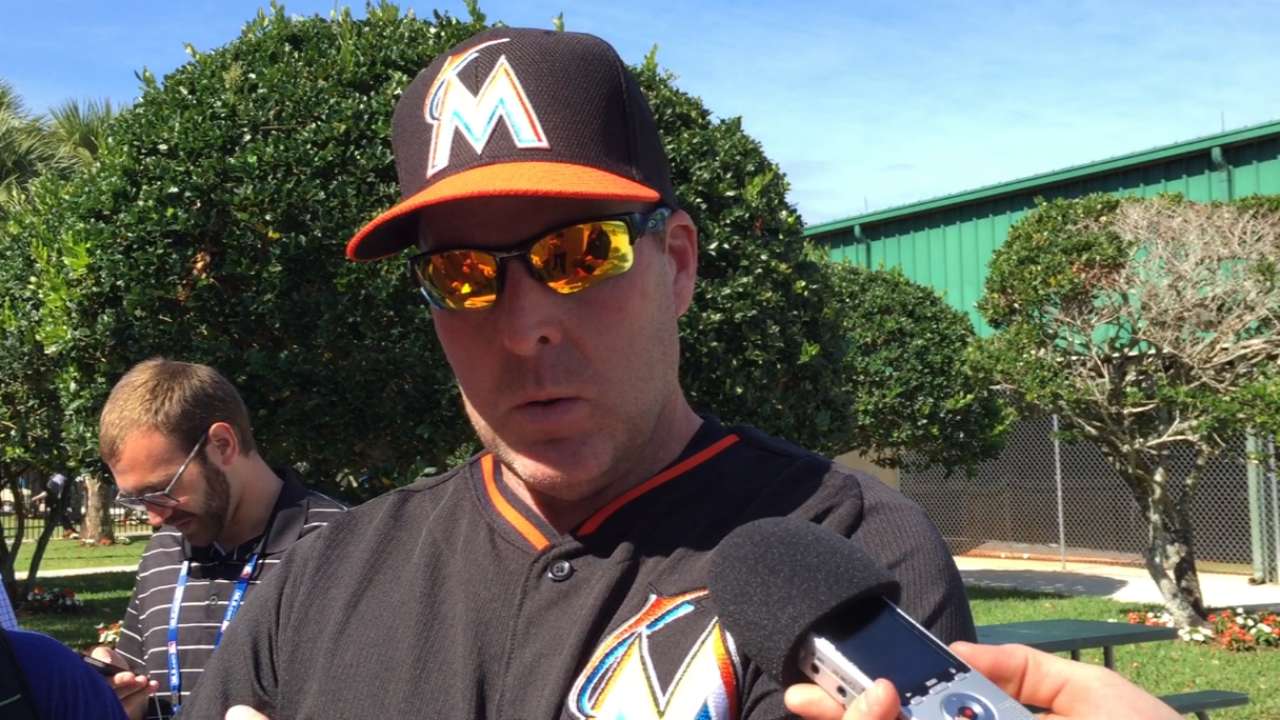 JUPITER, Fla. -- The life on his fastball is back, and so is his confidence. Now, it's just a matter of seeing if Nick Masset can regain his old form.
With the Reds from 2009-11, Masset was one of the most durable and dependable setup relievers in the game. But injuries and bad luck derailed his career, and now the 32-year-old from St. Petersburg is hoping to latch on with the Marlins as a non-roster invitee.
"I'm feeling healthy," Masset said. "My velocity, it's great -- 92-95 [mph]. It can run up to 96. Same stuff it was before. I can't wait for these games to start."
As an organization, the Marlins are eager to see what Masset has left. If he resembles what he was with the Reds a few years back, he could be a valuable piece in the bullpen. Masset had three straight seasons (2009-11) throwing at least 70 innings.
The right-hander rebounded nicely in 2014 with the Rockies, appearing in 51 games while posting a 5.80 ERA in 45 innings. Just getting back to the big leagues was an accomplishment, considering he missed two full seasons due to injuries.
The ailments started in the spring of 2012, when Masset was sidelined with a right shoulder injury. He had surgery that year on Sept. 7. In 2013, he again missed the entire season, undergoing surgery to correct thoracic outlet syndrome.
After his second surgery, he regained feeling in his right hand.
"I got the surgery, and instantly, it got the numbness out of my hands," Masset said. "There was a lot going on. Ultimately the surgery helped me release all the tension."
Masset praised the Reds for their support throughout a long ordeal.
"It was hard to go through," he said. "Luckily, I had a lot of support by the Reds. I never felt like I was rushed. They did everything in their power to get me on the field. They didn't want to overdo anything, or extra surgeries and what-not."
Masset considered signing with the Marlins in 2014, but opted for the Rockies. Now Miami has an abundance of right-handed reliever depth, and Masset will try to earn a spot in the bullpen.
"I've obviously watched a lot of film on him," manager Mike Redmond said. "He's a veteran guy. He's got a good curveball. This guy has been around a long time. He's healthy. He's right in the mix of our bullpen battle. It will be good to see him get out there and see what he can do."
Joe Frisaro is a reporter for MLB.com. He writes a blog, called The Fish Pond. Follow him on Twitter @JoeFrisaro. This story was not subject to the approval of Major League Baseball or its clubs.