MLB.com Columnist
Lyle Spencer
Dream team? Kemp thinking big at Padres camp
Slugger brings charm to new clubhouse, confident that Majors' best outfield resides in San Diego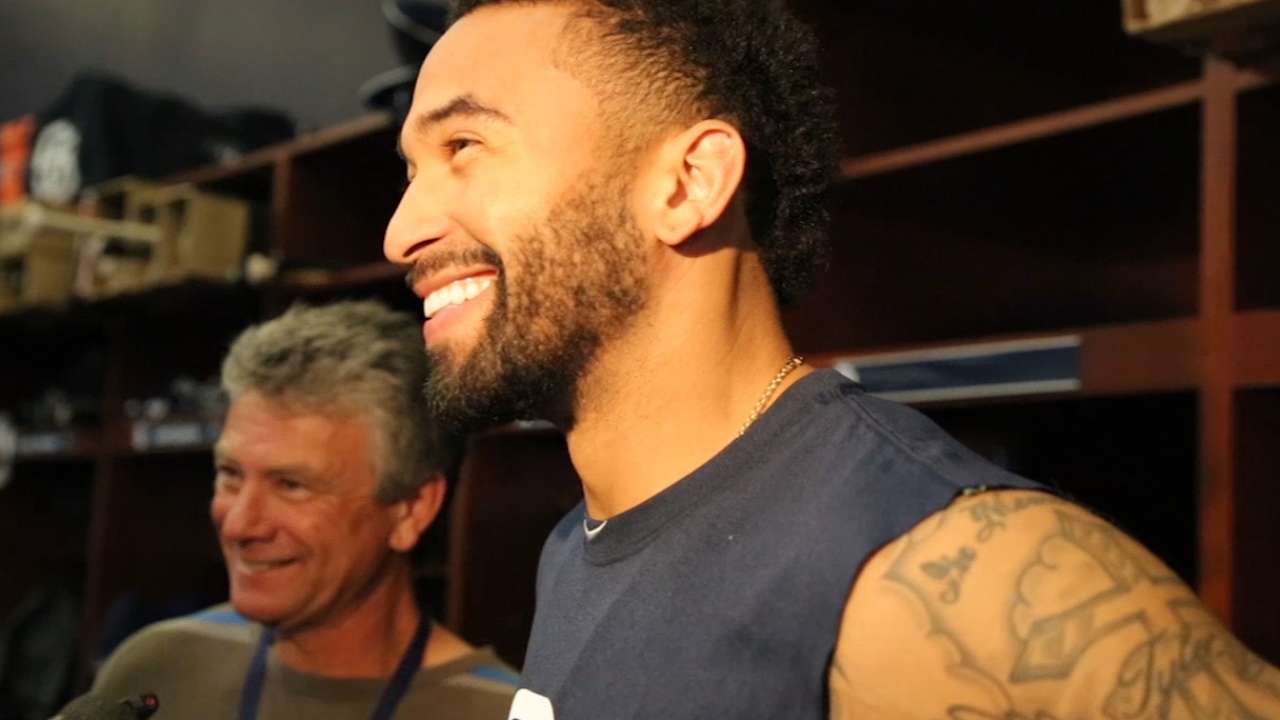 PEORIA, Ariz. -- Spotting a familiar face in the Padres' clubhouse early Wednesday morning, Matt Kemp presented a bright smile and a hand to shake, soon followed by a question.
"Who," he said, "do you think has the best outfield in the game now?"
The visitor gave it some thought before nominating the American League champion Royals for defensive purposes and the Pirates or Marlins for all-around excellence.
Kemp shook his head. "No," he said, firmly. "It's right here. Right here in San Diego. You can write it down -- and print it."
As one of the centerpieces in the boldly remarkable makeover by new general manager A.J. Preller -- with thumbs up from an ownership group eager to activate a dormant fan base -- Kemp is bringing his bat, glove, legs, arm and charm down south from Los Angeles.
Judging by the clubhouse crowd gathered around him, with animated conversation flowing around the comparative talents of NBA superstars Russell Westbrook, James Harden, Stephen Curry and LeBron James, Kemp has swiftly won over his new teammates with his vibrant personality.
This is not the Matt Kemp often seen alone with his thoughts the past few years at Dodger Stadium, frustrated by multiple injuries and a shifting role in the midst of an array of outfielders.
This Kemp is fully engaged, eyes alive, sparkling. The best player in the game in 2011, finally healthy and coming off a huge second half last season, he is eager to get started with turning the remodeled Padres into a force in the National League.
Want to feel like you're in the batting cage with @TheRealMattKemp?? Watch this video. #PadresST pic.twitter.com/Yo94kIyOzy

- San Diego Padres (@Padres) February 25, 2015
Kemp's fellow high-profile imports also are enthused about taking their talents to the southernmost California beaches. James Shields is always upbeat, and Justin Upton and Wil Myers are known as high-caliber individuals on and off the field.
"I really like this team," Kemp said, beaming. "We've got a lot of good dudes here. These guys want to win, and I'm here to do my part.
"Hey, nobody expected the Royals to do what they did, right? Why not us? We've got the talent in this room to get it done. It's just a matter of going out and making it happen."
Sure, it's only spring, and virtually every club in Florida and Arizona believes it has a shot. But few, if any, of the other 29 outfits have done so much so quickly to improve so dramatically.
Almost devoid of marquee names in recent years, the Padres now have enough star power in Kemp, Upton, Myers and Shields to challenge the World Series champion Giants up the coast and the Dodgers and Angels up the freeway. Catcher Derek Norris and third baseman Will Middlebrooks also bring some new thunder to the attack.
Manager Bud Black, no longer reduced to mixing and matching and hoping something works, can formulate lineups that look as good on paper as those his pitchers will be facing.
Questions arise, such as the leadoff man's identity and whether Myers fits best batting in front of Kemp and Upton or behind them. That's the role of the Cactus League, to shed light and hopefully resolve issues.
Shields, an ace in Tampa Bay and Kansas City with a reputation as an exceptional teammate, fronts a rotation that can deal with the game's best. Andrew Cashner, Tyson Ross and Ian Kennedy have the stuff to be quality No. 2 starters, even lead dogs.
Competition will reveal the fifth starter from a group that includes Odrisamer Despaigne, Robbie Erlin and Brandon Morrow. There is no need to rush premium prospect Matt Wisler.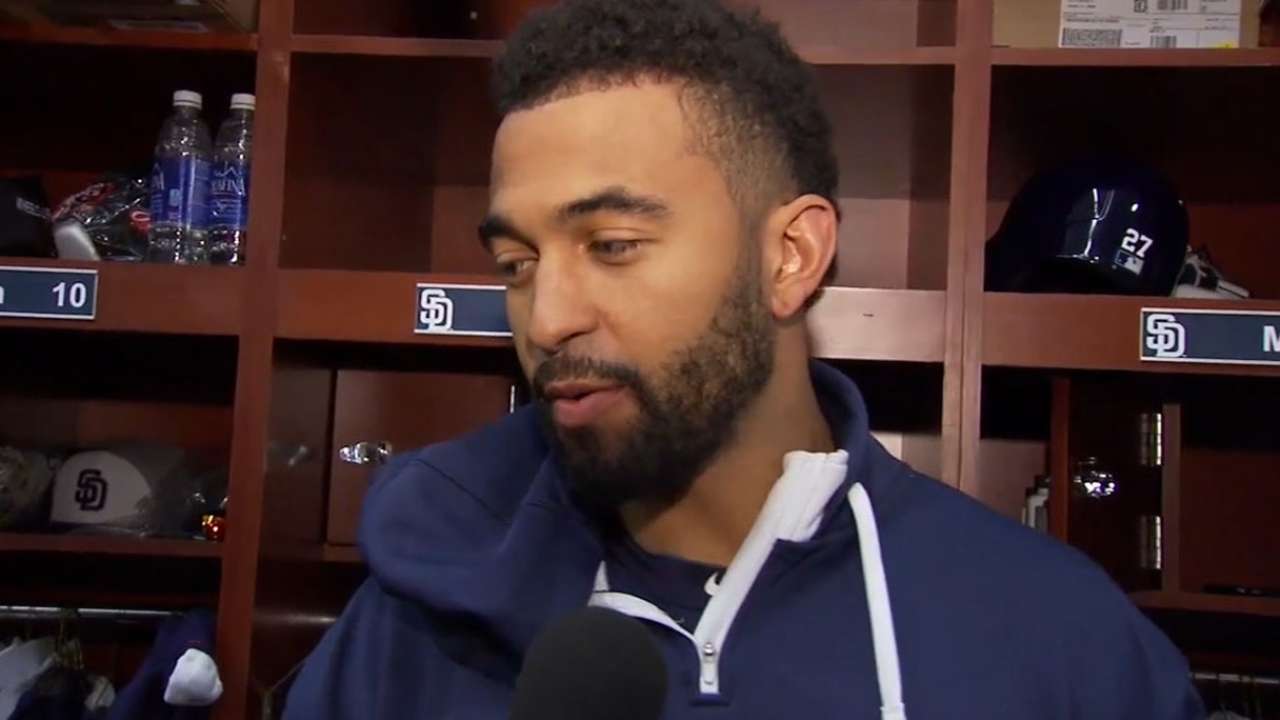 Black and pitching coach Darren Balsley have an impressive history of cultivating terrific bullpens.
Joaquin Benoit, who converted 11 of 12 save attempts upon inheriting the closer's role after Huston Street was dealt to the Angels at midseason, had the second-lowest ERA among NL relievers at 1.49. Setup men Nick Vincent, Kevin Quackenbush, Dale Thayer and lefty Alex Torres -- all back in the fold -- combined to strand 108 of 126 inherited runners, a superb 85.7 success rate.
Black said he likes an infield that critics question, and he has choices in the outfield should any of the three stars go down. Myers is relatively new to center and has a huge yard to explore at Petco Park, but Cameron Maybin has few defensive peers in center. Will Venable and Carlos Quentin also are proven Major League performers.
A rousing response greeted Black in his initial meeting with the team before the full workout, the athletes audibly in tune with the manager's message.
"More than anything," Black said, "I see excitement in the players. Guys who are new are happy to be here. The holdovers are happy they're here."
Kemp, whose home is a 30-minute drive from his new place of work, clearly liked the notion that he and Upton, an elite performer for six seasons, could be San Diego's version of LeBron James and Dwyane Wade getting together in South Beach.
"Who gets to be LeBron?" Kemp asked. The answer pleased him greatly.
Lyle Spencer has been a reporter for MLB.com since 2005. He has covered Major League Baseball as a reporter and columnist since 1971. This story was not subject to the approval of Major League Baseball or its clubs.