Martin ready to take on leadoff spot
Harrison begins throwing from 120 feet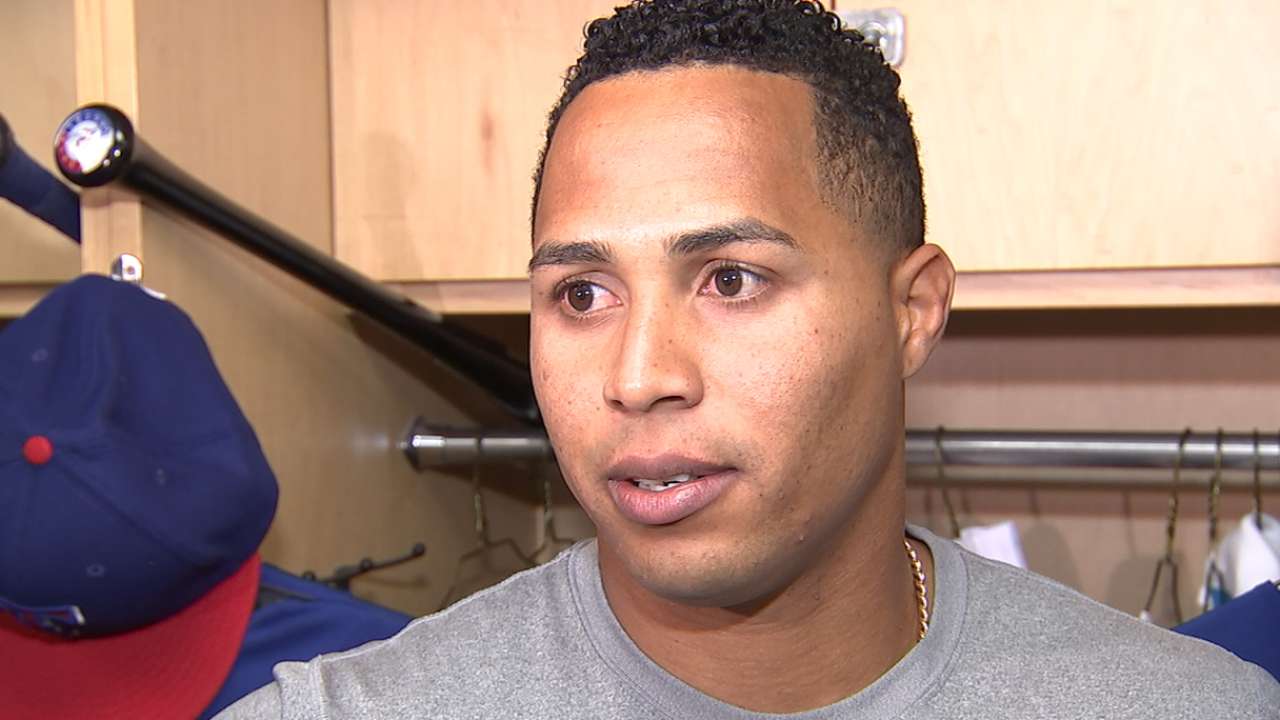 SURPRISE, Ariz. -- Center fielder Leonys Martin was one of the last players in camp, but wants to be the first Rangers player at-bat this season.
Martin said he wants to be the Rangers' leadoff hitter this season. He was in that spot at the end of last season but that was with Shin-Soo Choo sidelined because of ankle and elbow surgery.
"I have been a leadoff hitter all my career in Cuba," Martin said. "I'm ready. I want to show them I can get on base and score some runs."
Manager Jeff Banister said Martin will be considered although Choo is healthy again. Martin's speed suggests he belongs at the top, but Choo gets consideration because of his high on-base percentage. Elvis Andrus has also hit there in the past.
There have been 50 American League players who have had 300 plate apperarances in the leadoff spot over the past two years. Of those 50, Choo has the highest on-base percentage at .403. Martin is 27th with a .329 on-base percentage.
Martin has speed, stealing 31 bases last season, which was tied for the fifth most in the AL. But his success rate of 72.1 percent was 21st among 25 players with 16 or more stolen bases.
"I have been working on my baserunning, working on getting better jumps," Martin said. "I also have to focus on covering the strike zone and swinging at strikes. That's the key to leading off. I want to learn from Choo how he keeps his concentration all through the at-bat."
He still has to prove he can be a leadoff hitter. Banister has not committed to any set lineup although he admitted that Martin has the skills identified with a leadoff hitter and Choo has the ability to hit anywhere in the order.
"I'm glad he wants to be the leadoff hitter," Banister said. "I hope he takes that approach all spring. My message to him is show up with that attitude every single day. Show up having the desire to be the leadoff hitter.
"There is some responsibility that goes with being a leadoff hitter. He is the first guy that goes up there every night and sets the tone for the rest of the night. It's an opportunity to get the offense going and you're hitting among the best hitters in the lineup."
Worth noting
• Reliever Michael Kirkman, sidelined with an impingement in the back of his left shoulder, played catch on Wednesday and should catch up with the rest of the pack in the next few days.
• Matt Harrison has increased his throwing to 120 feet on flat ground but does not expect to be off a mound for at least another month.
• Michael Young is in camp, in uniform, as a special assistant for the next few days.
• Martin and outfielder Carlos Peguero were in camp on Wednesday. So were recently acquired pitcher Edgar Olmos and infielder Elliot Johnson. The Rangers now have all 63 players in camp minus injured infielder Jurickson Profar.
• Banister will hold his first team meeting before Thursday's first full-squad workout
T.R. Sullivan, a member of the Texas Baseball Hall of Fame, has been covering the Rangers since 1989, including for MLB.com since 2006.
This story was not subject to the approval of Major League Baseball or its clubs.