Astros emphasize plan before springing into action
Front office, players start camp on same page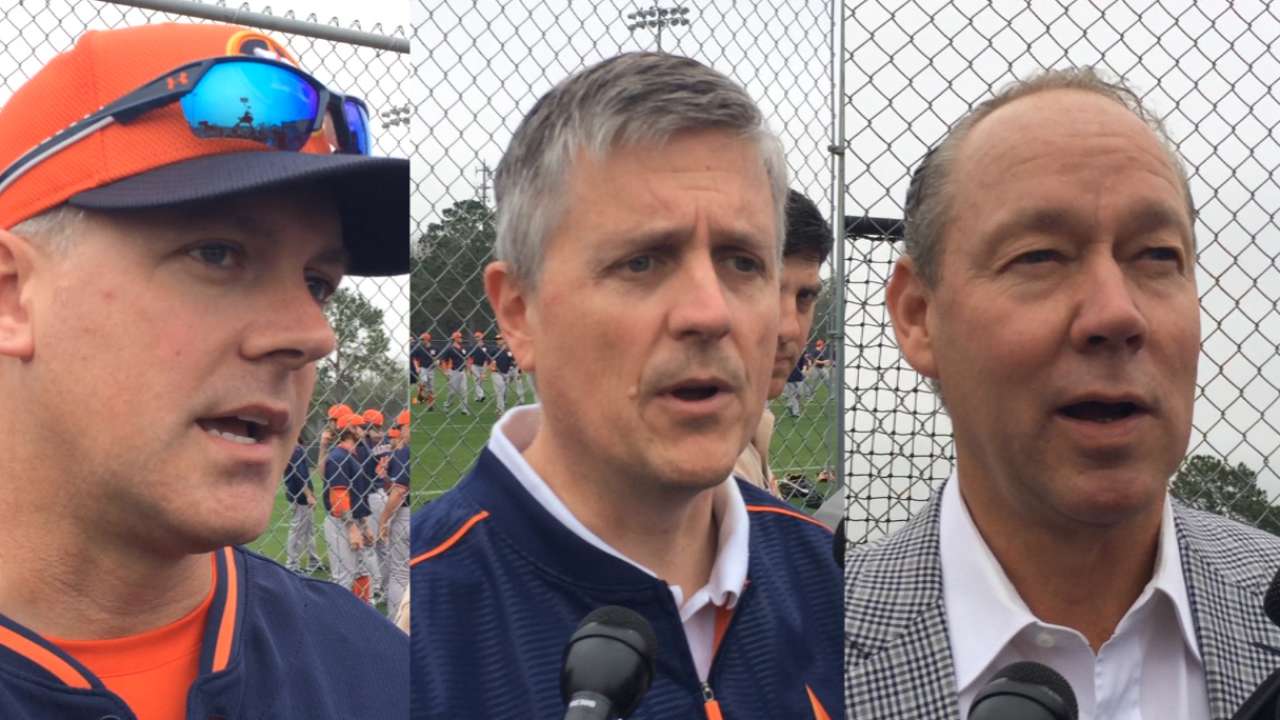 KISSIMMEE, Fla. -- The Astros finally hit the field for the first full-squad workout of Spring Training when the position players joined the pitchers and catchers Wednesday morning, but not before hearing from owner Jim Crane, general manager Jeff Luhnow and manager A.J. Hinch.
All three addressed the players, the field staff and some members of the front office prior to the start of workouts at Osceola County Stadium, laying out the expectations for the season while going over some details of how camp is going to be run.
"I think a lot of good things were said, some things that need to be said," said outfielder Colby Rasmus, who signed with the club last month. "Everybody is kind of getting going here and feeling good about themselves. Today, everything was loose, a good workout for the early going. With the guys we have and the talent we have, I think we can be pretty dangerous."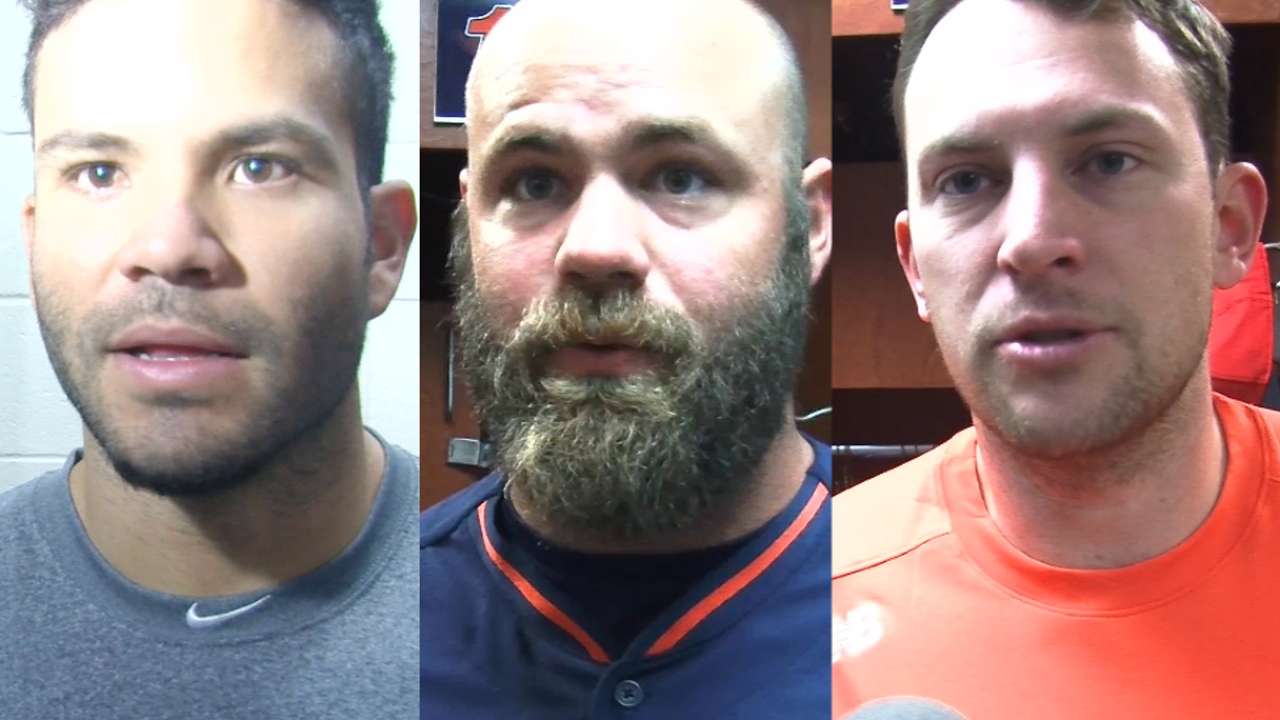 This is the fourth season for the Crane-Luhnow leadership group, though Hinch is in his first year. With so many few faces in the clubhouse, Luhnow felt it important those newcomers understand where the club is in its rebuilding plan.
"You have to realize, in these meetings, you have a lot of guys who have never been with the Astros before this day, so we really have to start from scratch and describe what we're all about," Luhnow said. "I went through a little bit of a history lesson over the last three years [about] where we've been."
After losing a club-record 111 games in 2013, the Astros improved to 70-92 last year, putting them in position to make a run at finishing with a winning record.
"We've talked about where we've been and what tough times we've gone through and the nucleus we had last year and the players we brought in this year, and this is our year," Crane said. "We've got some talented players in the room and added some good players, Major League-caliber players, and the goal is to make the playoffs."
Hinch has established a positive tone in camp, and the players have noticed. Still, Wednesday presented another chance to spread his message.
"It's always nice to get in front of them," he said. "There's a lot of introductions to be made, a few message points to get across and a little taste into how camp is going to be. But these players are ready. Most of the club has been around the complex for a few days. But it's nice to get together in one room and get off on the right foot."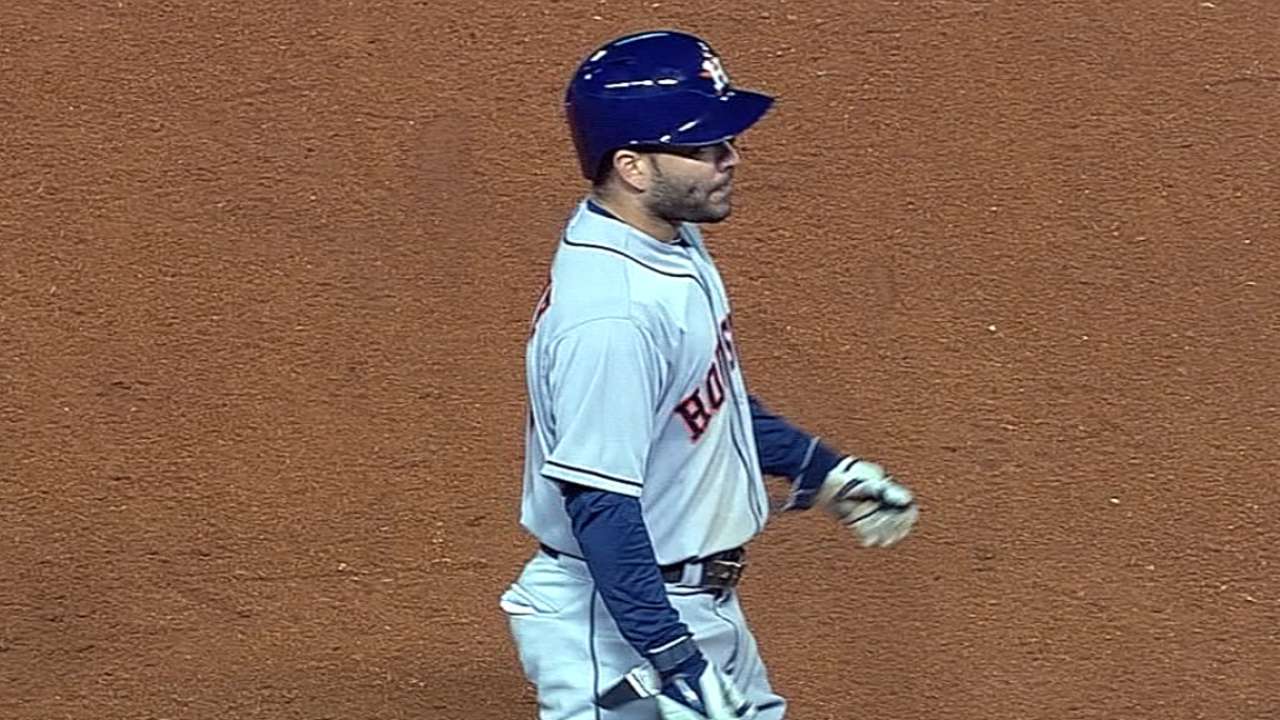 Luhnow singled out catcher Jason Castro, infielder Marwin Gonzalez and All-Star second baseman Jose Altuve to the group because they've been on the Major League roster the three previous seasons while he was the GM.
"Those are pretty good guys to have throughout that entire time," Luhnow said. "All of the work we've been doing leads to this point, 2015, where we're starting with those 60 men in the clubhouse, and you've got a tremendous amount of young talent in there, guys who haven't gotten to the big leagues like Colin Moran, Carlos Correa and Mark Appel.
"You've got a tremendous amount of young talent that just got there like [George] Springer and [Jon] Singleton, and then you've got guys at various stages of their career like [Dallas] Keuchel, [Collin] McHugh and the veterans like [Pat] Neshek, [Luke] Gregerson and Rasmus. It's a really interesting combination. We definitely have the talent to do some damage this year."
Crane said he could sense things were different in camp this year, based on the expectations, and is ready to put the struggles of the past behind him. And he even conceded his ownership has gone through "some rookie moves," but added, "No more rookie moves. We know how it works, and we're ready to go."
Brian McTaggart is a reporter for MLB.com and writes an MLBlog, Tag's Lines. Follow @brianmctaggart on Twitter. This story was not subject to the approval of Major League Baseball or its clubs.