Vogt steals show during A's team meeting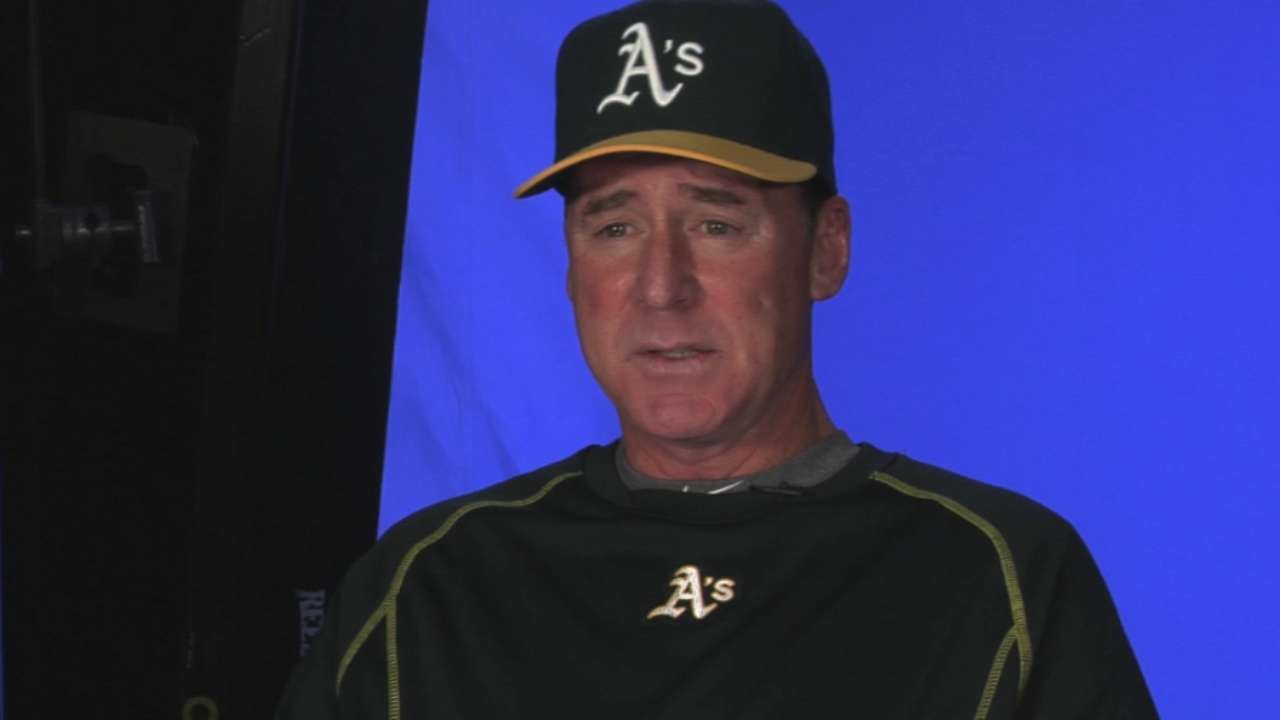 MESA, Ariz. -- All is well, and wacky, in A's camp.
The club held a team meeting prior to its first-full squad workout on Wednesday morning, dominated primarily by manager Bob Melvin. But co-owner Lew Wolff also spoke, after he walked out to "Louie Louie," and so did a special guest -- brought in to explain MLB's new rules intended to hasten pace of play.
A's catcher Stephen Vogt emerged as Chris Farley's fictional character, Matt Foley. Farley is considered Vogt's best impersonation among many, including an NBA referee act that gained national attention on MLB Network last year.
"If I had my whistle, I might've gone ref, but Matt Foley gets his point across much better than a ref," said Vogt. "I think it was received pretty well. It's easy. I don't need new material, because everyone is brand new in here, so I can do the same things I did last year."
The room was said to be in stitches, as Vogt played out baseball's new rule requiring batters to keep one foot in the box during at-bats. Pitchers, too, will adhere to a timer used for breaks in between innings and pitching changes.
"I just kinda winged it," said Vogt. "Melvin came to me at 8 a.m., and said, 'I want you to do whatever you want to explain the rules.' Stephen Vogt was not in the meeting at the end. Matt Foley was."
"It was good fun," said Melvin. "We had a good time."
• Melvin made use of side-by-side batting cages on the same field during Wednesday's workout, mirroring the way he saw several Japanese clubs conduct batting practice when he was in Tokyo in 2012.
• Switch-pitcher Pat Venditte's father, Pat Sr., was on hand at Fitch Park to watch his son throw to hitters from both sides during batting practice Wednesday. Venditte introduced his father to Melvin.
Jane Lee is a reporter for MLB.com. This story was not subject to the approval of Major League Baseball or its clubs.