Lawrie ready to bring high-octane drive to A's
Third baseman confident intensity for game will catch on quick with new club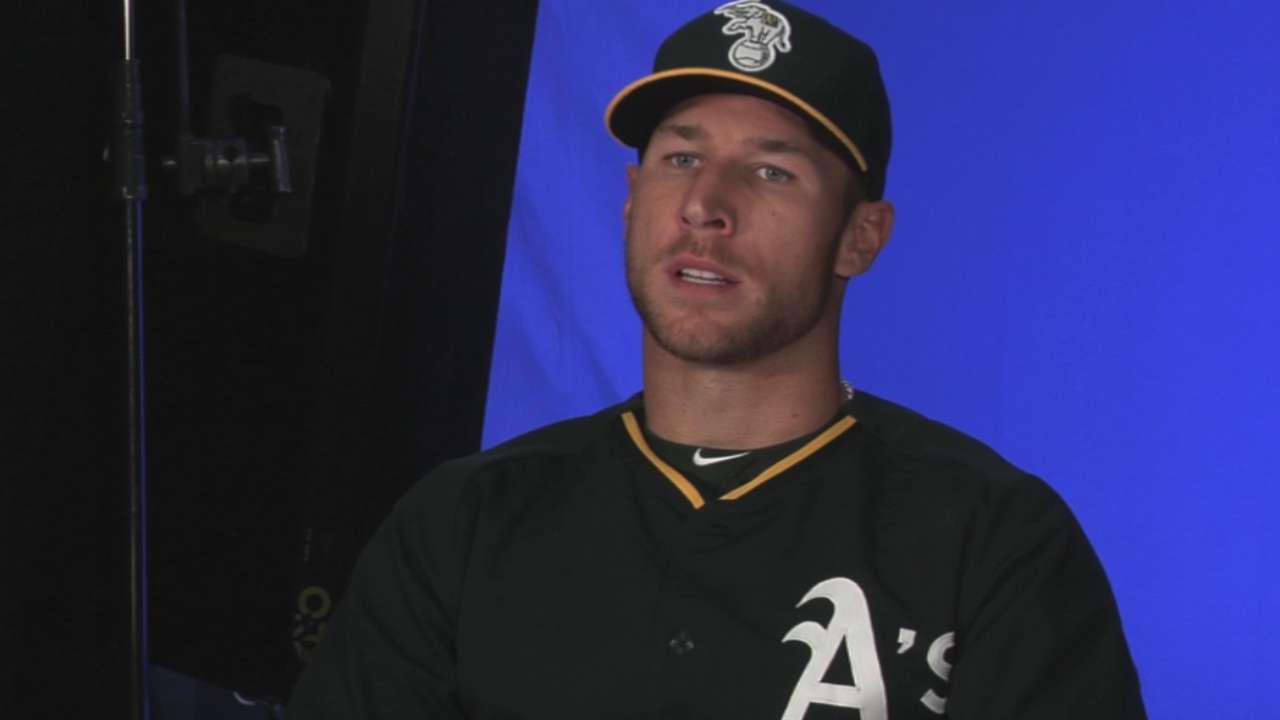 MESA, Ariz. -- Brett Lawrie is in perpetual motion. He's exhausting to watch, even when he's sitting, with his quick-twitch muscles -- many of them bathed in ink -- always on the go. Which begs the question, how did he ever sit still in the tattoo parlor?
Lawrie says he's clocked 29 hours on his left arm, the tattooed sleeve devoted to his sister, Nicole, who passed as a young child before he was even born, and another 23 1/2 hours on his right arm, spotted with inspirational words that fuel his desire for greatness.
"A little bit of time logged in," said Lawrie, who began the coloring project as soon as he turned 18.
On Wednesday, Lawrie threw on some new colors, flashing the green and gold as he prepared for his first workout with the A's, who braved a bold trade to acquire the 25-year-old bundle of energy in the early stages of a frenzied offseason.
All-Star Josh Donaldson was believed by other teams to be unavailable when the Blue Jays came calling for him for the umpteenth time in November. They were mostly right. A's general manager Billy Beane never intended to move Donaldson -- that is, until his counterpart in Toronto, Alex Anthopoulos, presented him a package that included an immediate replacement at third base: Lawrie.
The A's caved, confident in a decision that not only assured them a new third baseman for 2015, but a pair of pitchers in Kendall Graveman and Sean Nolin who could also make an immediate impact on the club. They also netted a shortstop prospect (Franklin Barreto) considered the real key to the deal.
The trade was met with sheer shock, just as much by fans as by the players involved -- Lawrie included -- though it's slowly worn off.
"The only thing I'm sour about is how I left," said the British Columbia native, "and not getting the opportunity to finish on the field in front of the fans, because everyone enjoyed the way I did my thing out there, loved my energy . All the fans said I was a hockey player trapped in a baseball player's body. It's just how I go about my business and how I play, and my intensity."
It's for these same reasons A's manager Bob Melvin believes the broken hearts over Donaldson's departure will soon mend.
"Once A's fans get a load of Brett Lawrie, they'll love him," Melvin said.
"I'm just going out there to play baseball, to do what Brett Lawrie does, and that's go play some good third base," said Lawrie, "and knock the guys in when I get the opportunity."
Staying on the field has been an issue in Lawrie's young career, leaving plenty of imagination for what he could do if healthy for a full season. He mashed 12 homers in just 70 games and 282 plate appearances last year, and his defensive skills are thought to rival Donaldson's.
"You watch him work out and, at least athletically, I don't know that you'll find too many better athletes in the game of baseball," said Melvin.
"I feel like I have a good opportunity in front of me," said Lawrie. "Playing on the turf in Toronto, it definitely threw my body for a loop, but I know that if I stay on the field, I have a definite opportunity to compete and help my team win. I don't feel like I've reached my full potential yet, but I feel like if I can stay out there that I am going to reach it and I am going to help this team here, and that's what I'm here to do."
Jane Lee is a reporter for MLB.com. This story was not subject to the approval of Major League Baseball or its clubs.