Stanton first athlete on SI cover in body paint
JUPITER, Fla. -- Add another first to Giancarlo Stanton's growing legacy. The Marlins' All-Star right fielder is now the first athlete to grace the cover of Sports Illustrated adorned in body paint.
Featured under the headline "Model Slugger" is the defined torso of Stanton, arms folded, sporting an expertly painted Miami uniform. The detail is so precise, and it includes his trademark compression sleeve.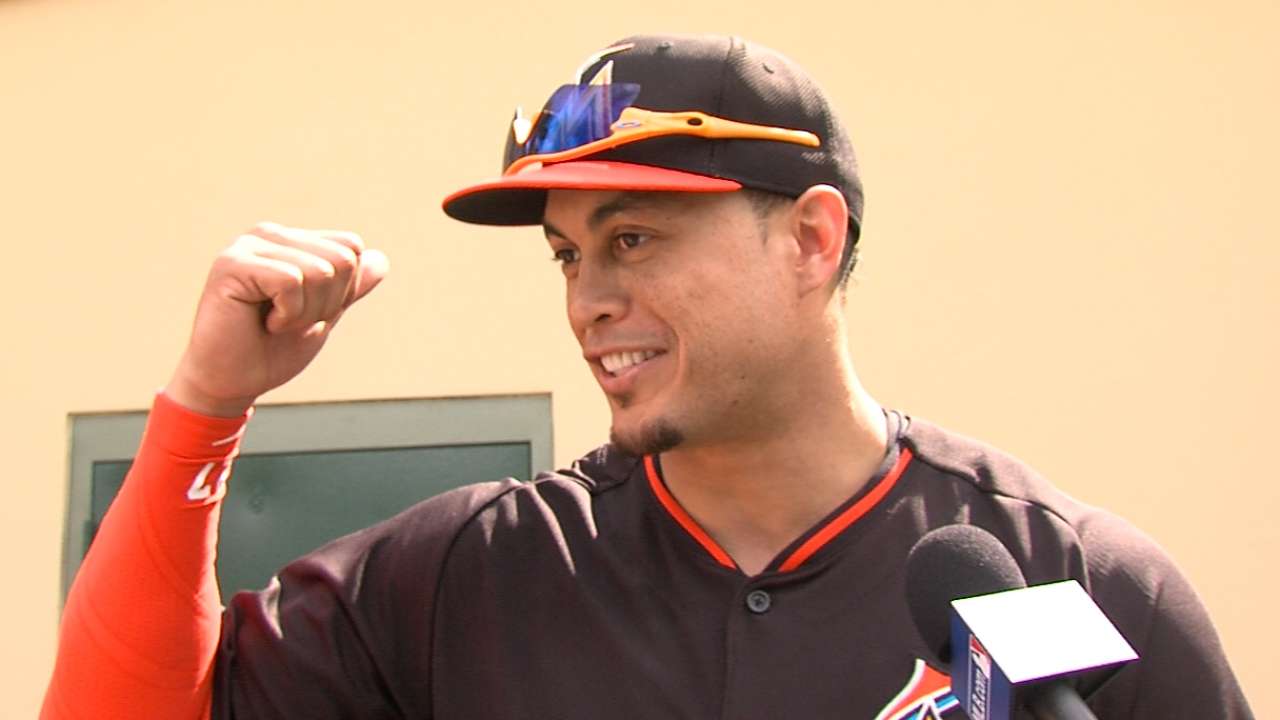 "Everything was on point," Stanton said following Wednesday's workout. "It's unbelievable the things they could do."
SI has done photo shoots of swimsuit models, but never a professional athlete until Stanton agreed.
The shoot took place on Nov. 19 in a studio in Miami. It took 12 hours to apply all the paint.
"I didn't know what to think," Stanton said of the idea. "All I had to go off of was the ladies swimwear. I thought [the body paint] could turn out pretty cool, if it was done right. It was. I'm happy I did it."
The actual photographing took roughly a half-hour. Removing the paint was just as long.
"It took all day, it was a fun shoot," Stanton said. "I was working with some great people. I'm glad I did it."
The SI cover is the latest example of Stanton being featured on the national stage.
In November, the two-time All-Star signed the richest contract ever in North American professional sports. Since inking that 13-year, $325 million deal, the slugger is gaining widespread notoriety.
Stanton is one of the most imposing figures in baseball. For the shoot, he toned up even more.
"A little extra than normal," he said. "Hey, nothing wrong with getting in a little extra shape."
Marlins reliever A.J. Ramos, Stanton's roommate, noted not everybody on the club could pull off the body paint.
"I think some of us would look better in it than others," Ramos said. "I think I'll do all right. I think [Marcell] Ozuna might not look very good. It probably would only be [Stanton] who could get away with something like that. That's pretty crazy."
Joe Frisaro is a reporter for MLB.com. He writes a blog, called The Fish Pond. Follow him on Twitter @JoeFrisaro. This story was not subject to the approval of Major League Baseball or its clubs.