Alfaro learning what it takes to make Majors
Top catching prospect is part of the future for Rangers organization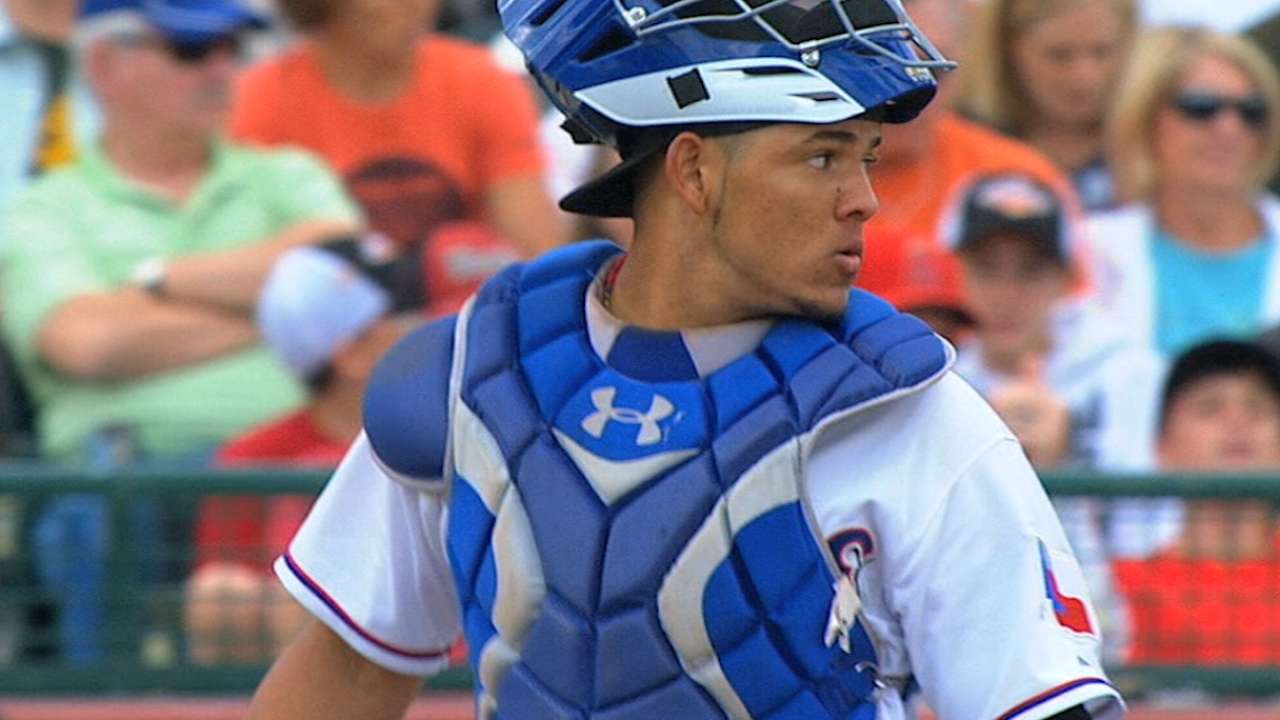 SURPRISE, Ariz. -- Rookie catcher Jorge Alfaro is in big league camp for the first time. The Rangers are hoping he backs up what he is saying and pays attention to what is going on around him.
"I'm looking forward to the opportunity," Alfaro said. "I want to learn from these big league guys and see how they work, see how they work hard and see what it takes to be here."
That's what the Rangers want to see from the 21-year-old native of Colombia who is ranked as the No. 45 overall prospect by MLB.com and the No. 2 catcher. Alfaro, who played in 21 games at Double-A Frisco last season after a late-season promotion from Class A Advanced Myrtle Beach, is getting closer to being in the big leagues.
Now the Rangers want Alfaro to see firsthand from Adrian Beltre, Robinson Chirinos and others what it takes to fill in the gaps in his tremendous talent. He has worked hard to become a top prospect, and to finish the job will take much more.
"He does work hard, but now he has to understand what is important and why he is working at it," Rangers catching instructor Hector Ortiz said. "Every human being goes through maturity: 'Who am I? Where am I going? And how do I get there?' That's what he is going through.
"He needs to watch these Major League players and how they go about their business without being told and to take responsibility. That's going to be important for him to see it with his own eyes. There are not too many catchers with his ability."
The ability is raw with the usual shortcomings for a young prospect. Alfaro has power potential but big strikeout numbers. He had 26 doubles and 17 home runs in 486 at-bats last year, but he also had 123 strikeouts versus 29 walks. Alfaro is athletic, with a plus arm behind the plate, but he needs to refine his pitching calling and receiving skills.
"He is smart, he is good, he asks a lot of questions," Chirinos said. "It comes with time. The more you play, the better you understand what you need to do to get better. There is no doubt he has the tools to be a superstar in the big leagues."
Alfaro may be the Rangers' best catching prospect since Ivan Rodriguez was a rookie in 1991. The problem for Texas is that there hasn't been much competition in that category.
Rodriguez left the Rangers as a free agent after the 2002 season, and they have been struggling to find a replacement since then and have had little success from within their organization.
Since 2002, the Rangers have had 29 catchers start at least one game behind the plate. Two of those -- Rodriguez and Chad Kreuter -- were in their second tour with Texas and at the tail end of their careers.
Among the rest, 13 were acquired by trade, including World Series catchers Mike Napoli, Bengie Molina and Matt Treanor. Ten were free agents and one came on a waiver claim. Only three of the 27 -- Taylor Teagarden, Tomas Telis and Kevin Richardson -- were originally drafted by the Rangers.
In an industry where good catching is a premium, having a prospect like Alfaro is a valuable commodity. He just needs to learn everything he can in camp and finish the development part.
"I just want to be able to come out and play and not worry about what people are saying about me," Alfaro said. "Just relax and play the game that I love."
T.R. Sullivan is a reporter for MLB.com. Read his blog, Postcards from Elysian Fields, and follow him on Twitter @Sullivan_Ranger. This story was not subject to the approval of Major League Baseball or its clubs.