Motivated Trout ready to get back to work
Outfielder enjoying spotlight, focused on continuing to improve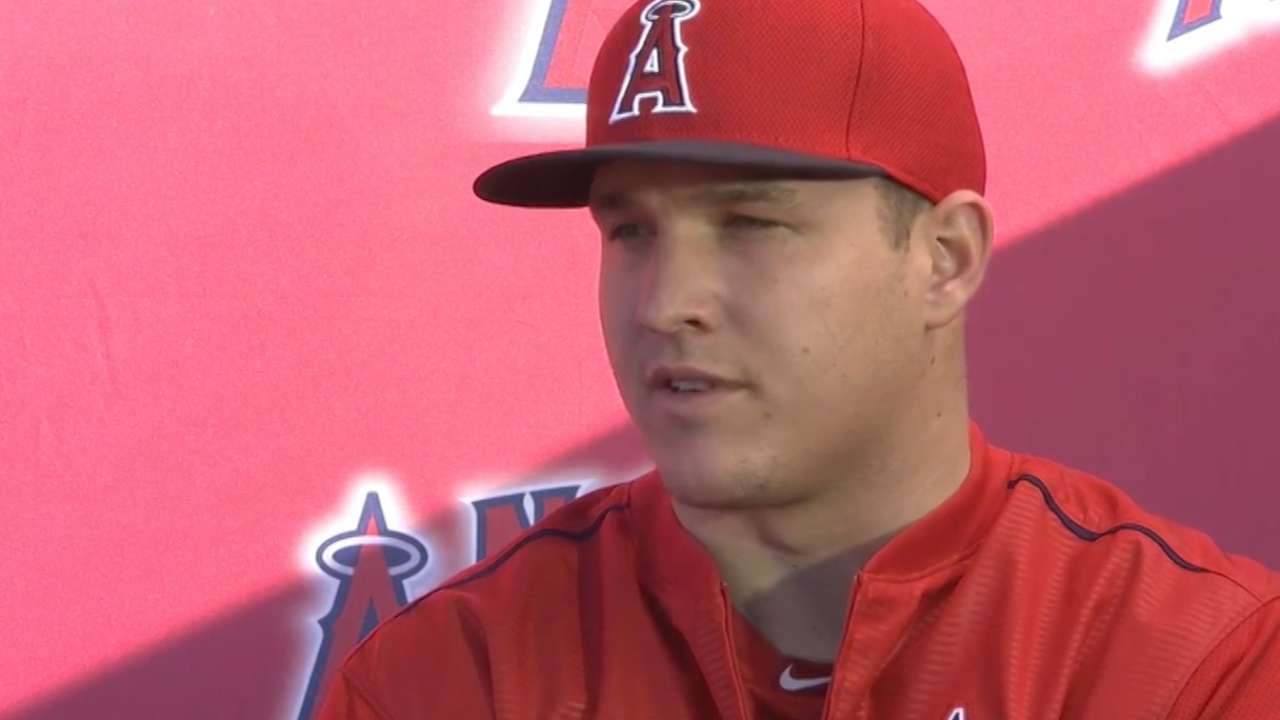 TEMPE, Ariz. -- Every spring the expectations rise, the demands increase and the attention grows -- and yet Mike Trout stays the same.
"Mike's never changed, and that's the beauty of Mike," said Garrett Richards, Trout's best friend on the Angels. "He's never changed, he's never skipped a beat; he's been the same guy since I've known him, since Day 1. And that's rare. You'd think it would go the other way."
Trout arrived in Arizona late Sunday night. On Monday, he spent all day shooting a commercial for Nike. On Tuesday, he spent all day shooting a commercial with Clayton Kershaw for Subway. On Wednesday, about 30 media members congregated at the warning track in right field to hear the reigning American League Most Valuable Player Award winner speak publicly for the first time in 2015.
"It's crazy," Trout said of his skyrocketing fame, "but it comes along with it. I'm having fun with it. I'm not taking it for granted, putting on a uniform. I'm always coming to the ballpark having fun. It's a little different, going out in restaurants and stuff like that, getting noticed a little bit more. But I'm having fun with it."
Trout, 23, posted a .287/.377/.561 slash line with 36 homers and an AL-leading 111 RBIs and 115 runs scored while becoming the youngest unanimous MVP in baseball history, and many considered it the worst of his three full seasons in the Majors.
His stolen-base total dipped to 16 and his strikeouts rose to an AL-leading 184, the most ever by an MVP.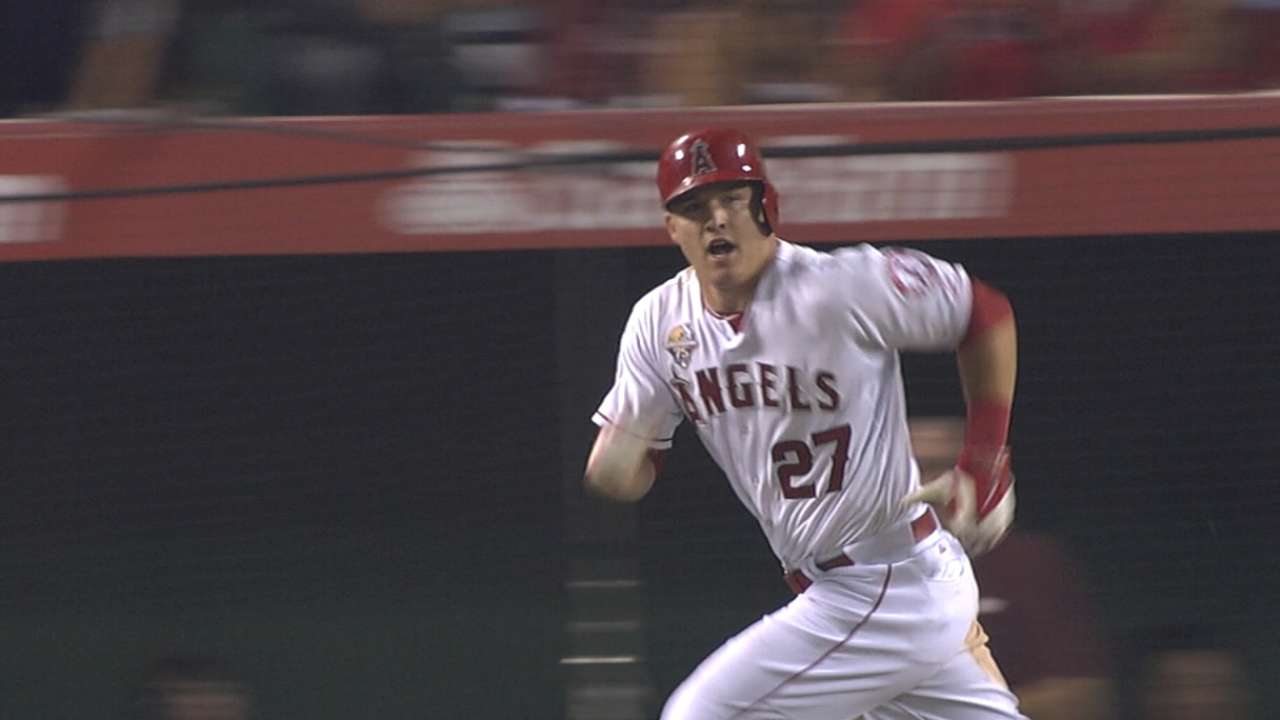 "It's plain and simple -- I was chasing the high pitch," Trout said. "Everybody knows that. There's things you can work on, but the majority of the time, they're balls, and I was just chasing them."
Trout vowed to not change his approach, but few believe he has to in order to make more contact. His swing is too short and compact, his strike-zone awareness too advanced to strike out so frequently.
"That's part of being young in the game," said Albert Pujols, who struck out only 61 times per season with the Cardinals from 2002-11. "Perhaps he tried to do a little too much. But Trout is a tremendous hitter, and I think he's going to have a tremendous season. I think he just has to be Mike Trout and not try to do too much. I've always told him that: 'Be you and don't get caught up in what the media says.'"
Trout, who stole 82 bases from 2012-13, said it's "definitely" a goal to swipe more bags in 2015.
The problem, however, is figuring out how.
"I don't think there was a guy in baseball who had more attention put on him when he got on base than Mike last year," Angels manager Mike Scioscia said. "Some teams went to the extreme to shut him down. So he's going to steal as many bases as are available without forcing the action."
There's a chance Scioscia could move Trout into the No. 3 spot this season -- something that may only be possible with Josh Hamilton present -- but the 23-year-old said he doesn't care where he hits. Trout admitted to putting a little added pressure on himself in the postseason -- in which he went 1-for-12 with a home run -- and called being swept by the Royals in the AL Division Series a "terrible feeling."
"A lot of the guys who were there last year know that this year we don't want to have that same feeling," Trout said. "We're going to try to get to the playoffs and make a run at it."
Trout did his usual array of hunting and fishing over the offseason and said "this is probably the best I've ever felt coming into Spring Training." He came in weighing 239, only a couple of pounds heavier than where he finished last season, and he's entering the first of a six-year, $144.5 million extension.
At a very young age, Trout has earned a big payday and almost every award imaginable, but his exuberance remains.
"Putting on a uniform every day and competing since I was a kid, that motivates me," Trout said. "And just trying to win a championship. If that doesn't motivate you, you're in the wrong sport. You want that ring."
Alden Gonzalez is a reporter for MLB.com. Read his blog, Gonzo and "The Show", and follow him on Twitter @Alden_Gonzalez. This story was not subject to the approval of Major League Baseball or its clubs.