Election to Royals Hall special for Sweeney and his dad
Former All-Star slugger set club record with 144 RBIs in 2000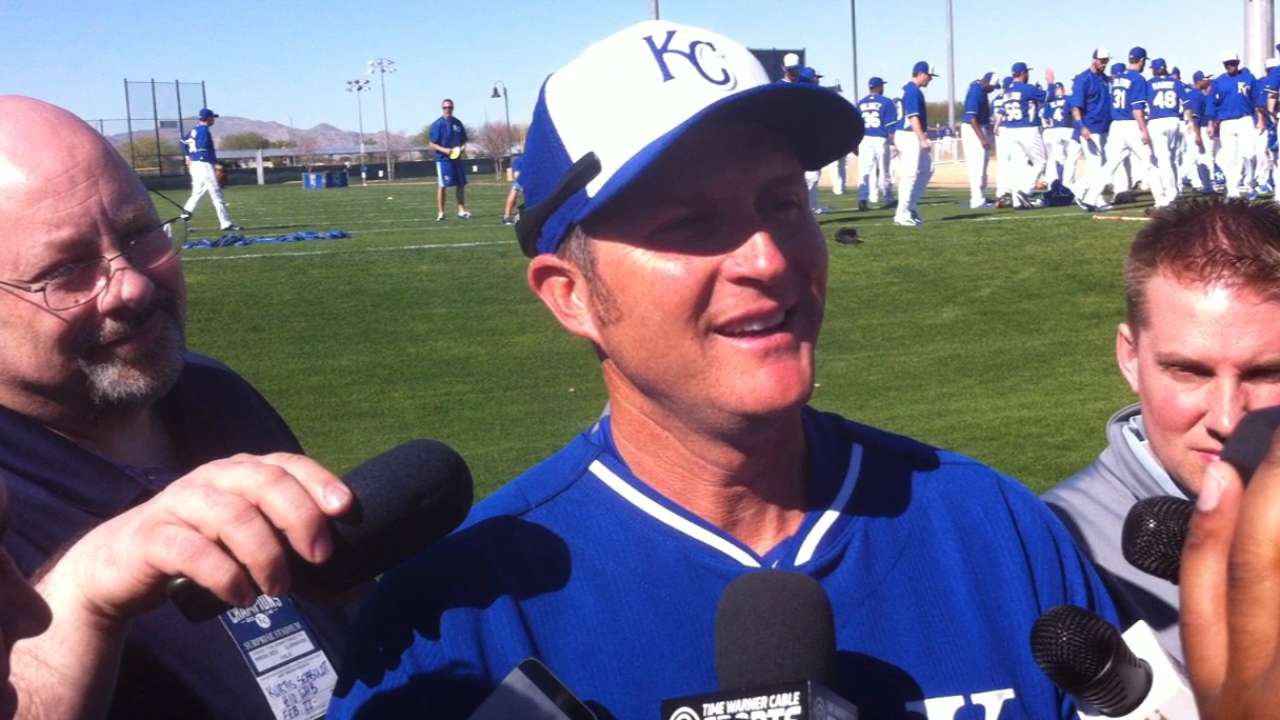 SURPRISE, Ariz. -- Being elected into the Royals Hall of Fame on Wednesday was at least a small bit of light in what has been a dark two months for Mike Sweeney.
Sweeney learned on New Year's Eve that his father, Mike, was diagnosed with esophageal cancer.
"He's at the Mayo Clinic [in Scottsdale, Ariz.] right now," Sweeney said, his eyes tearing up, "fighting for his life."
Sweeney, a Royal from 1995-2007, received the news of his Royals Hall of Fame election over the weekend while he was having dinner with George Brett.
"To receive the news with George Brett, the face of the organization, was special," Sweeney said. "The first thing he told me was, 'Call your dad.'"
And Sweeney did.
"He just said, 'Son, I'm proud of you,'" Sweeney said, his voice trembling. "But the truth is, I am so proud of him."
Sweeney and his father always have had a close relationship.
"My dad was a Minor League ballplayer with the California Angels when he found out my Mom was pregnant with their first child," Sweeney said. "He hung up his spikes to go drive a beer truck and support the family."
Sweeney's father also taught him the value of hustle.
"I remember when I was 9 years old, I was upset because I hit a grounder and I knew I was going to be thrown out so I didn't run hard," Sweeney recalled. "My dad just grabbed me and said, 'If you're going to dog it like that, you'll never be a baseball player.'"
Sweeney took those words to heart over a career in which he hit .297 with 215 home runs and 909 RBIs. In 2000, he set a club record for the Royals with 144 RBIs.
"A lot of hard work, a lot perseverance," Sweeney said. "I was told in 1999 that I had a zero percent chance of being a Kansas City Royal. I was either going to be traded or released or sent down. But God had other plans for me."
But Sweeney said his career is the last thing on his mind right now.
"The last two months have been the hardest of my life," he said. "I just hope my dad can find a way to beat this."
Jeffrey Flanagan is a reporter for MLB.com. Follow him on Twitter at @jflanagankc. This story was not subject to the approval of Major League Baseball or its clubs.