Farrell provides encouragement in team meeting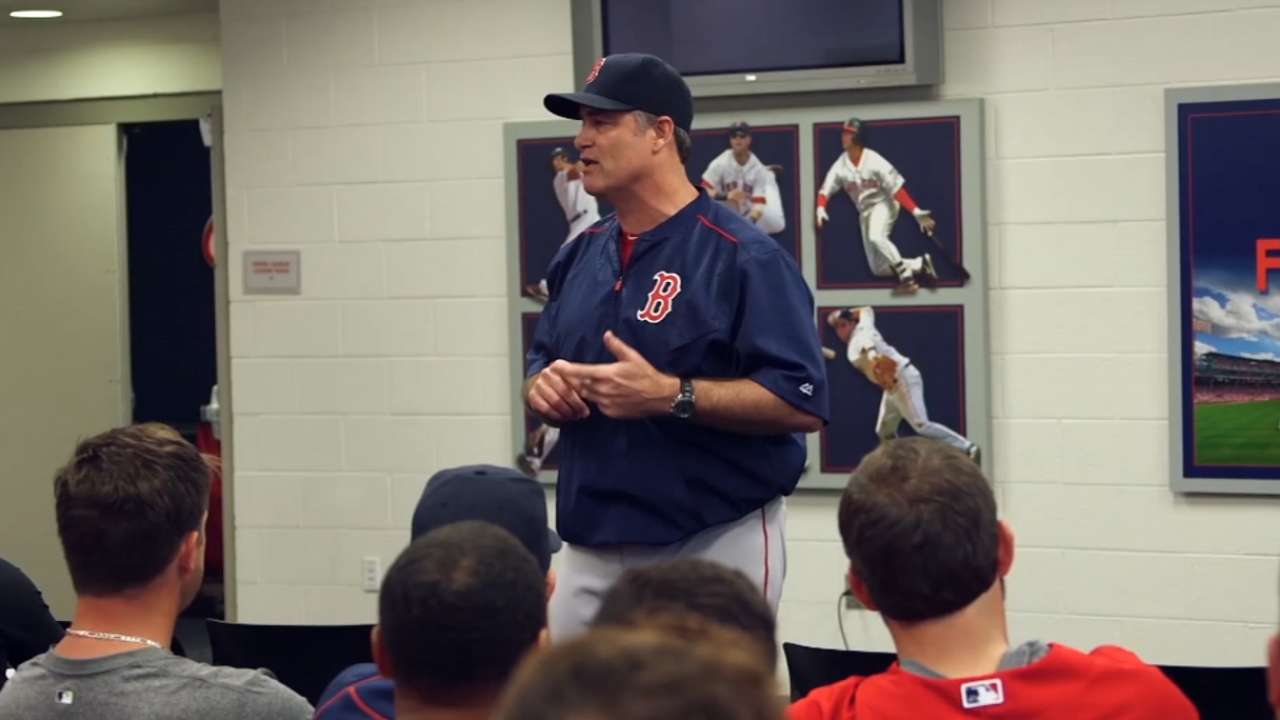 FORT MYERS, Fla. -- Before taking the field for their first full-squad workout of 2015, the Red Sox gathered as one in the cafeteria for a meeting that included speeches by manager John Farrell, general manager Ben Cherington and chairman Tom Werner.
Each Spring Training, the Red Sox consider this meeting to be an important tone-setter. By the end of the 2013 championship season, some players were still talking about the impact of Farrell's speech at the start of that Spring Training.
Despite a last-place finish in 2014, Farrell was upbeat as he spoke to his players on Wednesday morning.
"First of all, welcome back to Spring Training," Farrell said to the 57 players in camp. "Welcome back to what should be an exciting year. I compliment you guys on an outstanding offseason. The early show here in camp has been great. Not only has the energy and vibe been a plus, but it sets us up to have a productive camp."
Setting the tone for each season isn't something Farrell takes lightly.
"It was a chance to outline what our rules in camp are, what our expectations for Spring Training are going to be, and some things that are important to myself and us as a staff," Farrell said following the team's first workout. "We all recognize the way we want to play the game, but I think it's important to set the tone in Day One and build on that throughout Spring Training."
On behalf of ownership, Werner also expressed the team's commitment to winning.
"As Larry said, it really is John and Ben's meeting. We introduced ourselves to the players who have not been here before. As Larry said, we do have a strong commitment to winning," Werner said. "John [Henry] said it eloquently yesterday. We play for championships. We were all smarting over the finish that we had last year, and I think there's a great group of mix between veterans and younger players in camp this year. I feel a great sense of optimism from John and the coaching staff, and beyond that, we look forward to Opening Day here."
Ian Browne is a reporter for MLB.com. Read his blog, Brownie Points, and follow him on Twitter @IanMBrowne. This story was not subject to the approval of Major League Baseball or its clubs.