Ortiz not a fan of new batter's box rule
Veteran steps out between pitches to figure out what's coming next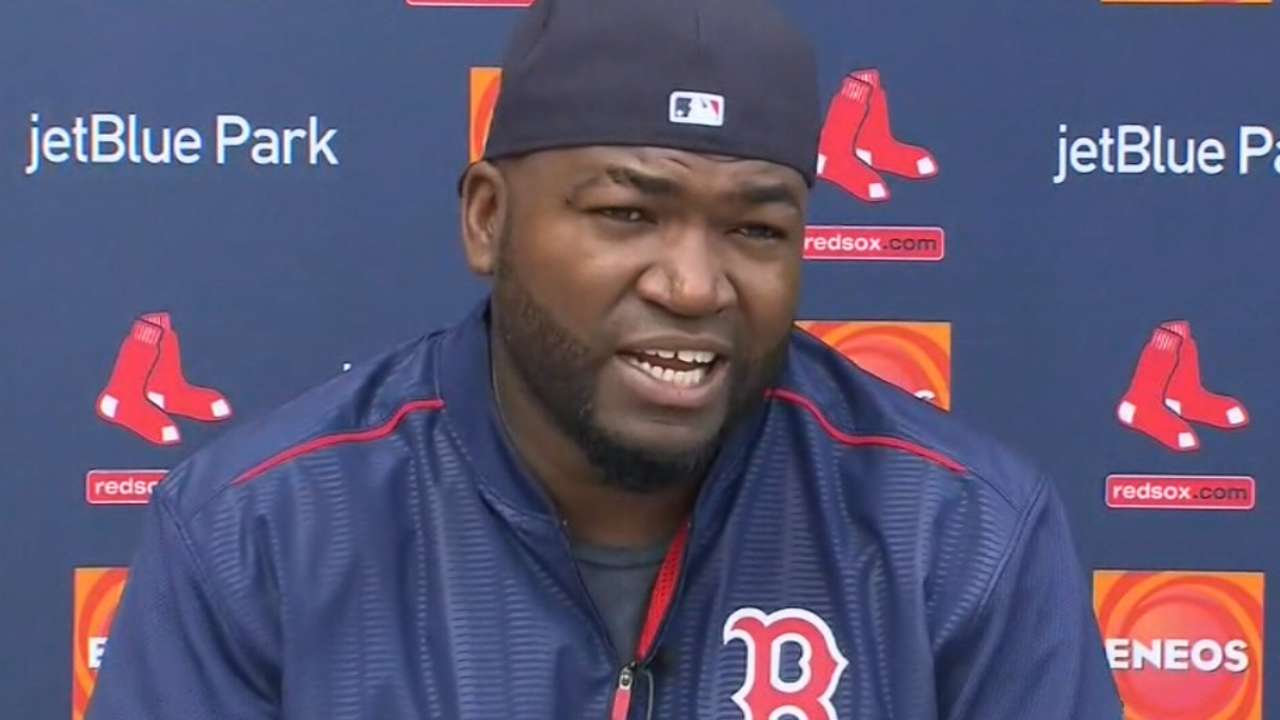 FORT MYERS, Fla. -- Red Sox slugger David Ortiz isn't a fan of the rule being instituted this season that batters must keep one foot in the batter's box throughout an at-bat.
"When you come out of the box, you're thinking about what the guy is trying to do," said Ortiz. "This is not like you go up to the plate with an empty mind. When you see guys pitch, come out of the box, we're not doing it just for doing it. Our minds are speeding up.
"I saw one pitch. When I come out, I'm thinking, 'What's this guy going to try to do to me next?' I'm not walking around just because there are cameras all over the place and I want my buddies back home to see me and this and that. It doesn't go that way. The only time you have to think about things is that time."
Ortiz is one of the most methodical hitters in baseball between pitches. He doesn't sound eager to change his ways.
Beginning in May, players can be fined if they step out of the box.
"Well, I might run out of money," said Ortiz, referring to potential fines. "I'm not going to change my game. I don't care what they say. ... I'm going to keep it that way. It's not like I go around and do all kinds of stupid [stuff].
"I've got to take my time to think about what those guys are going to do against me -- and I'm pretty sure every single hitter at this level is on the same page. They put the rules together, but they don't talk to us."
Keeping one foot in the box was one of several pace of play changes announced in conjunction last week by Major League Baseball Commissioner Rob Manfred, Players Association Executive Director Tony Clark and Braves president John Schuerholz, who is the chairman of baseball's pace of game and instant replay committees.
"The players believe that enforcing the rules that currently exist regarding between-inning breaks and plate appearances is the best way to address the issue of pace of play," Clark said last week. "We're confident that this will have a positive impact on the pace of the game without jeopardizing the integrity of the competition."
Ortiz didn't seem on board.
"It seems like every time they want to speed up the game, they focus on the hitters," said Ortiz. "Have you noticed that? Have you noticed the pitchers who go around the mound and do all that [stuff]. How about that? Why don't you tell the pitchers to throw the pitch and stay on the mound and don't move."
Red Sox manager John Farrell said he hasn't spoken to Ortiz or any of his players about the rule changes because he's going to wait until MLB executive Joe Torre visits camp later this week to brief him.
Ian Browne is a reporter for MLB.com. Read his blog, Brownie Points, and follow him on Twitter @IanMBrowne. This story was not subject to the approval of Major League Baseball or its clubs.