MLB.com Columnist
Jonathan Mayo
Path to the Draft: Rodgers puts the work in
High school shortstop has gone from 'skinny' freshman to potential No. 1 overall pick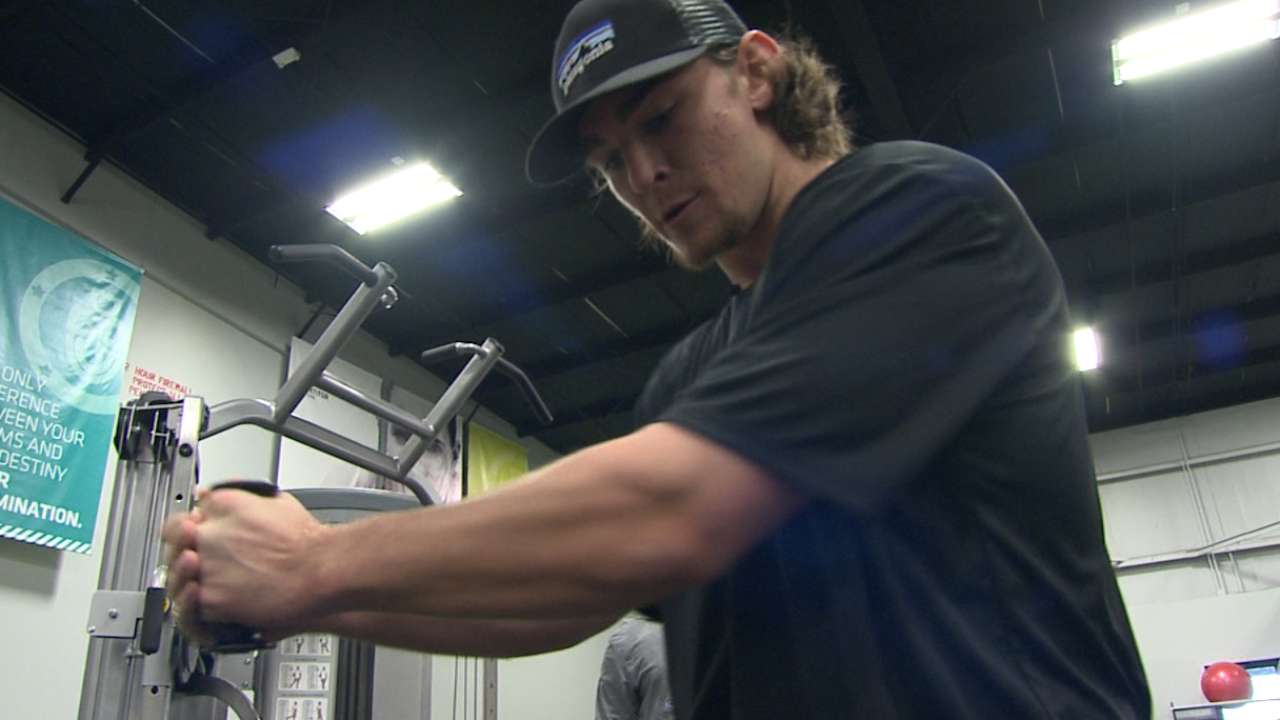 The spring before the Draft can be full of excitement and pressure for amateur players hoping to be selected by a Major League organization. Those in the discussion for the top of the first round face even more scrutiny as June approaches. MLB.com will be following Brendan Rodgers, ranked No. 1 on MLB.com's Top 50 Draft prospects list, throughout the process. From the start of his senior year at Lake Mary High School outside of Orlando, Fla., all the way through Draft Day, Rodgers has given MLB.com full access to his life as the top Draft prospect in the country.
LAKE MARY, Fla. -- There's a well-worn storyline, used to promote workout routines and movie scripts alike, that goes something like this:
A small, skinny, weak person gets picked on by a big, strong bully type, like in those old Charles Atlas ads where the skinny guy on the beach gets sand kicked in his face. The puny one, sick of being called weak or skinny, uses that as motivation to get bigger and stronger. He returns and exacts his revenge, emerging triumphant.
Brendan Rodgers could star in the 2015 reboot of the story, obviously with a baseball theme. A talented, yet undersized, infielder dreams of playing in the big leagues. Tired of being called out for being so thin, he hits the gym hard, turning himself into the best high school player in the Draft class of 2015 and perhaps the No. 1 pick in the 2015 First-Year Player Draft. Hollywood would eat something like that up, right?
"When I first started high school, I was 150 pounds, maybe," Rodgers recalled. "I was always being called skinny, and that's pushed me to get stronger and faster. It's paid off. About sophomore year, that's when I started putting on weight. I went from about 160 to about 185-190, I realized how much stronger and faster I was. I didn't want to give working out up. There is nothing I dislike doing in the gym."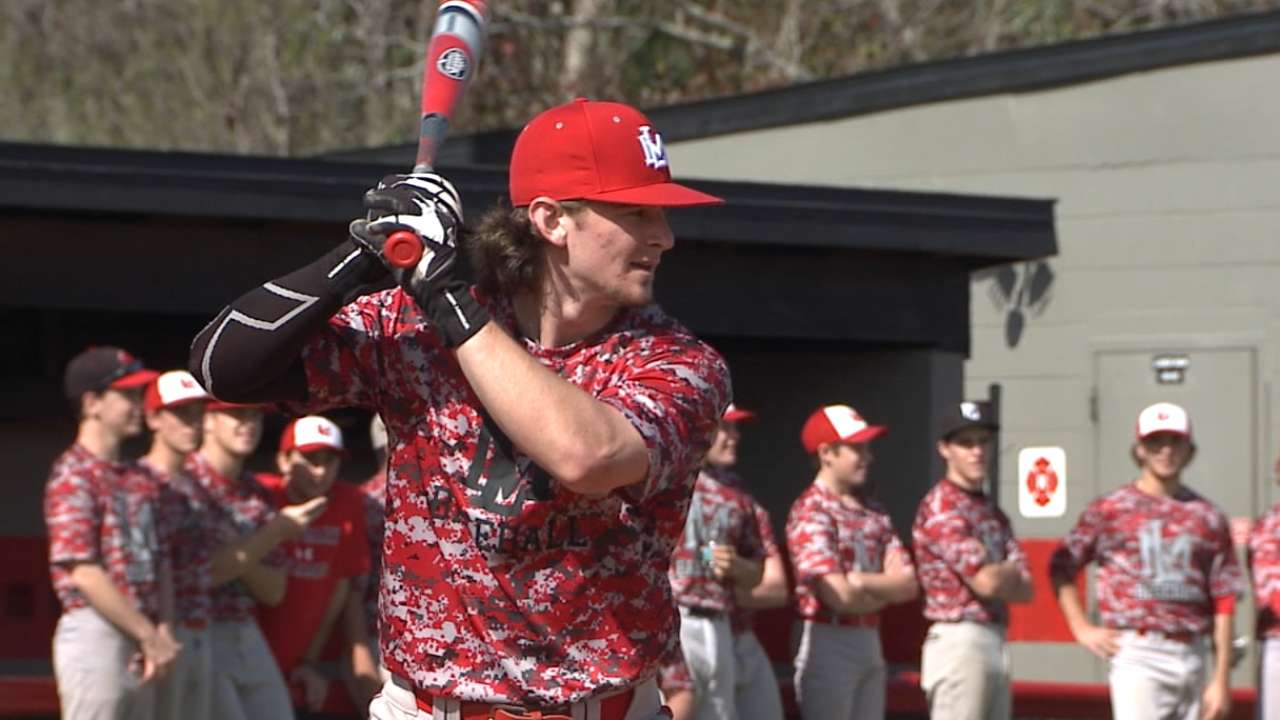 Rodgers certainly spends enough time there, and it's been time well spent. Rodgers now plays with around 195 pounds on his 6-foot-3 frame. If you think that was just natural physical maturation, go spend a day in the gym with Rodgers.
Part one -- Path to the Draft: Rodgers chasing his dream
Rodgers is there more often than not, up to five times per week. He's there early in the morning, weekends, before school, an hour and a half to two hours at a time. He spends much of the offseason building strength, then tapers off and continues what he calls "maintaining" workouts, while continuously working on flexibility, agility and speed. Just getting big is not what a baseball player needs to do, and Rodgers, at a very early age, clearly understands that.
"He's a very hard worker," said Nelson Pacheco, Rodgers' trainer at Competitor Gym in nearby Maitland, Fla. "He doesn't fool around, he does the work. The head he has on his shoulders is great. He grinds. You want a grinder, a kid who's coachable, who gets after it. He's self-motivated. He knows he has to. He knows this makes him better."
The results are evident. Despite an 0-for-2 performance against Lyman High School on Tuesday night, Rodgers has gone 11-for-22 to start the 2015 season. Nine of those 11 hits have been for extra bases, with five doubles and four home runs, certainly doing nothing to take away from his top-of-the-Draft status. The work that Rodgers is put in off the field has certainly been noticed by those evaluating Rodgers for the upcoming Draft.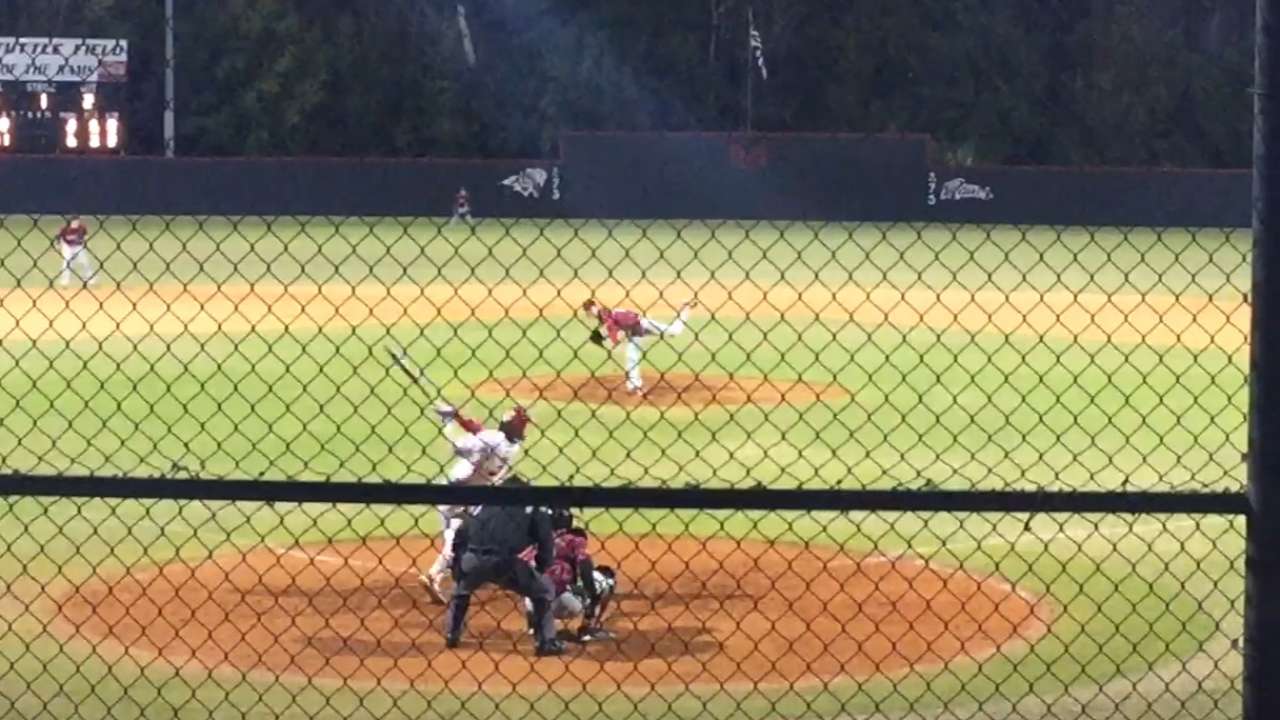 "He has gotten much stronger, just from last year," one Florida-based scout said. "It's been noticeable."
But what exactly does that mean in terms of on-field ability? Getting stronger doesn't necessarily mean success on the diamond. In Rodgers' case, though, he's used his improved physical strength to add to his fairly impressive tools.
"He has an ease in his swing he didn't have," the scout said. "Last year, you saw him with power, but he generated it more with a bigger swing. He just flips balls with his hands now. I really like that. Guys can get fooled and get out front, but if they keep their hands back, they can still drive the ball. He can do that. He has nice loft with his swing. He's not trying to do that, it just goes good off the bat."
The one danger, of course, is falling in love with weightlifting alone. Especially at the high school level, players who are multisport athletes often get too big and tight for football. That kind of strength doesn't translate to baseball particularly well.
"The one thing you have to be careful with, guys can go backwards and get too tight," the scout said. "If he gets too big, people might say he'll have to move off of shortstop. He's strong, but so far, he's still loose."
That's obviously by design. Pacheco points out that "for him, staying flexible, staying agile is big." So is never reverting back to the skinny kid who still motivates the current Rodgers to keep working.
After a long summer on the showcase circuit, which finally ended with a fall visit to the Perfect Game World Wood Bat Association World Championships in Jupiter, Fla., Rodgers was out of gas. He also was down about six to eight pounds after playing so much and not having time to head back to the gym. Rodgers shut it down for a couple of weeks, but it wasn't too long before he was itching to get back at it.
"I was pretty weak," Rodgers admitted. "It was good to get back in here and get everything back."
"He's very young," Pacheco said. "Being that age, being such a highly-praised baseball player, it's a lot. It's a lot of pressure on the kid. But he keeps his cool. I give him advice to always keep that work ethic.
"He grinds, he works hard on and off the field. He's a great kid, he comes from a great family. I think that has a lot to do with who he is, how coachable he is, how much he wants to learn."
Jonathan Mayo is a reporter for MLBPipeline.com and writes a blog, B3. Follow @JonathanMayoB3 on Twitter. This story was not subject to the approval of Major League Baseball or its clubs.