MLB.com Columnist
Anthony Castrovince
McCarthy, Anderson eye successful reunion in L.A.
GLENDALE, Ariz. -- That they are former A's reunited as Dodgers teammates only scratches the surface of the Brandon McCarthy and Brett Anderson relationship. They are similarly strong Twitter follows, similarly cynical sorts, similarly proud of what McCarthy calls a "terrible" taste in music. They are similarly curious, as evidenced the other day when Anderson tweeted about their discussion pertaining to whether fish sleep (and yes, fish sleep, for the record).
As McCarthy put it, "We're similarly socially awkward people with dry senses of humor."
Alas, the similarities have usually extended to the area of durability, or lack thereof. McCarthy finally reached a major milestone in his Major League career last season when, seven years after he first became a full-time starter, he hit the vaunted 200-innings mark. Hit it square on the nose, in fact.
Anderson has never been there. You'd have to go back to 2010 to find the last season in which he reached even 100 innings.
A big key to this Dodgers season, therefore, is the McCarthy/Anderson durability dynamic -- McCarthy looking to prove that the major modifications he made to his routine prior to 2014 have staying power, and Anderson trying to follow his buddy's lead with a bounceback season of his own.
"That's the goal," Anderson said. "To go out there every five days. When you do that, good things happen."
The benefit of a lavish payroll isn't necessarily the ability it grants you to play in the deep end of the free-agent pool, because that's a remarkably inefficient and, eventually, painful place to do business -- one the Dodgers' new-look front office headed by Andrew Friedman, Farhan Zaidi and Josh Byrnes notably abstained from this winter.
No, the benefit really rests in the ability to take on risks such as these and not be totally burned if it doesn't work out. McCarthy's one durable season earned him a four-year, $48 million commitment from the Dodgers when even the Yankees, his former team, opted not to re-up with him. Anderson, meanwhile, is a straight upside bet. The $10 million the Dodgers have invested in him on a one-year contract is but a mere pittance relative to the rest of their payroll.
These guys are the Dodgers' fourth and fifth starters. That inherently makes them a big deal, because this club went 36-41 in games not started by Clayton Kershaw, Zack Greinke and Hyun-Jin Ryu last year.
Because of the injury history, not just with this pair but also with Ryu's left shoulder, one can certainly imagine a scenario in which the Dodgers rotation takes on a dynamically different look at some point this summer. They've got the resources in both young trade chips and finances to make a play for a top-end starter (Johnny Cueto, perhaps?) should a need arise.
For now, though, there's a lot to like about going into April with McCarthy and Anderson as the back-end options.
Though the sample is admittedly small, look at how McCarthy's numbers with the Yankees, after a midseason trade with Arizona (and after he reincorporated a cutter into his repertoire), compare to Padres addition James Shields' full-season totals with the Royals:
Shields: 3.21 ERA, 227 innings, 3.59 FIP, 1.181 WHIP, 8.9 H/9, 0.9 HR/9, 4.09 K/BB
McCarthy: 2.89 ERA, 90 1/3 innings, 3.22 FIP, 1.151 WHIP, 9.1 H/9, 1.0 HR/9, 6.31 K/BB
The key for McCarthy was not just bringing back his cutter; it was also the increased upper-body emphasis he put into his offseason routine before the season.
"I lifted to become stronger, bigger, much heavier and more intense," he said.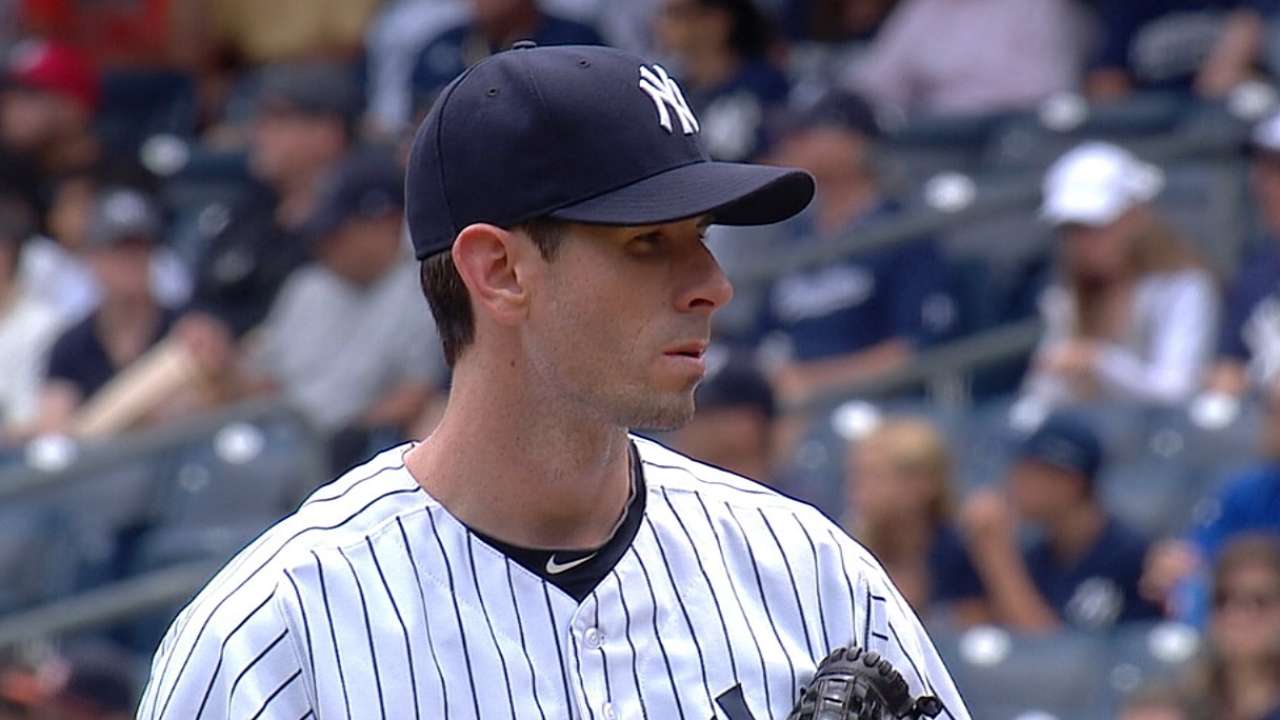 The work not only improved McCarthy's durability but also his fastball, as his average velocity went from 90.8 to 92.9 mph, per FanGraphs.com.
So, yes, as much as it might bore you to read about an athlete adapting his routine, this really was a substantive change.
"It's one of those things where the proof is in the pudding," Zaidi said. "If he had changed his offseason routine and threw 110 innings with the same velocity, it would be a different story."
McCarthy, 31, didn't want last season to be the same old story. The 200-innings mark was a big deal to him.
"It was something that was really starting to weigh on me," he said. "I feel like that's the mark of a big league starting pitcher, to get to that point."
Anderson, 27, isn't going to reach 200 innings this year. Because he worked just 52 2/3 innings between the Majors and Minors for Colorado last season, such a leap would likely be dangerous -- especially for a guy with seven disabled-list stays due to a litany of elbow, finger, back and ankle issues.
But the Dodgers are the latest team to entertain the Anderson tease. In those few moments when Anderson was actually able to take the mound for the Rockies last season, his FIP (2.99), strikeout-to-walk ratio (2.23) and homers per nine innings mark (0.21) were all above average. He's got great ground-ball-causing stuff, the herniated disc issue that prompted season-ending back surgery last summer is in the rearview and he's still fairly young.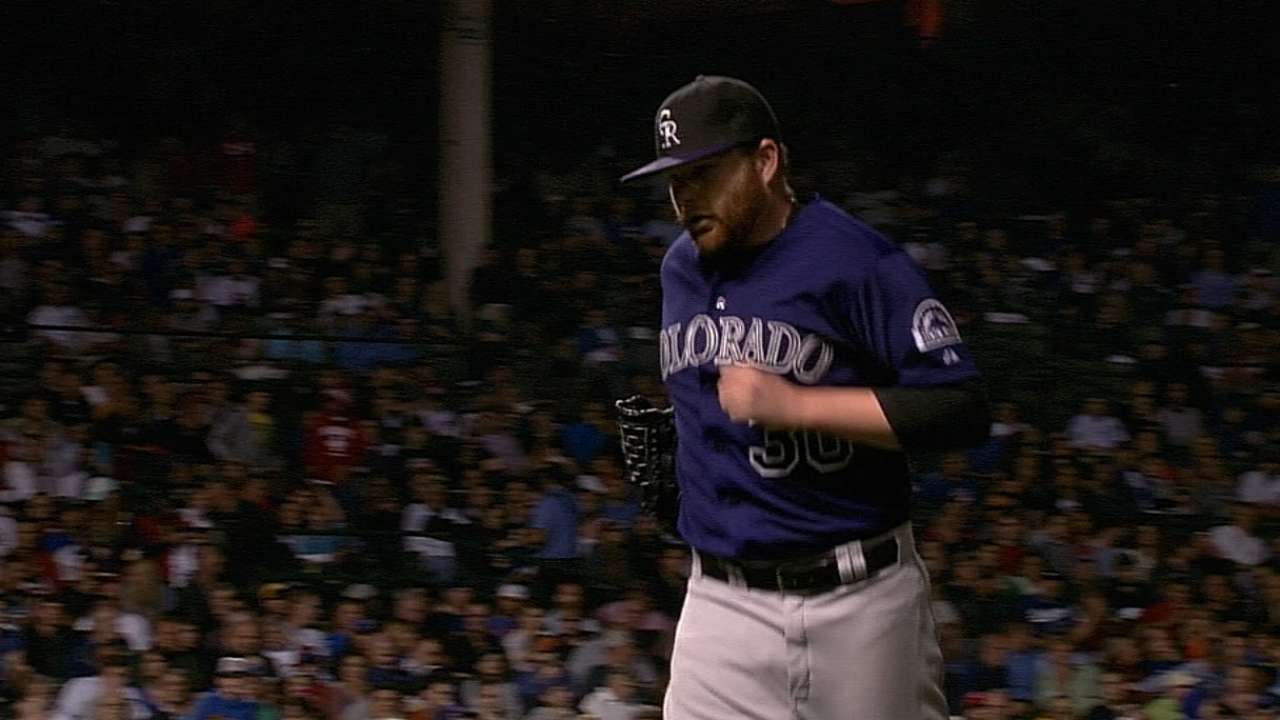 "His breaking ball is what I remember from 2011 in Oakland when he was still healthy," McCarthy said. "It's just a sharp, angry breaking ball that jumps out of his hand. I hope mentally now he feels healthy and ready to go and it's just about getting results on the field."
The Dodgers, for one, couldn't pass up the Anderson enticement, even if he's worked fewer than 500 innings dating back to his 2009 debut.
"On the one hand, you'll hear people say that the best predictor of future health is past health," Zaidi said. "On the other hand, you can't just take a guy's innings count from the previous three years and say that's definitely what he's going to do this year. Does the guy have some bad luck, or are there chronic issues that limit him? With Brett, we think it's more of a fluky thing."
Again, the Dodgers can afford to take on the risk. With both of these guys. They also offer a home park that is far more enticing for pitchers than their previous environs in Arizona, New York (McCarthy) and Colorado (Anderson), to say nothing of a drastically improved infield defense that should particularly benefit Anderson.
"On paper," Anderson said, "this is one of the top rotations in baseball."
Yes, on paper -- and on Twitter -- Anderson and McCarthy look pretty good. The key for the Dodgers is keeping them on the mound, too.
Anthony Castrovince is a reporter for MLB.com. Read his columns and follow him on Twitter at @Castrovince. This story was not subject to the approval of Major League Baseball or its clubs.