MLB.com Columnist
Anthony Castrovince
Eight-man bullpens gaining traction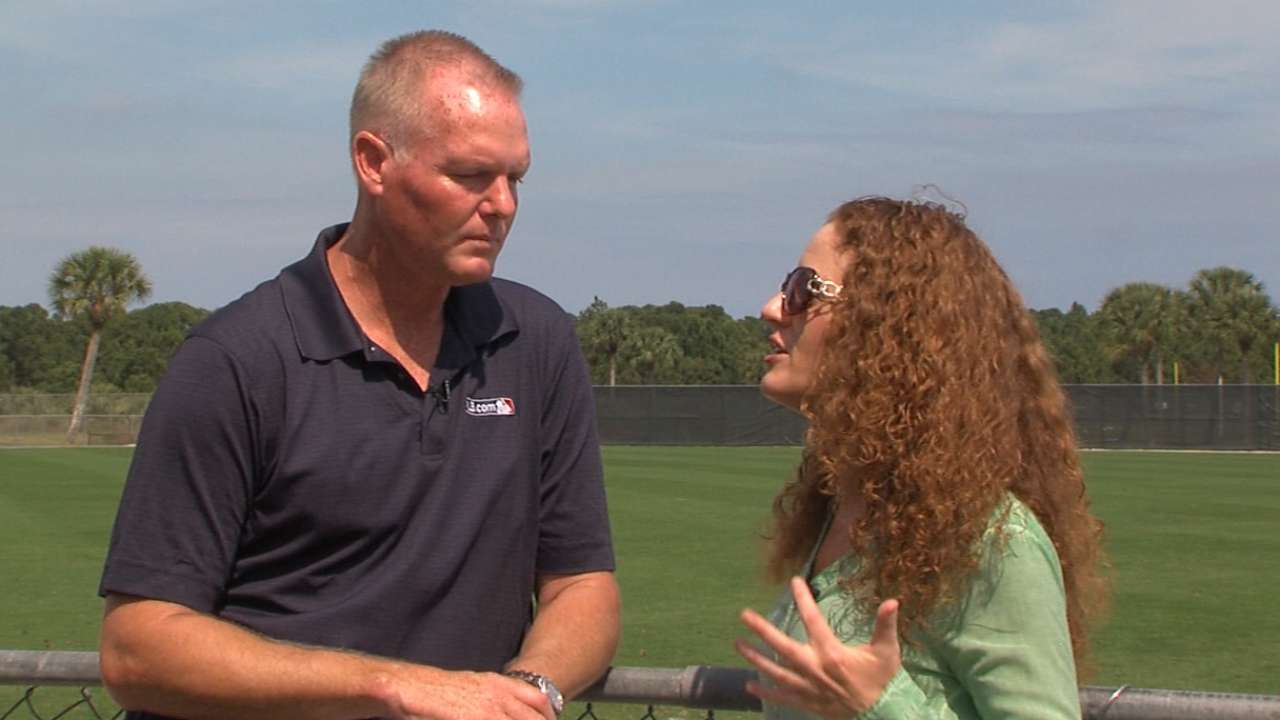 PHOENIX -- For Lloyd McClendon and the Mariners, it happened by happenstance.
Lanky right-hander Brandon Maurer had struggled as a starter early in the 2014 season and been demoted. When the Mariners brought him back as an extra -- you might even say excess -- reliever in late June, they figured his stay would be short, lest their bench be short, too. But Maurer proved to be such an effective weapon that McClendon called general manager Jack Zduriencik one day, saying, "We can't send this guy back down."
That's how the Mariners ended up with an eight-man bullpen for the entirety of the season's second half.
"It was an accident," McClendon said. "But it worked."
Once taboo, eight-man bullpens seem to be gaining traction in today's game. Obviously, it's more applicable for American League teams, for which glaring pinch-hit opportunities are presented less frequently. But last year even the Cubs went with an eight-man 'pen for much of the season (with their primary motive protecting Neil Ramirez and Justin Grimm), and the Rockies have a long history of using eight-man bullpens on homestands, knowing too well how Coors Field lends itself to short starts.
We're at a point in the game's evolution when it's not at all strange to see a club's stash of mid-90s-tossing relief arms run deep enough to affect not just the eighth and ninth frames but the mid-inning matchups. We've also seen value attached to versatile position players who lengthen a roster.
You combine those two factors, and the eight-man 'pen is gaining prominence. The Indians, Blue Jays and Twins all used eight-man bullpens for sustained stretches over the last two years, and the Royals and White Sox are among those entertaining the idea for the outset of '15.
"I'm not dead set on the eight-man bullpen," Tribe manager Terry Francona said. "I'd actually like to have nine."
Francona obviously veers to the extreme on this subject, and having utility man Mike Aviles, a solid bench bat who is adept in both the infield and outfield, allows him to do so.
But the teams that do compile enough 'pen options to capitalize on the advanced analytical data -- heat maps, platoon splits, strike-zone discipline, etc. -- that so often favors pitcher over hitter can give themselves a clear competitive advantage. Pitch counts long ago killed the concept of the complete game as anything other than a rarity, but bullpens have arguably never been more important than they are today.
Last year we saw an average of six relievers used per game, all all-time high and a rise by half a pitcher from just a decade earlier. As much as we gravitate toward discussing the relative strength of rotations, baseball, more and more, is a matchup game.
To illustrate how deep bullpens have become, consider this: Just five seasons ago, there was one bullpen in all of baseball that had a combined WHIP of 1.25 or lower.
Last year there were 13 of them.
A lot of things have combined to disrupt offensive production in this environment, but Major League hitters and hitting coaches often point to the depth of 'pens and the variety of looks within them as the biggest culprit. Maybe an ideal roster would contain a bench loaded with switch-hitters to offset the opposition's relief options, but that's not exactly realistic.
What is realistic is carrying a deep staff that can shorten games, even if it comes at the expense of an extra bench bat.
"In the old days, the adage was, 'Work the starter, get into the middle relief,'" McClendon said. "Well, you get into the middle relief now, and you're in trouble. My long guy throws 97 mph. My seventh- and eighth-inning guys [throw] 98 mph. There's no relief there. So I think teams are starting to change their philosophy on how you win ballgames."
For the record, McClendon has not decided if he'll use an eight-man 'pen at the outset of '15, but he saw first-hand what a difference-maker it can be on the right roster. The Mariners finished the season with the ninth-best strand rate in the live-ball era.
The Royals will have an eight-man 'pen come Opening Day if they decide Luke Hochevar, coming back from Tommy John surgery, is going to need extra rest between outings. A deeper 'pen could also ease the burden placed upon the back-end trio of Greg Holland, Wade Davis and Kelvin Herrera after a heavy '14 workload.
"In the American League, it's not that big of an issue, I don't think," Kansas City manager Ned Yost said. "Especially when you have those three studs down in that bullpen, the extra arm does provide some protection for them, too."
Granted, for some clubs, eight is more than enough.
"Bob [Melvin] does a great job of using the bench guys, whether it's a platoon or a matchup in the game," A's assistant GM David Forst said. "I think he would probably be a little more hamstrung if we took away a position player.
"Now, if you told me I could have a 26th man, it would probably be a pitcher."
Ah, yes. The "expanded roster" conversation. With brief exceptions due to labor disputes, pre-Sept. 1 rosters have been set at 25 since 1968, and it does not appear we're headed to 26 or 27 any time soon. But the way the game is managed has evolved a considerable amount in a short time, and it forces teams to get increasingly creative within the 25-man limits.
Again, a perfect-world roster would probably include a deep bench of switch-hitters, a six-man bullpen and a starting staff that's healthy and consistently getting into late innings. But only once in the last 10 years has the big league average for a starters' workload met or exceeded six innings. (It was 5.96 last season.)
"To me, it's a weird thing," said Reds manager Bryan Price, "because we're so focused on innings and pitch limits for starters, yet we're starting to see pitchers over the last five to seven years pitching between 75 and 85 games a year out of the bullpen. So whatever we're saving on our starters, we're spending on our relievers. That's always made me uncomfortable. Because you know with every 75 appearances, you've got another 40 times where you had somebody up and didn't use them. So the attrition rate for relievers is very high."
That's yet another point that lends credence to the idea of an eight-man 'pen. Where once the beefed-up bullpen was created only by emergency or scheduling quirk, it's become, for some clubs, a roster reality worth planning.
Anthony Castrovince is a reporter for MLB.com. Read his columns and follow him on Twitter at @Castrovince. This story was not subject to the approval of Major League Baseball or its clubs.