MLB.com Columnist
Phil Rogers
LaRoche the leader of White Sox overhaul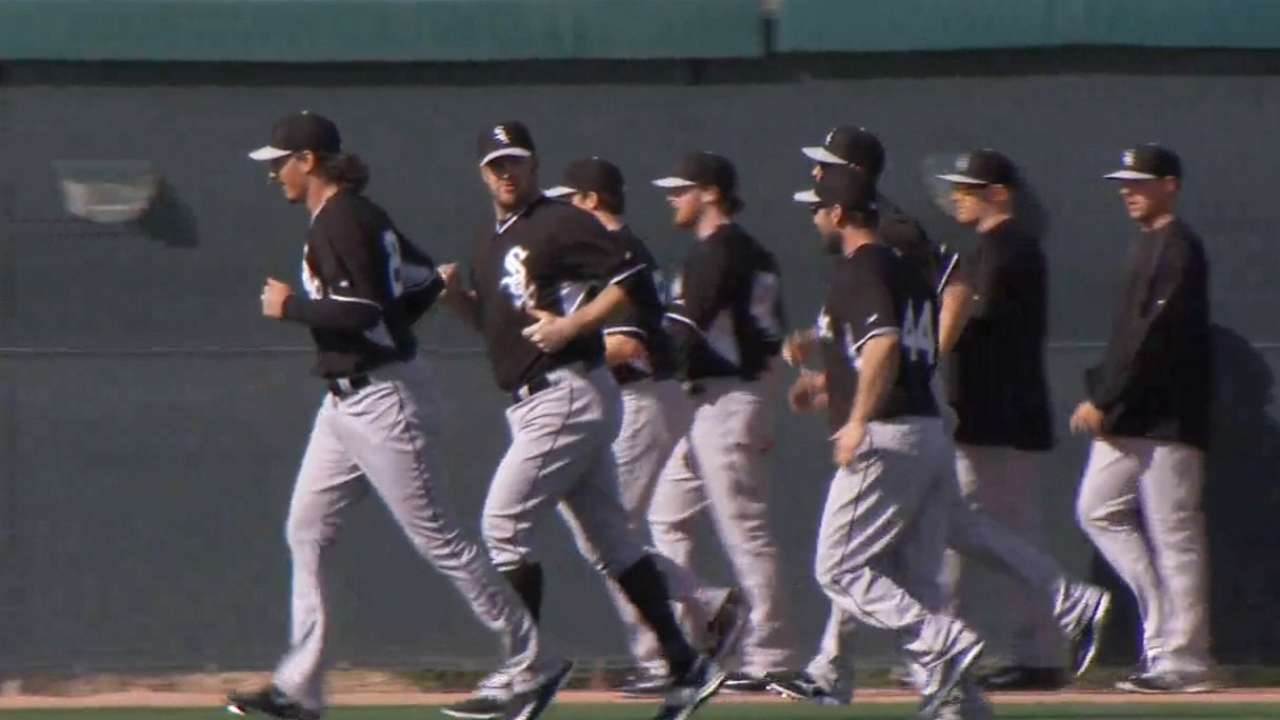 GLENDALE, Ariz. -- When Adam LaRoche was being courted by the White Sox, general manager Rick Hahn told him that the team was hopeful it could make major upgrades to its roster. But this was back in November, only a couple of weeks after the free-agent period opened, and LaRoche wasn't sure if he was being served a slice of pie in the sky.
"As a free agent, which I've been a few times, you always hear that," LaRoche said. "There's always talk: 'We're going to do more, we're not finished yet.' Sometimes it works out, and a lot of times it doesn't."
Seeing was believing on Tuesday.
When the White Sox held their first full-squad workout at Camelback Ranch, they used six diamonds. And everywhere you looked, there was a potentially significant player who was acquired during the roster overhaul that started with the two-year deal for the 35-year-old LaRoche, who last season led the Nationals in home runs (26) and RBIs (92).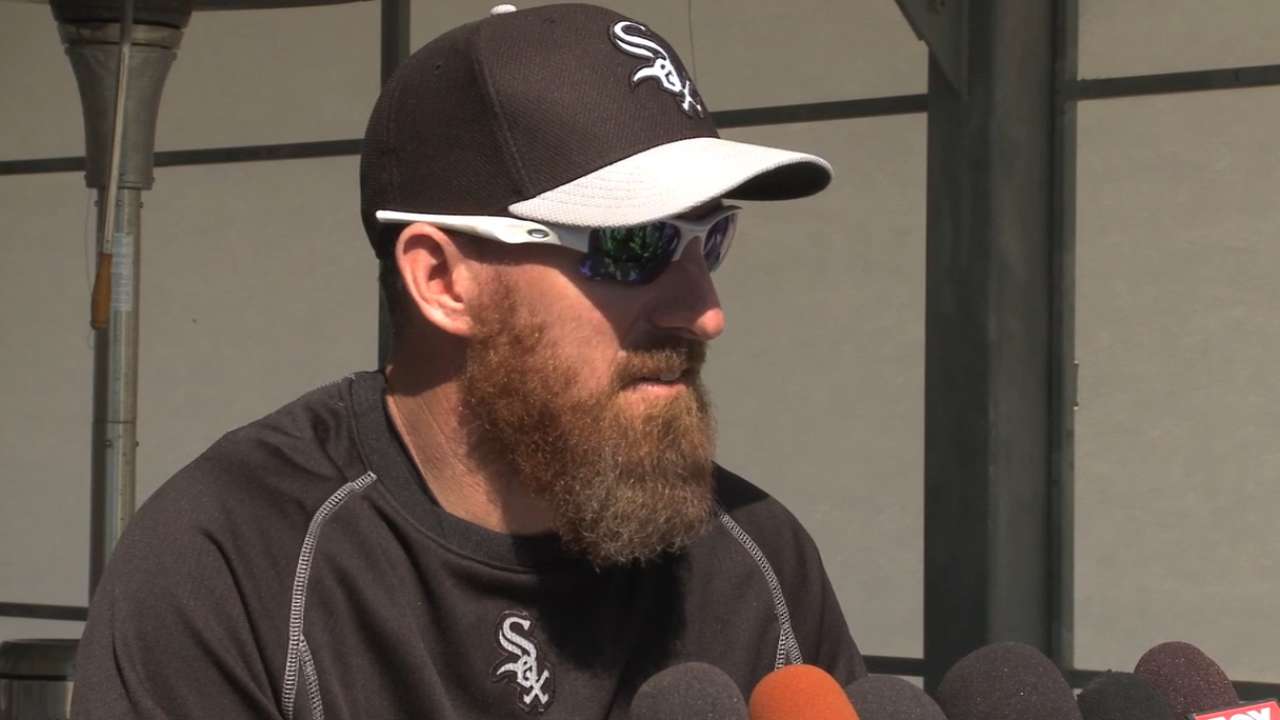 The new faces, many of them with long track records, seemed to put a spring into the step of those who have been around a long time, including fourth-year manager Robin Ventura. Ventura is as low-key as they come, but he felt "a lot of excitement, energy" as position players worked alongside the pitchers who started camp last week.
The White Sox added 17 players to the 40-man roster during the Hot Stove season, including 12 from outside the organization. In addition to LaRoche, the list includes potentially impactful veterans Jeff Samardzija, David Robertson, Melky Cabrera, Emilio Bonifacio, Gordon Beckham and Zach Duke.
With Hahn methodically turning over a team that had grown old and slow in the latter years when it was built around Paul Konerko, shortstop Alexei Ramirez, third baseman Conor Gillaspie and catcher Tyler Flowers are the only holdovers from the start of the team's 99-loss season in 2013.
Jose Abreu, the American League Rookie of the Year and an MVP candidate, changed the team's dynamic last season. Abreu announced his presence in his first at-bat on Opening Day with a wicked line drive that froze Twins right fielder Oswaldo Arcia, then was intentionally walked twice by Minnesota skipper Ron Gardenhire in his second game.
But the team around Abreu lacked balance and speed, and finished in the middle of the pack in the AL averaging 4.1 runs per game. The offense was a boom-or-bust attack that had finished 11th or worst in the AL in four of the previous seven seasons, including last in 2013 and 2007.
Those days appear gone.
"Depth is a good word to use for us this year," Ventura said. "You look around, you see some options. In the past, you sit there, look at [players] and it needs to be them. Now we have [versatility] around the field. You can move guys around, fill in for them if you have to."
Cabrera, who will be the primary left fielder, and LaRoche should join leadoff man Adam Eaton in providing a major benefit for Abreu. Abreu hit .317 with 36 home runs last season. He had 107 RBIs, fourth in the AL, but he was 36th with 126 at-bats with runners in scoring position, behind such guys as Trevor Plouffe, Dioner Navarro, Alcides Escobar and Austin Jackson.
But the lineup changes go a lot deeper than LaRoche and Cabrera.
Beckham, who jokes that he's back from "a little sabbatical" after being traded to the Angels last August, is likely to be a platoon partner for the left-handed-hitting Gillaspie at third base. Bonifacio, a speedy switch-hitter who is with his sixth team in four years, will play all over the field unless he's needed as a regular at second base, where prospects Micah Johnson and Carlos Sanchez join Leury Garcia in a battle for the job. Beckham, a White Sox regular since 2009, could reassert himself there, but it is his versatility that is viewed as most valuable.
There's also a job to be won as Flowers' catching partner, with the left-handed-hitting Rob Brantly and George Kottaras competing against Geovany Soto and incumbent Adrian Nieto.
LaRoche, a better fielder than Abreu, will split first base and DH duties with Abreu. That means there are only three positions -- shortstop (Ramirez), center field (Eaton) and right field (Avisail Garcia) -- where the White Sox enter 2015 with the same plan as a year ago.
Eaton believes that Hahn was searching for the same kind of deep, balanced roster that was featured by both World Series teams last October.
"I would say we brought in some skill guys," Eaton said. "I wouldn't say they're top five [at their position], but they're good baseball players who go about their business the right way. They're good clubhouse guys, good steady guys who are going to give you a solid season. I think that's what you need. You look at the Giants, you look at the Royals. They don't have that much star power, but they're solid across the board. They're good, humble guys who play the game the right way."
Abreu remains the focal point, but there's no doubting that the lineup around him has been upgraded. That was clear on the first day of full workouts, wherever you looked.
Phil Rogers is a national columnist for MLB.com. This story was not subject to the approval of Major League Baseball or its clubs.