Moss pain-free and 'pumped' to be with Tribe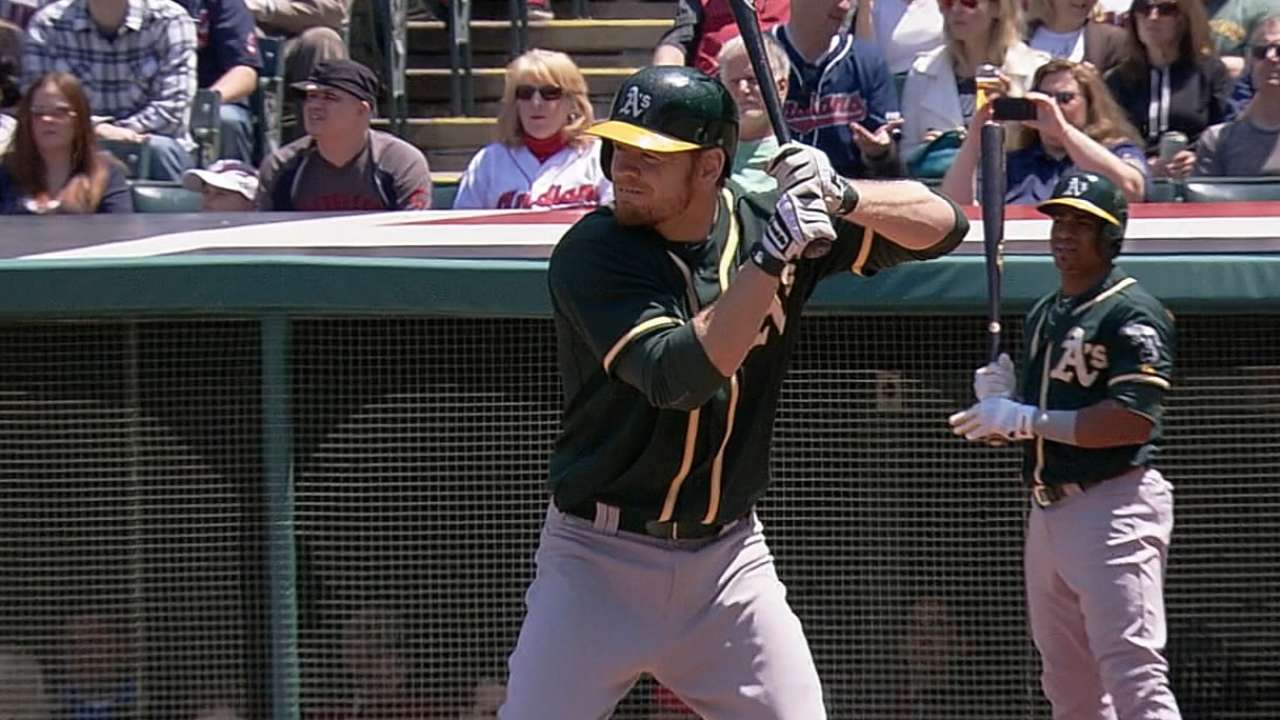 GOODYEAR, Ariz. -- Outfielder Brandon Moss knew something was wrong with his left hip long before his second-half tailspin began last season. During last spring, when he was with Oakland, Moss remarked to then-teammate Daric Barton that he might be in for a tough year.
"I said, 'I hope you have a really good year this year, so I can DH a good bit,'" Moss recalled, "'because if not, I'm probably going to have to have surgery.' I knew it. There was something wrong. At that point it was just stiff, and I couldn't move well."
Moss took a cortisone injection prior to the American League Wild Card Game against the Royals and, pain-free, put up an incredible performance that included two homers. He then knew for certain that his hip was the culprit behind his offensive struggles, and he underwent surgery in October to repair the damage.
In the early portion of this Spring Training with the Indians, who acquired Moss from the A's in December, Moss has looked surprisingly good in running drills. He is working through a gradual hitting and throwing progression, but he is extremely optimistic about his chances of being ready for Opening Day.
"I feel really good. I'm hitting all the marks," he said. "I'm ahead on a lot of what we're doing. I feel great. Obviously, they have a timetable and a frame in which they're trying to keep me to make sure everything goes as planned, but right now I feel outstanding. It's going much better than even I anticipated it going. It's looking really good right now."
Overall, the 31-year-old Moss hit .234 with 25 home runs and 81 RBIs in 147 games for the A's last season, but he hit only .173 (.584 OPS) in the second half. The stiffness in his hip developed into pain late in the season, but he did all he could to fight through the issue.
"I was surprised at how well I was doing early in the year to be honest," he said. "The hip was so bad. That's one of those things that happened the way it happened. It's over with. ... You move on and, shoot, I've got a great opportunity here with this team. You talk about a good core group of guys, this team has it, and it's a team that's been trending in the right direction. It's a great place to be, and I'm pumped."
Jordan Bastian is a reporter for MLB.com. Read his blog, Major League Bastian, and follow him on Twitter @MLBastian. This story was not subject to the approval of Major League Baseball or its clubs.