MLB.com Columnist
Barry M. Bloom
With new and returning faces, Giants looking ahead
Loss of Sandoval, third-base coach will have impact on champs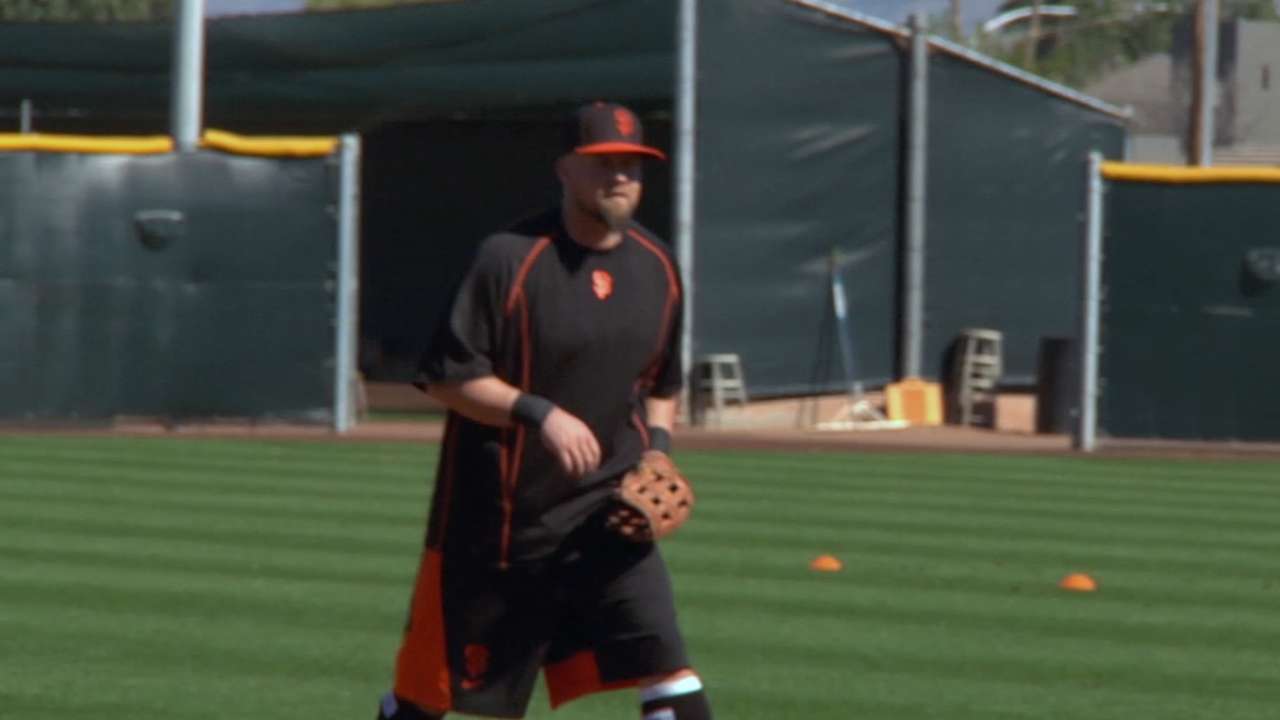 SCOTTSDALE, Ariz. -- The Giants worked out on the main field at Scottsdale Stadium on Tuesday, bringing together the full squad for the first time since winning the World Series for the third time in five years this past October. It was a day to bring in the new and remember some of the old.
They head into their ninth season under manager Bruce Bochy, trying to win it all again with a new combination at the hot corner. Third baseman Pablo Sandoval and third-base coach Tim Flannery are gone, replaced by Casey McGehee and Roberto Kelly, respectively.
Michael Morse also left via free agency, replaced in the outfield by Nori Aoki. But the loss of the much beloved Panda and the well-liked Flannery will certainly have the greatest impact.
"There are a number of different levels when you try to replace a guy like Pablo," assistant general manager Bobby Evans said. "You're talking about run production, you're talking about energy and you're talking about defense. You're also talking about a fan favorite. The good news is when you're talking about a team like the Giants, there are a lot of fan favorites."
A few of those favorites are returning from serious injuries, Matt Cain from right elbow surgery and Angel Pagan from back surgery. The point is, the Giants went to the postseason and won it all last year without those two even contributing, though Cain and Pagan were key elements to the team that won the title in 2012. Thus, the Giants are capable of winning without Sandoval.
"What you've seen in the past about this team is that everybody contributes," Pagan said. "It's not Angel Pagan. It's not Buster [Posey]. It's a team. That's what we're known for. I mean, we lost Pablo, but I'm healthy, Cain is healthy, we got Casey McGehee, who is a great third baseman. He's going to do a great job. We got Aoki. He gets on base. I believe we have a good team, if not better."
McGehee said he's not worried. Giants fans should not expect him to replace Sandoval, whose postseason production in 2012 and '14 was integral to the Giants winning both of those championships. He was the MVP and batted .500 in San Francisco's sweep of the Tigers in 2012, hitting three homers at home alone in Game 1. Last year in the World Series he hit .429.
"Look, I get it. People shouldn't forget about Panda," said McGehee, who was obtained from Miami in a Dec. 20 trade. "I guess the biggest thing I can say is that it would be a big disservice to him to expect or want anyone to forget what he did. He was very important to this organization. He did so many important things for them. It should be celebrated and appreciated and all that, but now it's my turn to come in and help win as many games as I can."
It's not as if the Giants didn't try to retain Sandoval, going right down to the wire before he signed a five-year, $95 million free-agent deal with the Red Sox.
"Well, we were at the same financial level as Boston," Evans said. "But ultimately he decided to go ahead and go there. Even though he knew there was more that we could put on the table, he wanted to make a change and take on a new challenge, which is what he said."
Evans doesn't believe Sandoval harbored any animosity regarding previous clashes with the Giants about his contract and weight.
"The only thing I can think of is that there was a tug in Boston from the [players] he knew there to come over there," Evans said. "David Ortiz was one. Spring Training in Florida where he has a home and a child was another. He'd been with our organization for 12 years, since he was 16 years old. That's a long time. I can see a guy want to try something new."
Flannery decided he had reached the end of the line after spending most of the last 36 years in baseball as a player and coach. Pagan said Flannery "was the best third-base coach that I've ever played for or ever seen." Flannery's spirit was infectious and he was aggressive in the third-base coaching box, sending many a runner home in very tight situations, some of them tossed out at the plate.
No matter. His absence will probably affect Bochy most. The two played together in the Padres organization as backup catcher and utility infielder and became inseparable. A year after Bochy ascended to the job as Padres manager in 1995, he brought Flannery in as his third-base coach. That lasted until Flannery was dismissed in 2002. But the union was revived when Bochy replaced Felipe Alou with the Giants in 2007 and lasted until the end of this past postseason.
Like Sandoval, though, once the Giants won the World Series, for Flannery there was no looking back.
"I've got to add this up. We've been together since 1983. That's 32 years. I hope I'm close there," Bochy said. "That's the kind of relationship we've had, as a player and as my third-base coach. We have some great memories."
Every season is different and the Giants are embarking on another journey. They are the defending World Series champions and will remain so until unseated. Even with these significant changes, they are in prime position to win it all again.
Barry M. Bloom is a national reporter for MLB.com and writes an MLBlog, Boomskie on Baseball. Follow @boomskie on Twitter. This story was not subject to the approval of Major League Baseball or its clubs.