Astros taking health of their players to another level
Houston Methodist has developed a new program to help prevent injuries, speed recovery times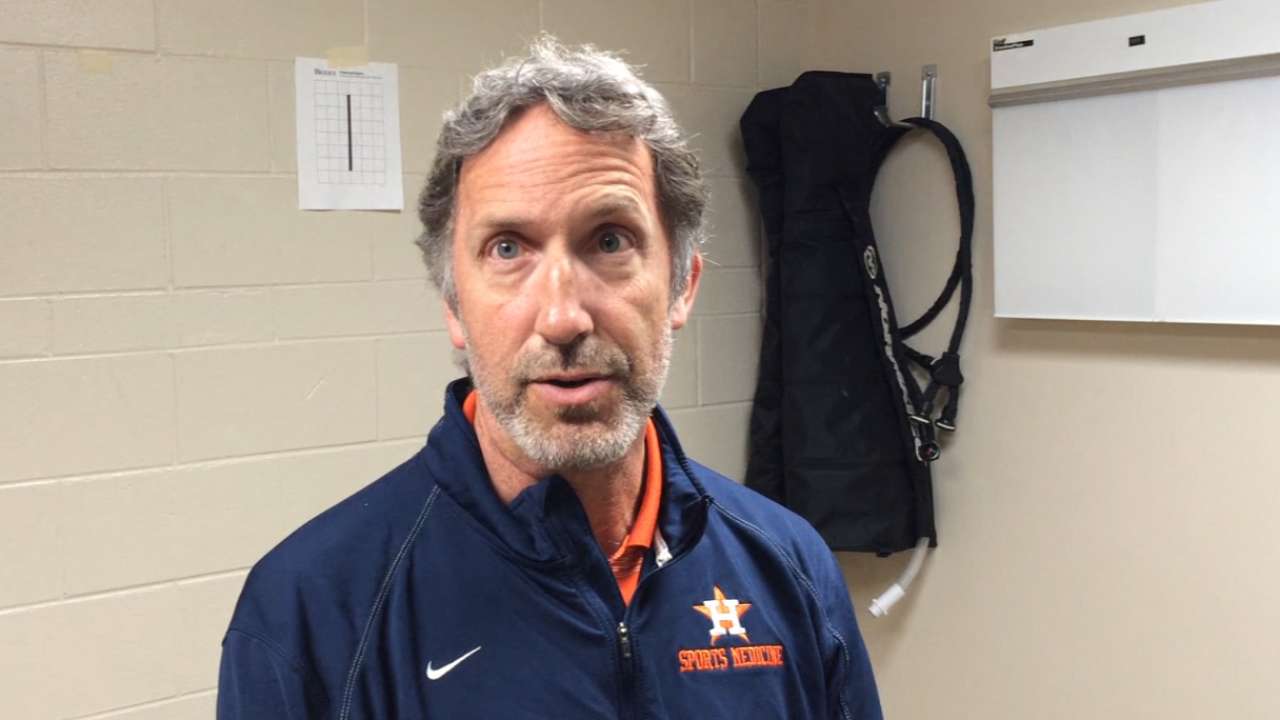 KISSIMMEE, Fla. -- Before the Astros take the mound for their first bullpen sessions of the spring or step onto the field to run the bases for the first time, the club puts the players through a comprehensive medical evaluation to make sure they're in the best position to compete.
In addition to the routine medical physicals each player undergoes each spring, the Astros and Houston Methodist Hospital, their long-time health care provider, this year are introducing a new sports medicine assessment designed to help prevent injuries and speed up recovery time when players are banged up.
Astros medical director, Dr. David Lintner of Houston Methodist, said the process is more extensive than the standard preseason testing and evaluation.
"We're really looking for any possible warning signs that someone might be on the verge of an injury or vulnerable to an injury," he said. "As you might imagine this time of year, they come in very healthy and strong and excited and energetic. And so we have physical testing going on, not just a routine physical exam, but athletic functional testing to very closely look for signs someone might have a tendency to get hurt this season."
Astros pitchers and catchers went through the process last week, and the position players did the same Tuesday. Methodist has a number of physical therapists, sports medicine fellows and physicians assisting the Astros' strength and conditioning staff and athletic training staff.
"Technology and statistics are progressing and advancing, and as we learn more and understand more about injury risks then we can look for things preemptively," Lintner said. "We have a much more extensive testing program this year. The front office of the Astros has been very supportive about embarking on this to gather data, not just each individual, but also collectively across the organization, to be able inspect that very closely [and] to look for problems. This is on a scale beyond what we've done in the past and beyond what most any team does currently."
The staff from Methodist takes various measurements on a number of upper and lower body joints. The measurements are retained in a private player file and can help the Astros' medical staff diagnose and treat player injuries throughout the year.
"The material we find, we'll be able to focus on guys who need extra help or some extra strengthening, range of motion, whatever it may be," head athletic trainer Nate Lucero said.
Strength and conditioning coach Jake Beiting said the assessments help paint a more complete picture beyond the body composition tests and functional movement tests.
"We're getting pretty exact answers on what issue a guy is having, and hopefully we can take steps to correct them afterwards," he said.
Matt Holland, a physical therapist with Methodist, said the goal is to limit the likelihood of an injury and find things that could give the team a competitive advantage as well.
"It's been a great opportunity for us because it allows us to catch all the guys before they get going," he said. "It's pretty important for a lot of the shoulder measurements be done before they start ramping up their throwing programs and really getting after it out there… We look at things we know will be helpful to avoid potential for injury."
As comprehensive as the Astros attempt to be with each of their Major League and Minor League players physically, there will always be things that are missed. But Lintner said teams understand the workings of players' bodies much more than in the past.
"Years ago, the preseason evaluation would basically be asking the players, 'How you feeling? You feel good? Are you in shape? OK, go get them,'" he said. "Now we're going to get some objective data and things that can be measured very closely, and they essentially have to prove it, that they're physically sound. People can get into bad habits they might not be aware they're doing so, and we're going to try to find those things that make them prone to an injury."
Brian McTaggart is a reporter for MLB.com and writes an MLBlog, Tag's Lines. Follow @brianmctaggart on Twitter. This story was not subject to the approval of Major League Baseball or its clubs.