Francona: 'More anxiety' about this year's message to Tribe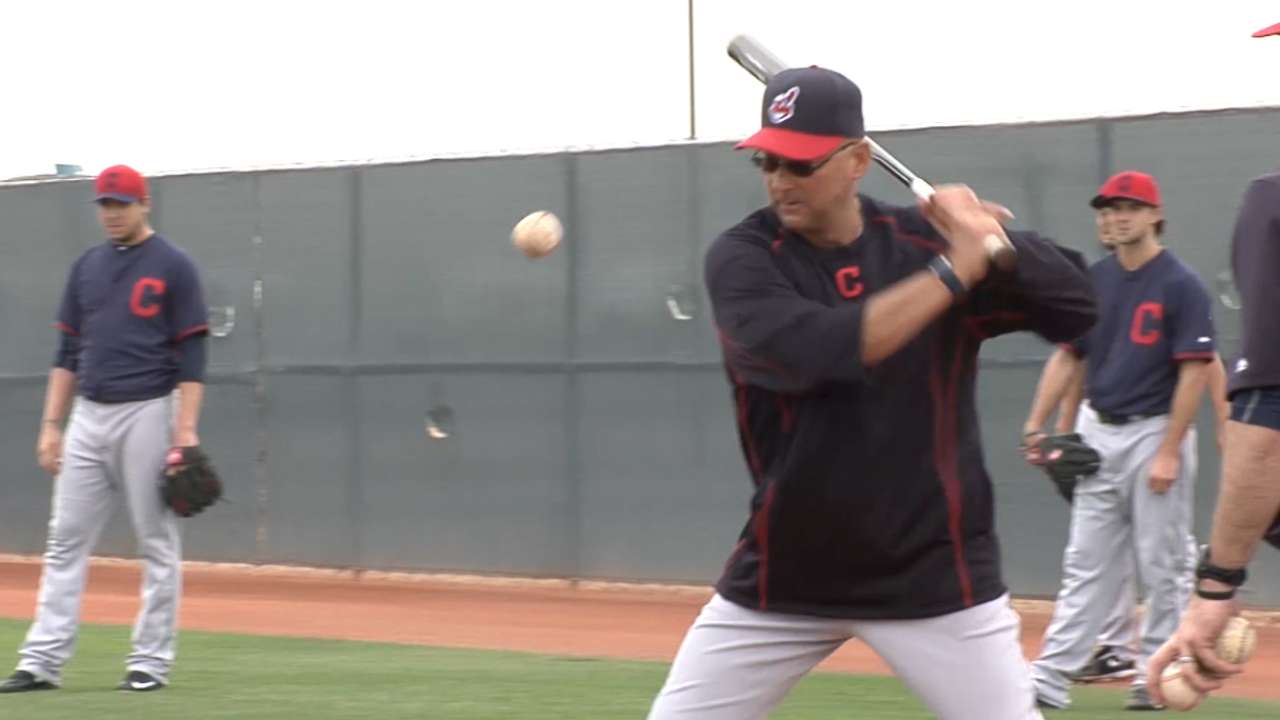 GOODYEAR, Ariz. -- To prepare for the first team meeting of Spring Training, Indians manager Terry Francona spent some time over the past few days jotting down his thoughts. When Francona got ready to walk into the clubhouse on Tuesday morning, he actually felt nervous.
"I probably had more anxiety about that this year than I ever have," Francona said. "It probably doesn't matter in the long run, but I wanted to try to say exactly how I felt. That's not the easiest thing always, and you only get one chance. You can't go back, so I had a lot of anxiety about it. I know how I feel, but I just care about this group so much that I wanted to do a good job."
One message Francona hammers home to his players each spring is that they will all go through the next seven-plus months together. Asked if anything about his speech changed this year -- possibly explaining the heightened jitters -- the manager laughed.
"It never changes -- that's the funny thing," Francona said. "That's what I told them. I said the message really doesn't change. We don't feel different about the game."
Here are some more notes and quotes from Tuesday's first full-squad workout:
• Indians All-Star Michael Brantley did not participate in the team's performance test (repeated sprints) at the end of Tuesday's practice. Francona said that the left fielder is battling some soreness in his lower back. Third baseman Lonnie Chisenhall and utility man Zach Walters both sat out all of Tuesday's workout due to flu-like symptoms.
• Veteran right-hander Shaun Marcum re-signed with the Indians on a Minor League contract this past offseason, following another year working his way back from thoracic outlet syndrome. Marcum, who threw only 17 1/3 Minor League innings last year, is competing for a job as a starter. Said Francona: "It's hard to make a good evaluation on a guy with maybe 18-20 innings that hasn't pitched in [the Majors in] a couple years. That is very difficult, so we'll do the best we can."
• The Indians have Travis Hafner, Charles Nagy and John McDonald in camp this spring as guest instructors. McDonald retired this past winter after 16 seasons in the Majors as an infielder known for his strong defense. Francona said the Indians are "going to turn him loose. We'd be silly not to. He's got such a passion for what he's doing."
• The Indians want to be proactive about controlling the intensity of the game setting in the early outings for American League Cy Young Award winner Corey Kluber this spring. Along those lines, Kluber is currently scheduled to throw a two-inning simulated game on March 3.
• Pitchers will begin shifting from regular bullpen sessions to throwing live batting practice during Saturday's workout. Right-hander Zach McAllister is scheduled to log two innings as Cleveland's starting pitcher in the March 3 Cactus League opener against the Reds.
Jordan Bastian is a reporter for MLB.com. Read his blog, Major League Bastian, and follow him on Twitter @MLBastian. This story was not subject to the approval of Major League Baseball or its clubs.