Padres bring prospect Turner to Majors camp
Shortstop rumored to be headed to Nationals in June to conclude trade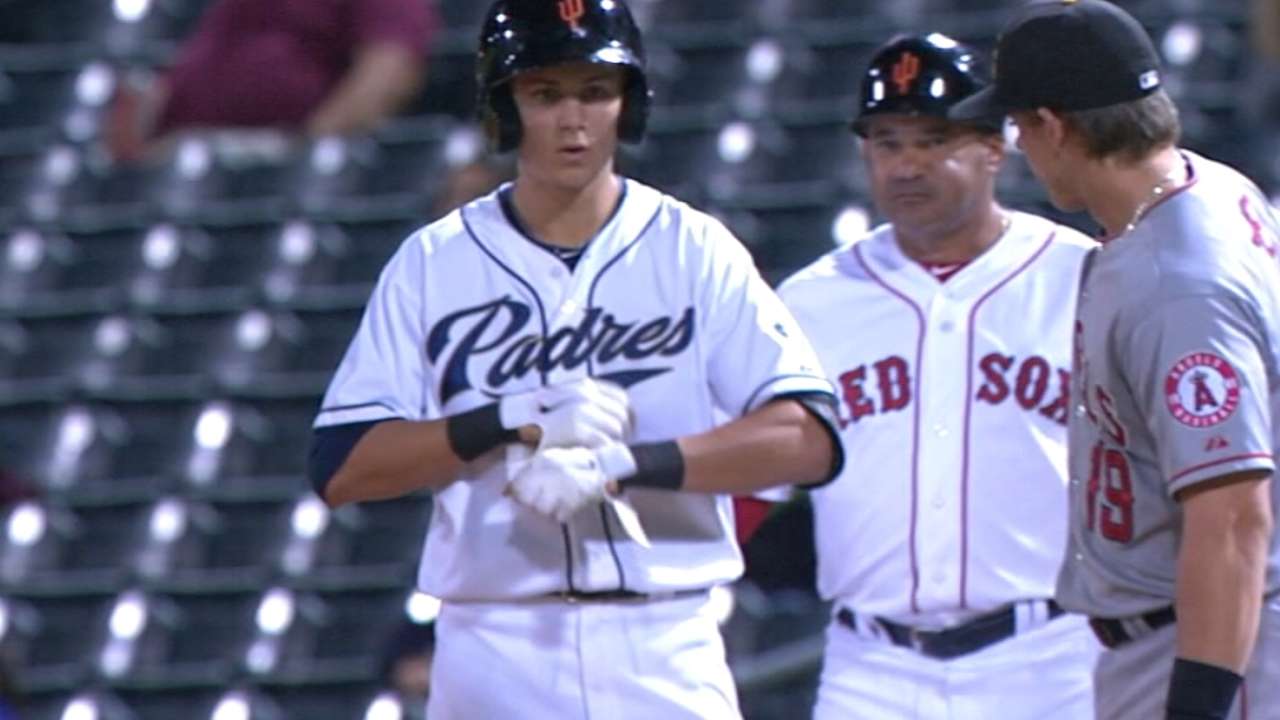 PEORIA, Ariz. -- The curious case of Trea Turner took another twist Tuesday when the Padres' 2014 first-round Draft pick arrived in Peoria, a surprise addition to big league camp.
Turner is purportedly the player to be named and sent to the Nationals in the three-team trade that also involved the Rays in December. His name is not included in the paperwork between the Padres and Nationals.
But because Turner was drafted this past June, baseball rule 3(B)(6) states that no draftee can be traded until a year after he signs. Turner signed his contract with the Padres on June 13, meaning he can't join the Nationals organization until June 13 of this year.
For now, Turner is just happy to be in his first big league camp.
"I'm happy to be back playing baseball," he said Tuesday morning, the day position players reported to camp. "My goal is always to play at the highest level I can."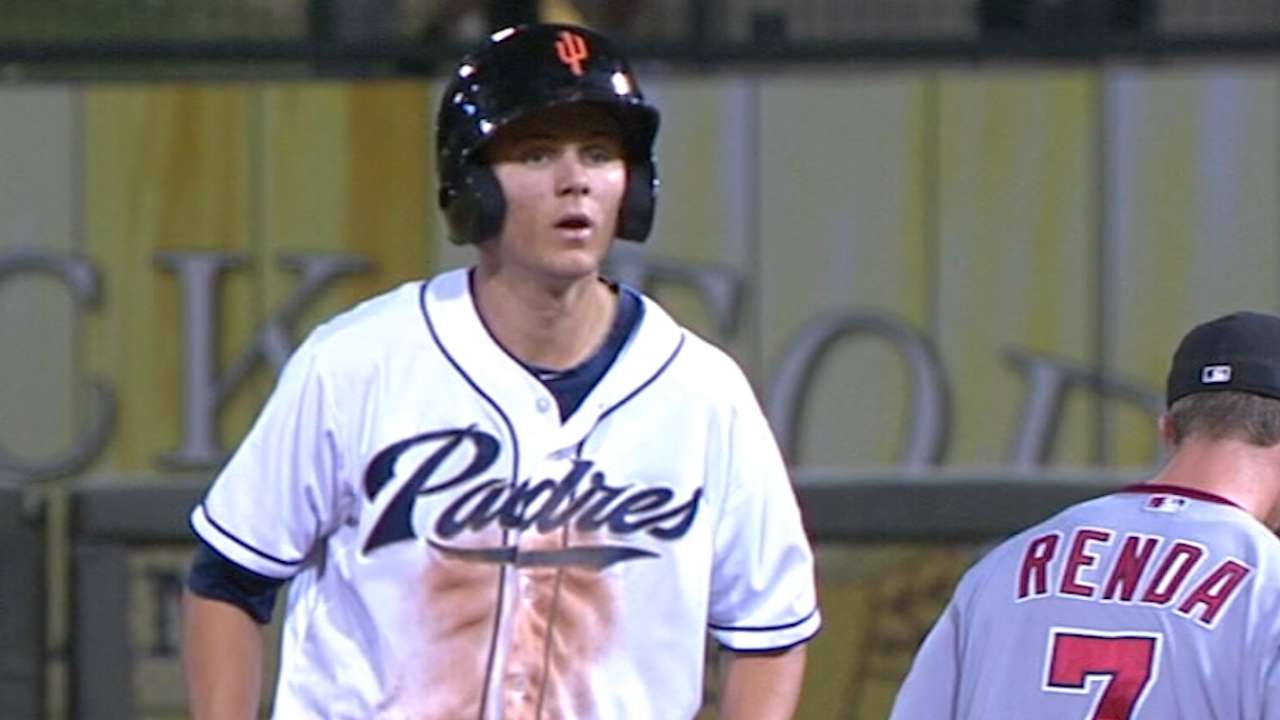 Turner, the 13th overall pick out of North Carolina State, hit .323/.406/.448 with five home runs, 24 RBIs and 23 steals in two Minor League stops after signing last June. He also appeared in the Arizona Fall League.
His offseason was going as normal when he became part of a wild trade between the Padres, Nationals and Rays, the one that eventually landed the Padres outfielder Wil Myers. Turner wasn't sure what to make of it all.
"There's a lot of things out of my control -- this trade and anything of that nature," Turner said. "I tried not to pay attention to it and put it behind me and get out there and start playing."
Turner's agent, Jeff Berry of CAA, voiced his displeasure to FoxSports.com that his client would have to remain with an organization for six months that had essentially already traded him.
On Tuesday, Berry released a statement:
"Trea has put this matter behind him and is focusing on his development and being a productive member of the Padres organization."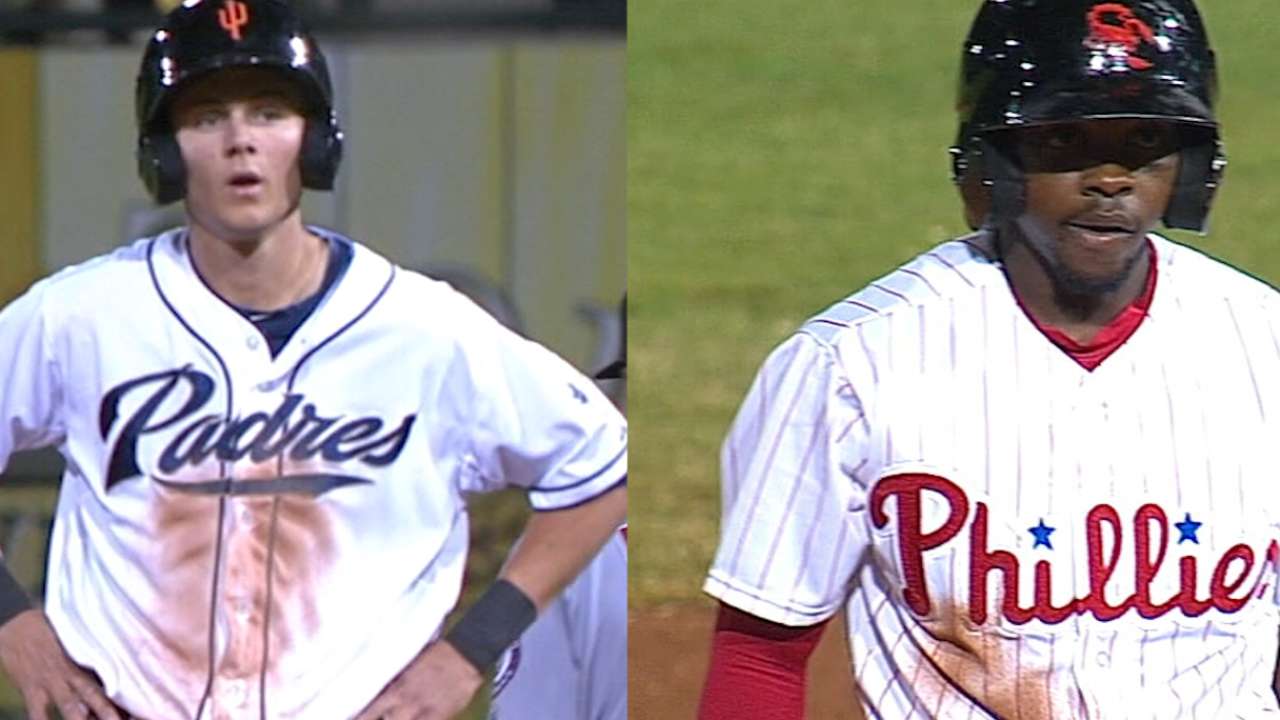 General manager A.J. Preller said the Padres added Turner and another middle-infield prospect, Jose Rondon, as non-roster invitees to give them a chance to be around Major League players and to get more experience in big league camp.
Turner wasn't questioning the decision at all.
"It's kind of a dream come true. I want to see how I do. I'm excited to be a part of it," he said.
Preller said Turner will be treated like any other Minor League player and will join a Minor League affiliate -- likely high-A Lake Elsinore -- when camp breaks at the start of April.
"I guess it depends on how I play," Turner said. "That's basically all I'm trying to do is play as well as I can, better my game and hopefully I can move up."
Corey Brock is a reporter for MLB.com. Keep track of @FollowThePadres on Twitter. This story was not subject to the approval of Major League Baseball or its clubs.