Cardinals to address Taveras tragedy, educate
Club to implement programs in effort to send message about dangers of drinking and driving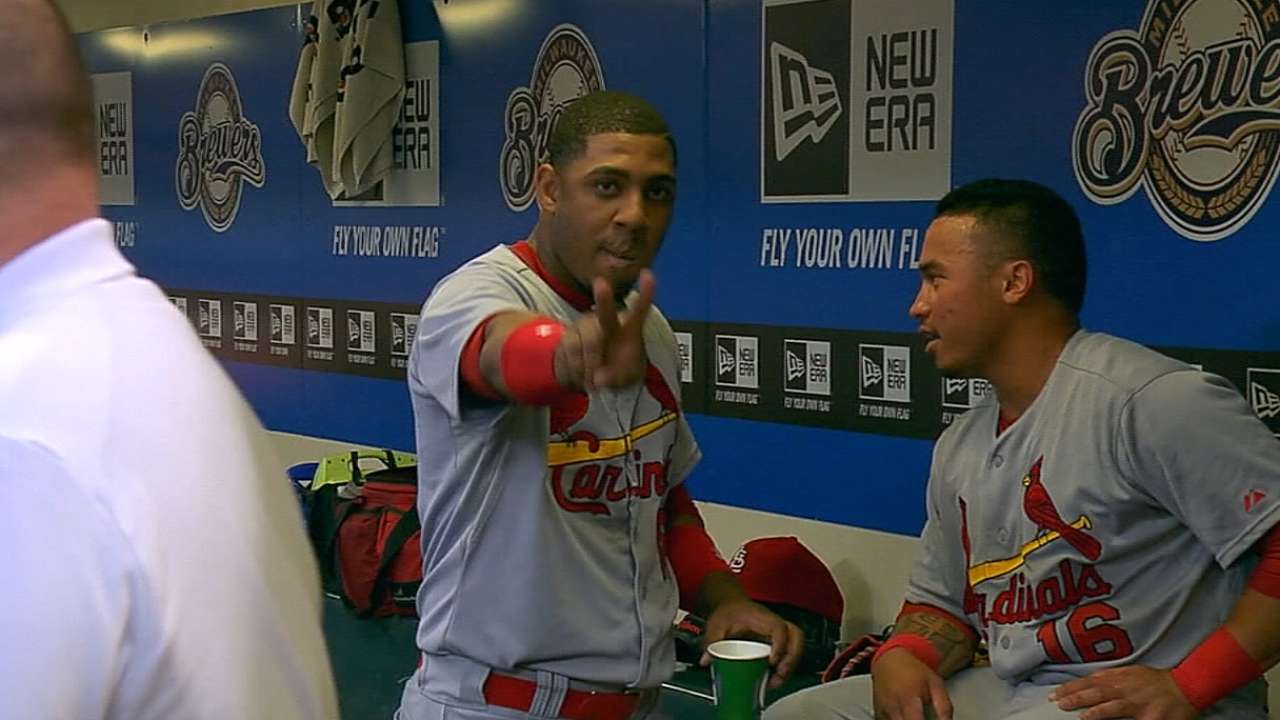 JUPITER, Fla. -- When manager Mike Matheny gathers his players for the first full team meeting of Spring Training on Wednesday, he plans to deliver a message that will reflect on the one missing from the group. It will be the first time that the entire team has been back together under the same clubhouse roof since their teammate, Oscar Taveras, died in late October.
While Matheny's words are expected to strike at the idea of the club being like a family unit, the organization's response to the tragedy won't be confined to one message offered in one meeting. The education process, as general manager John Mozeliak explained on Tuesday, will continue throughout spring, and programs are being implemented to address the issue of drinking and driving.
In the weeks after Taveras and his girlfriend, Edilia Arvelo, were killed in a car accident, officials in the Dominican Republic stated that Taveras was behind the wheel with a blood alcohol content near five times the legal limit.
Mozeliak said the Cardinals will host a guest speaker this spring to talk with both the Major League and Minor League players about the dangers of drinking and driving. A representative from MLB's Employee Assistance Program will also stop by to address the topic.
The organization is also reviving a program in which it will provide transportation to players -- "no questions asked," Mozeliak said -- in St. Louis if they have had too much to drink. The Cardinals had a similar program in place after reliever Josh Hancock died in a 2007 car accident, but it was phased out due to a lack of usage.
"This program here that we're trying to come to an agreement with has a little different slant to it, and hopefully [it] is one that will give them an out if they need one," Mozeliak said. "Should a mistake happen, then it really does fall on the player because there will be an outlet."
Mozeliak said the organization may consider adopting a similar initiative with its Minor League affiliates at a later date.
The Cardinals also plan to adjust their messaging toward Latin American players, specifically those from the Dominican Republic.
"Historically, we talk about educating players, and we have replicated a lot of what we do [here], there," Mozeliak said. "It's time for that to change. We need to be sending a different message to that group of players because the culture is different."
With details on these plans and programs still being worked out, Mozeliak will address these topics at a later date to provide more specifics.
Jenifer Langosch is a reporter for MLB.com. Read her blog, By Gosh, It's Langosch, and follow her on Twitter @LangoschMLB. This story was not subject to the approval of Major League Baseball or its clubs.