A-Rod works out at camp, chats with Headley
Rodriguez fields grounders at third, says he needs to be patient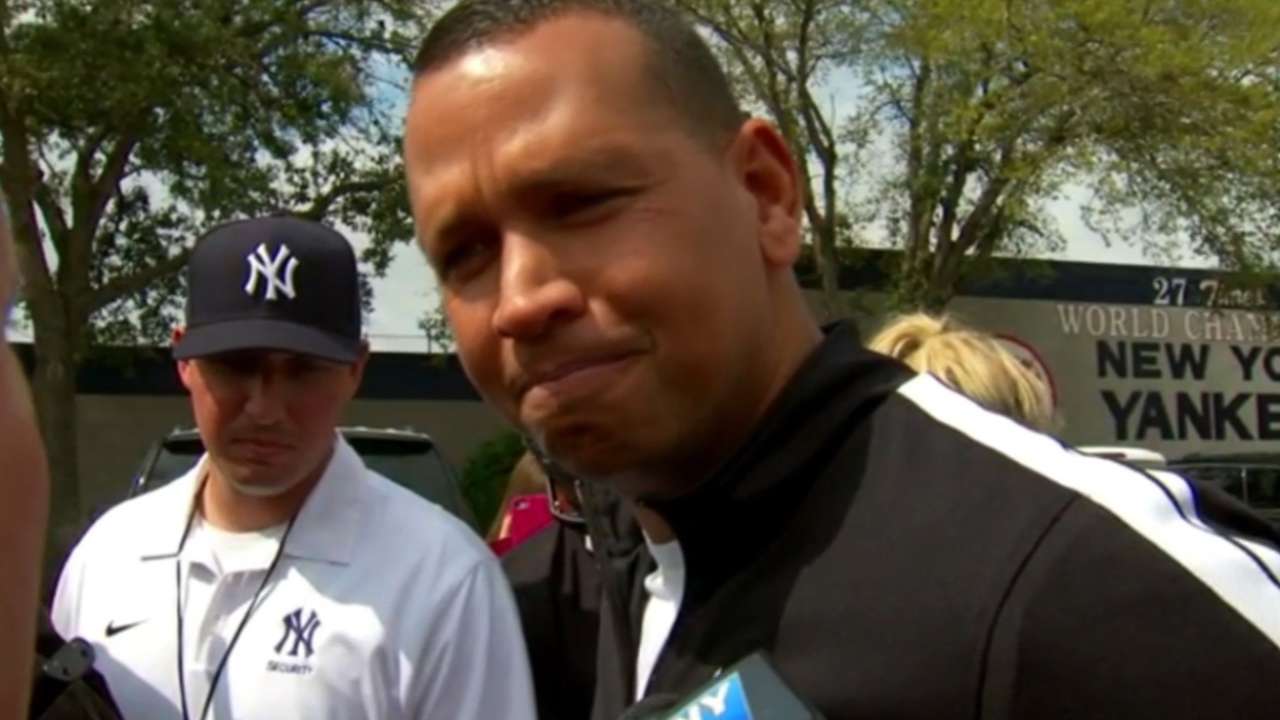 TAMPA, Fla. -- There is still enough power in Alex Rodriguez's swing to punish batting-practice fastballs, and as the slugger begins the push toward big league action, he is continuing to enjoy being back on the diamond.
Rodriguez worked out for a second consecutive afternoon at the Yankees' Minor League complex on Tuesday, slugging five home run-distance shots from the cage while taking ground balls alongside third baseman Chase Headley.
"I think it's going to be a process," Rodriguez said. "I think for me, the most important thing is to be patient. It's going to take at least three to four weeks to start getting a good read on everything, so patience is key."
Didi Gregorius and Garrett Jones were also among the teammates on the diamond at the Himes Avenue facility Tuesday, and it marked the first in-person conversation for Rodriguez and Headley following their telephone chat earlier this month.
"It was great," Rodriguez said. "Like I said yesterday, he's an excellent addition to our team. He had some questions; all four or five guys had questions. He's interested in learning, I'm interested in learning, too. Anytime we can have baseball dialogue, that's my wheelhouse."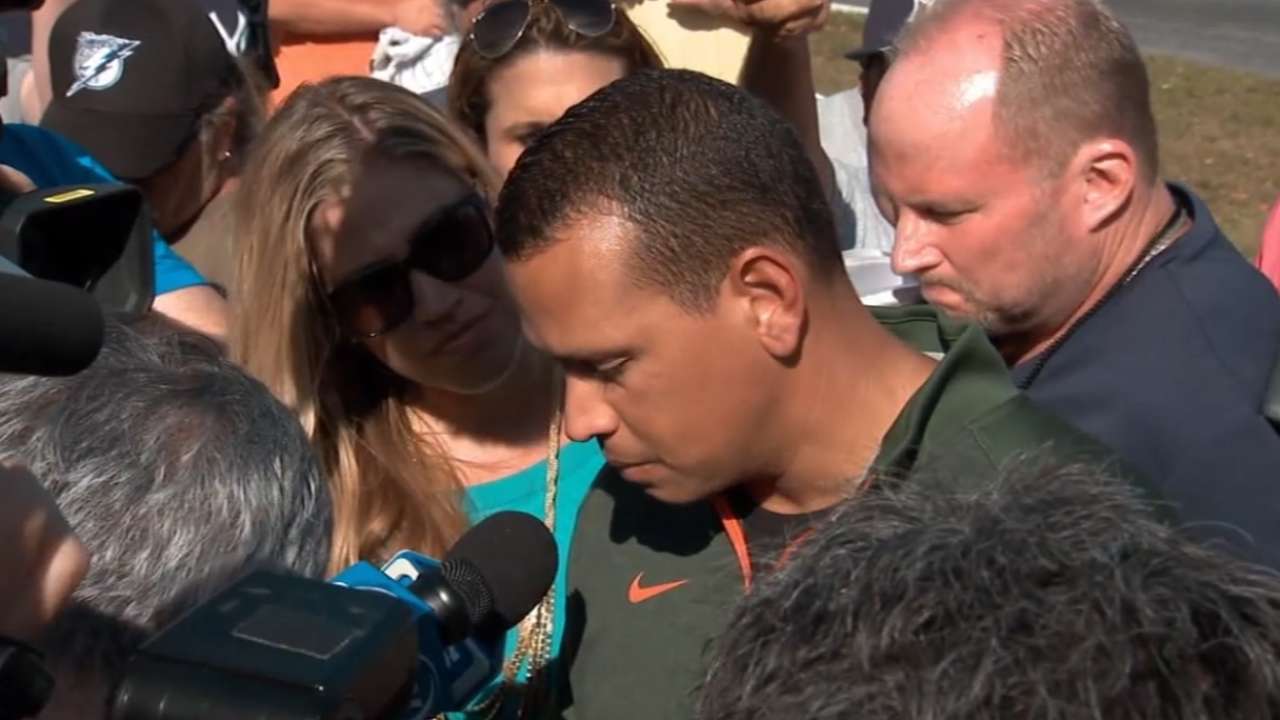 The Yankees have made it clear that they envision Headley as their starting third baseman, but Rodriguez is hoping to prove that he can still help out at the hot corner. Manager Joe Girardi also plans to speak to Rodriguez about trying first base before Grapefruit League games begin.
"I'll talk to him about taking some grounders over there, just to be prepared if I need to give a guy a day off or however we chose to do it," Girardi said. "But yeah, I'm going to talk to him about it and see how comfortable it is."
Headley said that there was little discussion with club officials about Rodriguez's return while he worked on his four-year, $52 million deal with the Yankees, and he does not feel that having Rodriguez back in the clubhouse will create an awkward situation for him.
"I haven't lost any sleep about it or worried about it," Headley said. "As a player, you experience different things in your career, and I've been around long enough that there's been different sets of circumstances that I've dealt with. This is just another one. As far as a teammate, I expect him to be great."
Wednesday marks the official report day for Yankees position players, and their first workout will be held on Thursday. Rodriguez will finish his physical at George M. Steinbrenner Field on Wednesday, having only been seen by the team's internist and orthopedist on Monday.
Rodriguez said that he looks forward to getting to know some other new faces on the team, but he dodged a question about the idea of filling a leadership void left by Derek Jeter's retirement.
"First, no one can replace the captain," Rodriguez said. "I know I'm going to miss him tremendously. I've been around a long time and I've seen a lot of things. If guys want to ask questions, I love talking baseball, and you guys know that better than anyone. I love the game and I love to talk it. Whoever needs my help, I'm available."
Rodriguez said that his goal is to be a productive right-handed hitter this season and that he should be able to help the Yankees without the assistance of performance-enhancing drugs.
"I think I'll be fine, yeah," Rodriguez said. "Only time will tell."
Bryan Hoch is a reporter for MLB.com. Follow him on Twitter @bryanhoch and read his MLBlog, Bombers Beat. This story was not subject to the approval of Major League Baseball or its clubs.