Team-first mentality theme of Marlins' Day 1
Before initial full-squad workout of spring, several players speak at annual club meeting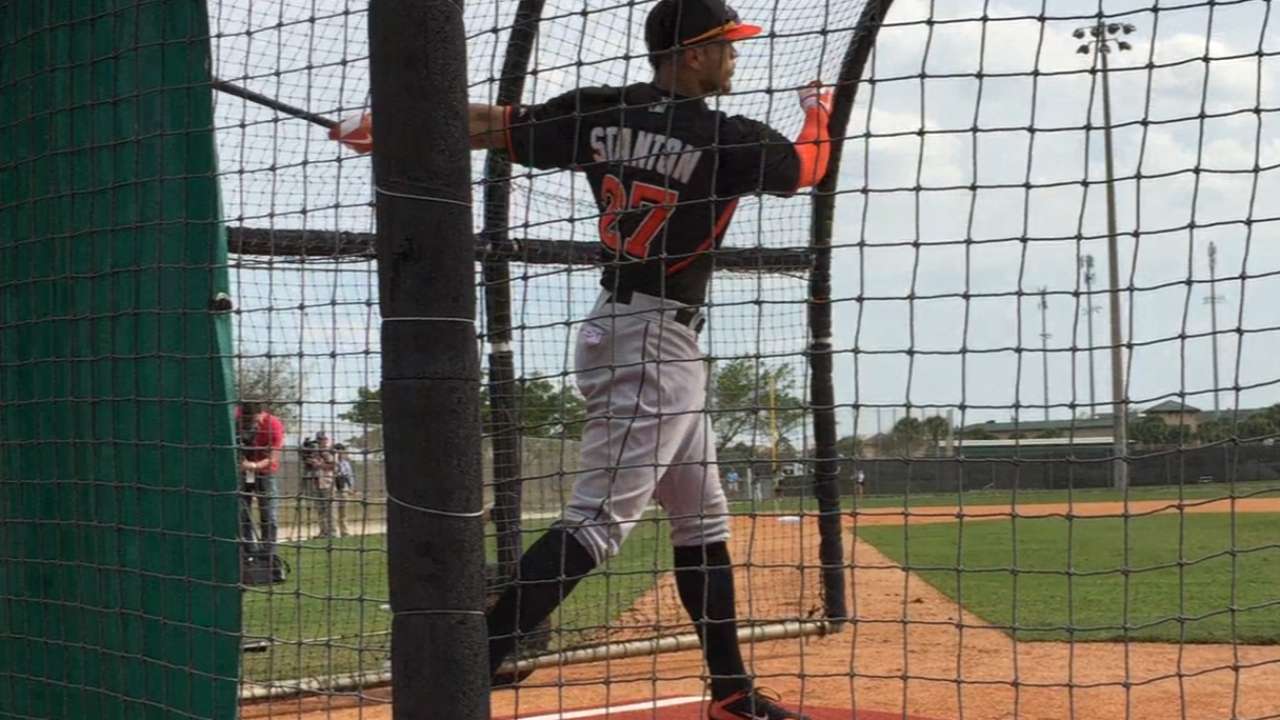 JUPITER, Fla. -- The Marlins literally wore one of their primary messages on their backs Tuesday afternoon. "Team First" is written across the backs of players' workout T-shirts.
On the front of the black shirts is "305 Club," noting Miami's area code. From the first day of full-squad workouts, the organization is stressing the importance of pulling together.
Tuesday was certainly eventful at Roger Dean Stadium, as position players joined the pitchers and catchers for a three-hour workout. It's the first time the new-look Marlins were all participating on the same day.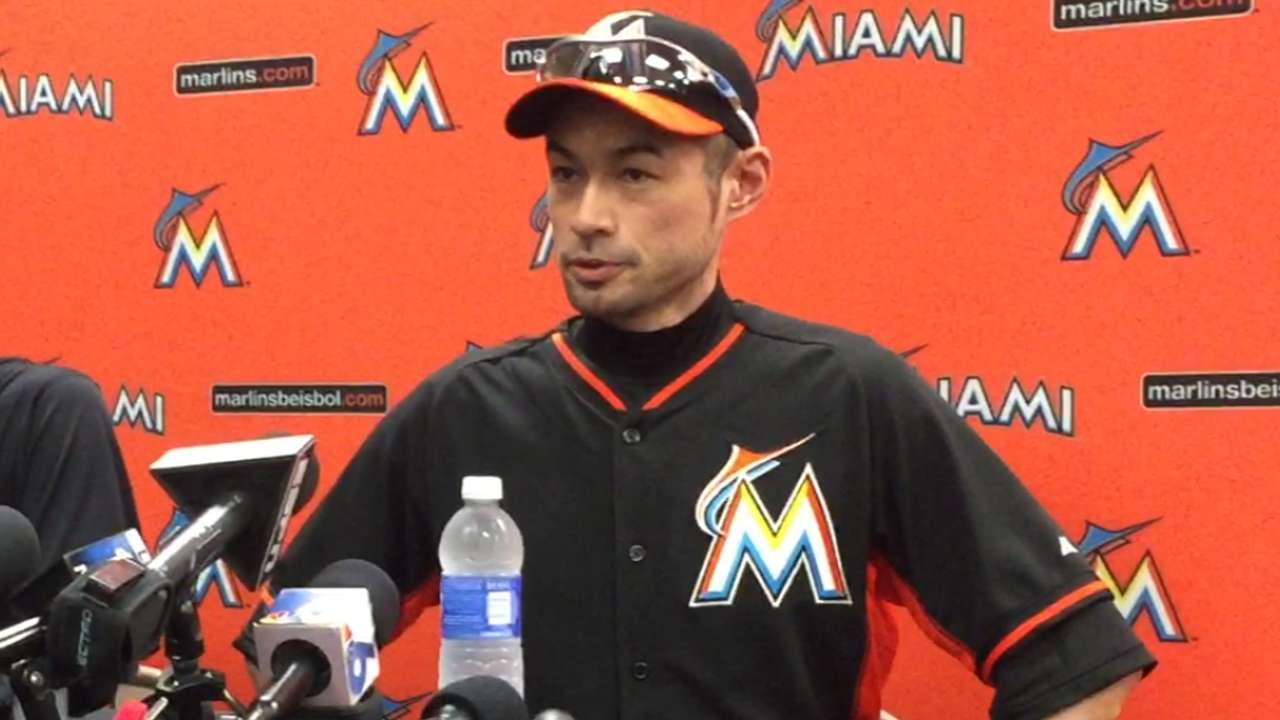 Before taking the field, there was the annual team meeting, where expectations were laid out.
"We had a lot of guys speak," manager Mike Redmond said. "It was good. We talked about a lot of different things.
"We came a long way last year, a 15-game improvement. But we are not satisfied. We know if guys do their jobs and do what they're capable of doing and not trying to do too much, we're going to be in good shape."
Miami finished 77-85 in 2014, a major jump from losing 100 in '13. Opening '15, there was plenty of energy and enthusiasm on the back fields of the complex. A welcome sight was having Giancarlo Stanton back in action. The slugger's 2014 season was cut short on Sept. 11, when he was struck in the face by a pitch. But he's healthy and ready to go.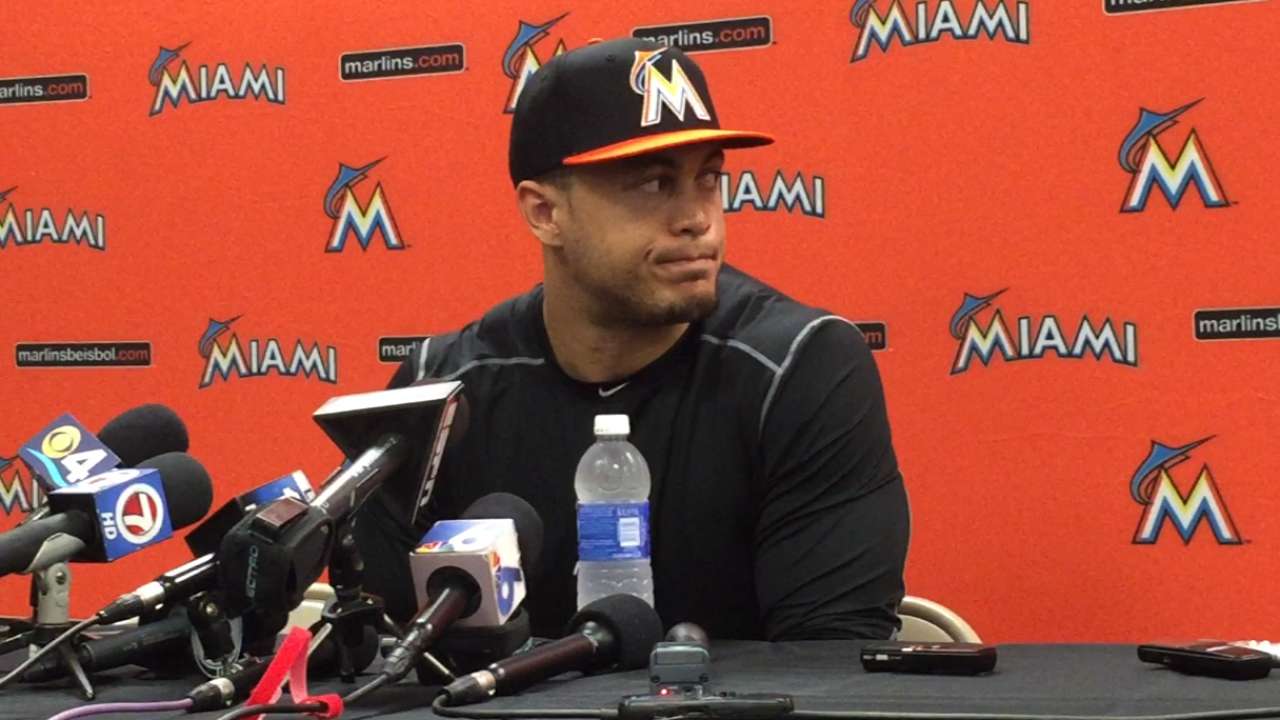 Stanton did outfield drills and then took batting practice with a group that included Ichiro Suzuki and Marcell Ozuna. Stanton launched a couple of home runs over the right-field fence, showing his immense power to all fields.
"The last time we saw him at the plate, he was getting hit in the face," Redmond said. "He's feeling great. He's confident. But it's good to watch him take some aggressive swings. It's fun to watch him take batting practice."
Position players will ease into the first couple of days.
Stanton will face live pitching for the first time on Thursday. The plan is to have live batting practice on Thursday and Friday, while simulated games that will have umpires will take place on Saturday and Sunday.
Tuesday also was a chance to see Ichiro going through drills.
"I watched him hit the first round," Redmond said. "This guy can still play. He prepares himself. He knows at this stage of the game how to prepare. It's going to be fun watching him go out there and compete."
Joe Frisaro is a reporter for MLB.com. He writes a blog, called The Fish Pond. Follow him on Twitter @JoeFrisaro. This story was not subject to the approval of Major League Baseball or its clubs.