Capuano ready to earn one of Yanks' 5 spots
Coming off rewarding Japan Series, veteran lefty aiming for rotation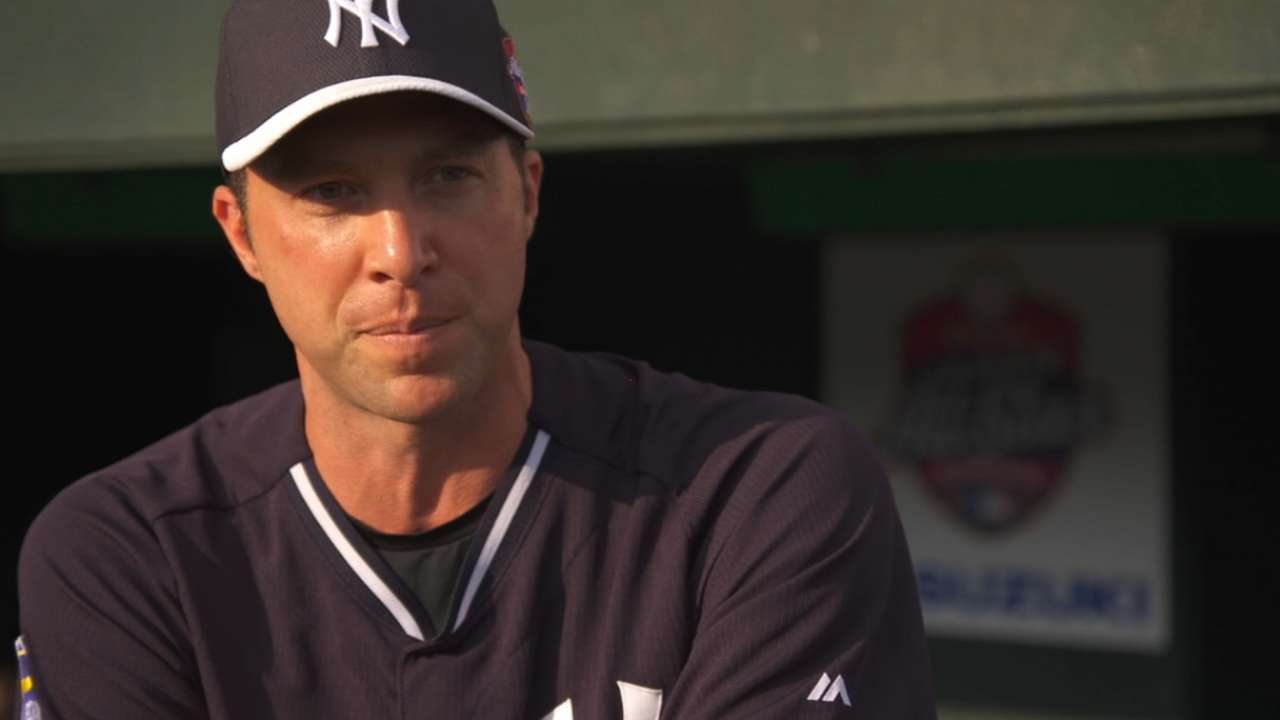 TAMPA, Fla. -- Two November weeks spent touring Japan with a team of Major League All-Stars planted a seed in Chris Capuano's mind. As he absorbed that rich culture, the veteran left-hander entertained the idea of a continental swap in his baseball future.
"The quality of baseball is great, the people I have found to be friendly. I love the food, the cities," Capuano said. "There's a lot of attractive things about it. But in the end, if you've got a good opportunity here -- especially with the New York Yankees -- that's got to come first."
Capuano agreed to a one-year, $5 million deal with the Yankees in December, returning to the organization after he went 2-3 with a 4.25 ERA in 12 second-half starts. The 36-year-old is being looked at as a strong contender to pitch in the back end of manager Joe Girardi's rotation this year.
"I think they've shown that the best five guys are going to start," Capuano said. "That's a great feeling to be able to come in and try to earn that spot and be one of those best five coming out of spring."
Capuano started last year in a relief role with the Red Sox, logging a 4.55 ERA in 28 appearances, and so that versatility is considered a plus. Capuano acknowledged that he needs to do a better job of getting left-handers out; they batted .321 (34-for-106) with a .942 OPS against him in 2014.
"Working with Larry Rothschild, I like the way he goes about it," Capuano said. "He has a great rapport with his pitchers. He has a very intelligent way of keeping things simple for us when it comes to game plans and things that we're working on. I just really enjoyed the staff and the environment."
The Yankees project to start the year with Masahiro Tanaka, Michael Pineda, CC Sabathia and Nathan Eovaldi in the rotation, with Ivan Nova due to return from Tommy John surgery in May or June. Capuano said that he is not concerned about the possibility of being the odd man out later in the year.
"I've never really worried about that too much," Capuano said. "For me, my focus is really on my day to day and getting myself ready to pitch, ready for a Major League season. I feel like if I'm doing the job and having success and helping the team out, then the opportunities will be there."
Bryan Hoch is a reporter for MLB.com. Follow him on Twitter @bryanhoch and read his MLBlog, Bombers Beat. This story was not subject to the approval of Major League Baseball or its clubs.