Rangers add lefty Olmos to bullpen mix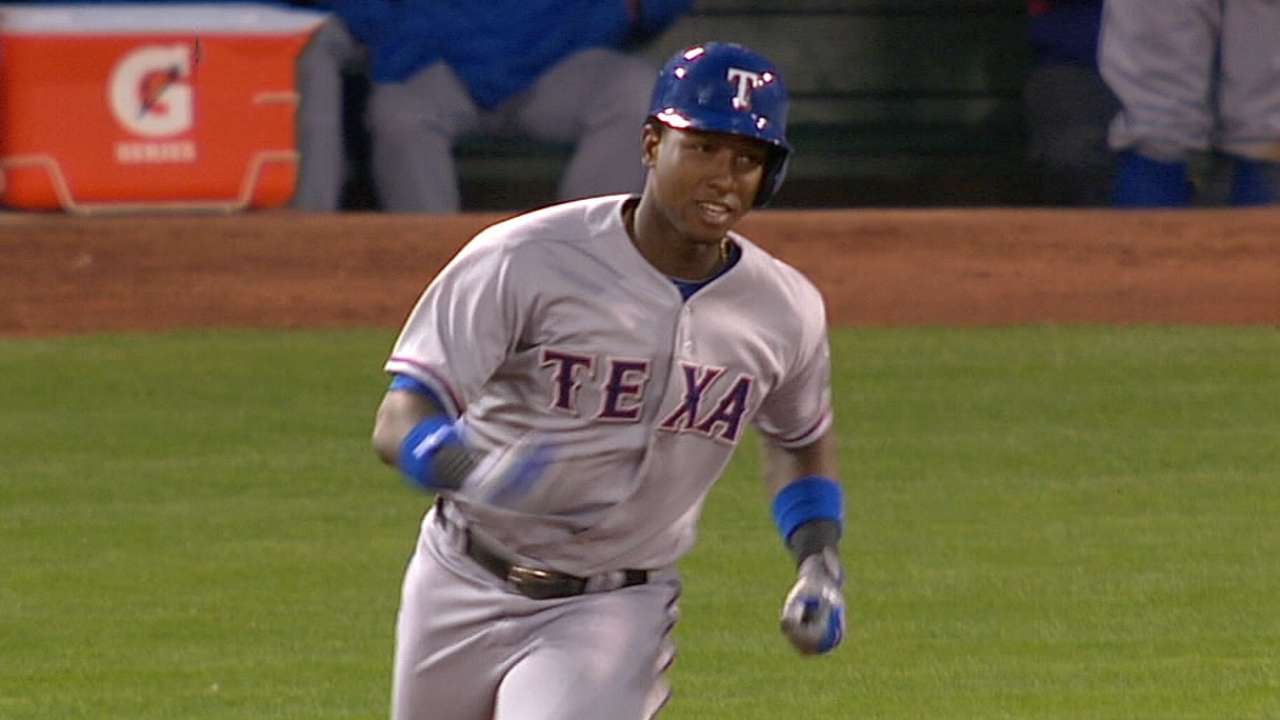 SURPRISE, Ariz. -- The Rangers have claimed left-handed reliever Edgar Olmos on waivers from the Mariners. To make room on the 40-man roster, the Rangers placed Jurickson Profar on the 60-day disabled list.
Olmos is a hard-throwing left-hander who has had trouble with his command. But the Rangers will take a look and see if he could fit into their bullpen. If not, he still has an option left and can be sent to the Minors.
"He had a good year in Triple-A last year," Rangers general manager Jon Daniels said. "We'll bring him in, let our pitching coaches work with him and see what we've got."
Olmos, 24, was a third-round pick by the Marlins in 2008 and spent last season at Double-A Jacksonville and Triple-A New Orleans. Combined he made 51 relief appearances and was 3-3 with a 4.06 ERA. In his Minor League career, he has struck out 7.6 batters per nine innings and walked 4.9.
"His fastball really rides and gets in on hitters pretty good," Rangers scouting director Josh Boyd said. "Harnessing his command is something we hope to get over the hump. Stuff-wise, the ability to have that kind of velocity is something we want to take a look at."
The Mariners claimed him off waivers this winter and designated him for assignment last week.
Andrus, Odor feel for Profar: The Rangers put Profar on the 60-day DL Tuesday as they expect him to miss a second straight season because of his shoulder problems.
Profar's injury last year opened the way for Rougned Odor to be their starting second baseman. But Odor still isn't happy about what Profar is going through.
"I feel really bad for him," Odor said. "Nobody wants that for a teammate. He's my friend. I have known him for a lot of years and we played together in the Minor Leagues. He is my friend, I don't feel good about it."
Profar was hoping to be with the Rangers this spring, build back his arm strength and be ready to start the season at least in Triple-A. But he had another setback in his rehab program and needed surgery on Monday to repair a torn labrum.
"For sure it's tough, especially when he worked so hard the past year and the off-season," shortstop Elvis Andrus said. "You could see it in his eyes, he wanted to be back on the field with us. He was doing everything. He looked fantastic, feeling good."
Worth noting: Pitcher Michael Kirkman, sidelined with an impingement in the back of his left shoulder, did some simulated "towel" throwing on Tuesday without any issues. He is expecting to play catch on Wednesday. Besides Matt Harrison and Martin Perez, who are coming back from surgery, Kirkman is the only pitcher in camp who has had a physical setback.
• Besides Kirkman, all other pitchers have had two bullpen sessions. Live batting practice begins on Wednesday with Yu Darvish, Colby Lewis, Yovani Gallardo and Derek Holland among those scheduled to pitch.
• Third baseman Adrian Beltre on the Rangers amending his contract so he doesn't have to be concerned about a vesting option for 2016: "It was a nice gesture by JD [general manager Jon Daniels] and the front office. It's not going to change a lot. I'll still go about it the same way. It's just nice to get it out of the way."
• The Rangers held a tryout camp on Tuesday for Minor League free agents and former professional players trying to get back into the game. About 45 hopefuls showed up on Tuesday, including former Rangers outfielder Brandon Boggs. The Rangers held one last year and signed pitcher Scott Richmond for Triple-A.
• Pitching coach Mike Maddux is intrigued by reliever Juan Carlos Oviedo, the former Marlins closer who had Tommy John surgery three years ago. After watching Oviedo on Tuesday, Maddux said, "He made good pitches with his off-speed stuff and then came on with his fastball."
T.R. Sullivan is a reporter for MLB.com. Read his blog, Postcards from Elysian Fields, and follow him on Twitter @Sullivan_Ranger. This story was not subject to the approval of Major League Baseball or its clubs.