Cardinals bring in J. Molina as guest instructor
Yadi assisted in inviting brother, who has yet to decide to retire despite facing major knee surgery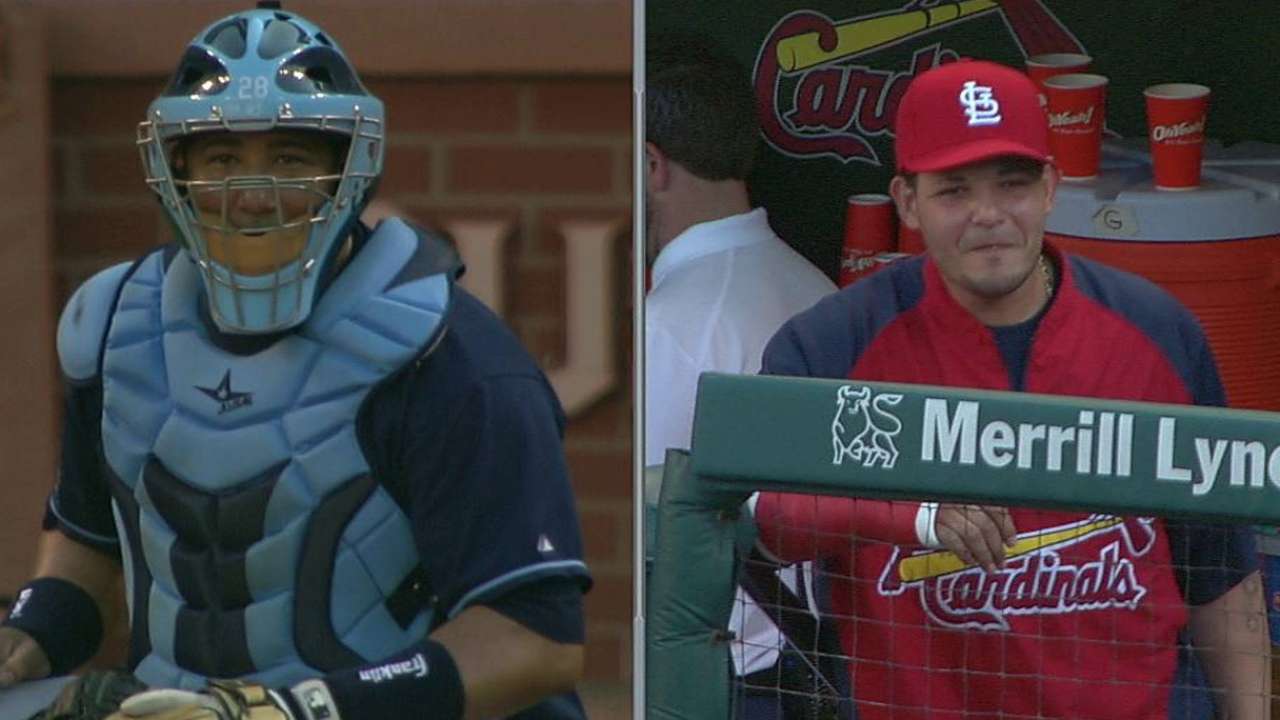 JUPITER, Fla. -- Veteran catcher Jose Molina isn't quite ready to concede that his 15-year Major League career is over, even as he faces upcoming left knee surgery that will require 10-12 months of rehab. But whenever it is that the middle brother of the three Major League Molinas is done getting behind the plate, he may have a second career waiting.
With Yadier Molina helping to facilitate, the Cardinals invited Jose Molina to Spring Training as a guest instructor. Jose Molina jumped at the chance to spend time with his younger brother and to "be around the great organization that the Cardinals are." The Cardinals see the opportunity as one that could lead to a permanent future role, as they have been seeking to fill a roving catching instructor position ever since Mike Matheny vacated it to become manager.
"I hope we can end up with something," general manager John Mozeliak said. "He's a very impressive guy. Talking to him this morning, I think he could bring a lot that could help us. ... I got to know [2013 Cardinals assistant hitting coach] Bengie [Molina] very well. I know Yadi. My expectations [for Jose Molina] were high, and I'm sure he'll meet them, if not exceed them."
Jose Molina said he intends to stick around for a few weeks, until he has to start preparing for knee surgery, tentatively scheduled for late March.
"Right now, I'm just helping in whatever way I can," Jose Molina said. "Yadi, every day we talk. [He said], 'This is what you've done for so many years. I don't want you to be at home and feel depressed. I want you to feel happy.' And then the chance came, and here I am."
Though they played against each other as recently as 2014, when Jose Molina was with the Rays, Yadier and Jose Molina have never before worn the same professional uniform.
"He's been around for many teams, and he has had many guys who taught him how to play this game," Yadier Molina said. "I know he's my brother, but he knows about baseball. Bengie knew about baseball. They played for many years in the big leagues. They know how to teach. They know how to talk to a young guy. That's why he's here -- to try and help the young guys and the veteran guys."
Jose Molina, 39, has caught for five different Major League teams since debuting with the Cubs in 1999. He said that he hasn't yet thought too much about a coaching career because he still hasn't officially decided to retire from playing. That determination will come after he rehabs his knee.
"What we try to do is bring in special instructors who try to bring something unique to us," Matheny said. "His style is a little different than Yadi's, a little different than mine. He's just a great resource for young kids. I think it's a great addition all the way around."
Jenifer Langosch is a reporter for MLB.com. Read her blog, By Gosh, It's Langosch, and follow her on Twitter @LangoschMLB. This story was not subject to the approval of Major League Baseball or its clubs.