MLB.com Columnist
Lyle Spencer
Beltre big reason Rangers have hope for turnaround
Four-time Gold Glove 3B has been model of consistency since joining team in 2011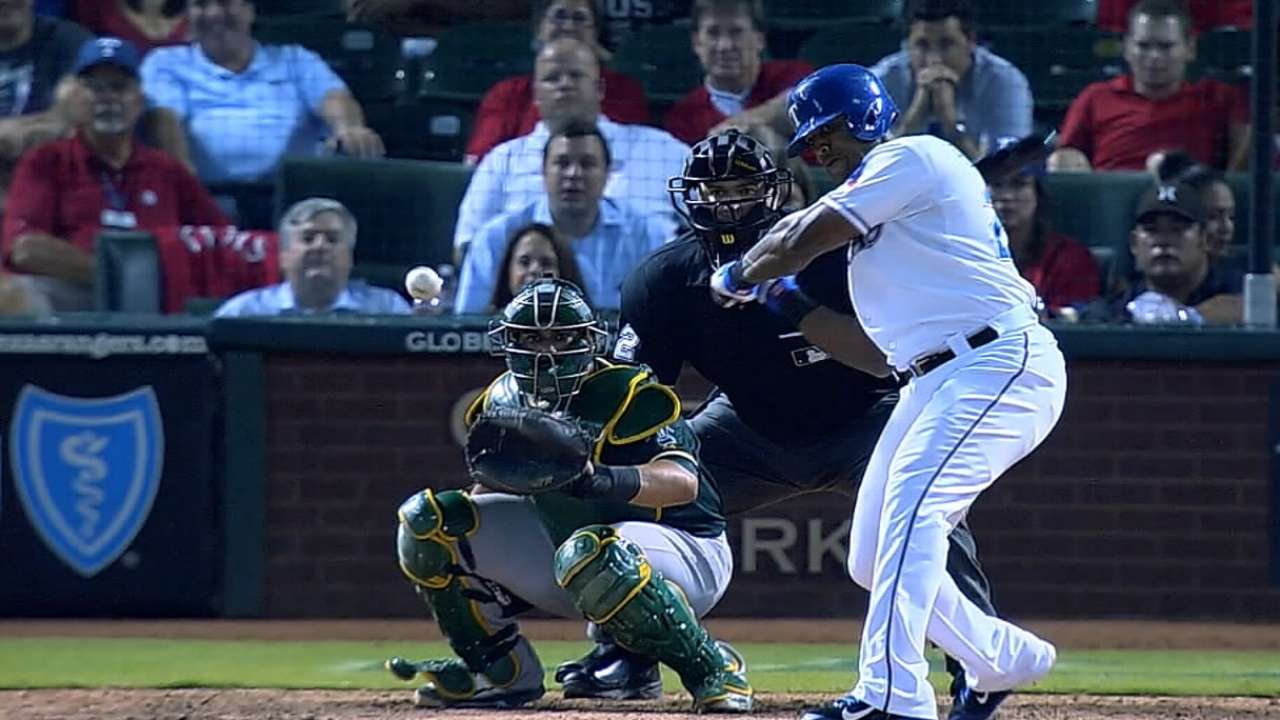 SURPRISE, Ariz. -- Feeling like a king, "100 percent" in his recovery from neck surgery nine months ago, Prince Fielder grabbed a bat early Tuesday for a morning workout, pausing to spend a few minutes in praise of Rangers teammate Adrian Beltre.
"I know he doesn't like to talk about it," Fielder said, "but Adrian's a Hall of Famer to me, no doubt. He's a great teammate, great leader, great player. Playing against him, I always admired everything about him. Playing with him every day, I see a guy who plays with max effort, but is under control at all times. Whether he feels good or he's hurt, you can't tell the difference. He doesn't ever show weakness."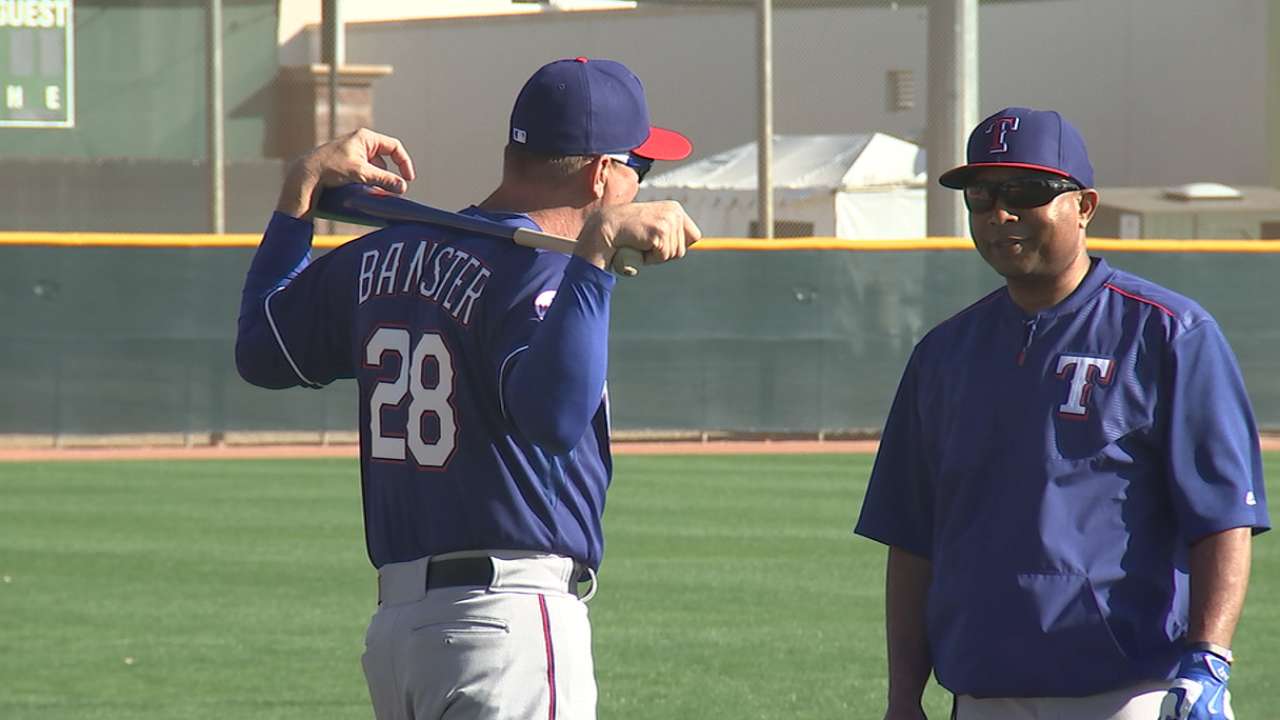 He has his superstitions, but no weaknesses. In terms of WAR (wins above replacement), Beltre ranks behind only Alex Rodriguez and Albert Pujols among active players. Beltre's 77.8 career WAR surpasses Hall of Famers Robin Yount, Ozzie Smith, Paul Molitor, Johnny Bench, Reggie Jackson and Frank Thomas, according to Baseball-Reference.com. With an ordinary 2015 season, Beltre will pass Joe DiMaggio, Brooks Robinson and Pete Rose.
"He's won, what, 38 Gold Gloves?" Fielder said, grinning. "He even won a Platinum Glove. I'm like, what's that? It's for the best defensive player at any position. That's Adrian."
Beltre actually owns four Gold Gloves, along with the first two of the four American League Platinum Gloves awarded since they were introduced in 2011.
Scott Rolen was the popular Gold Glove Award choice at third in the National League in Beltre's early years with the Dodgers. Eric Chavez of the A's won six in a row before Beltre claimed his first AL Gold Glove in 2007 for the Mariners. For five seasons in Seattle, with teams that were a combined 48 games below .500, he lost a truckload of home runs at Safeco Field and fell off the national map.
One dynamite season in Boston in 2010 followed by arguably the best free-agent signing of the era by the Rangers alerted fans and insiders that this is one of the best ever to play his position.
Keeping Beltre away from the Angels in the AL West was a critical factor in the Rangers' 96-, 93- and 91-win seasons from 2011-13. A wave of injuries crushed the 2014 club, which finished 67-95 and introduced a new manager, Jeff Banister, to replace Ron Washington.
"To be able to walk into the clubhouse for the first time as a big league manager and see a guy like Adrian Beltre, the kind of leader he is, it's a great feeling," Banister said. "He's everything you could want a baseball player to be."
Frequently the Lone Ranger in 2014, Beltre batted .324 with 33 doubles, 19 homers and 77 RBIs, playing his customary brilliant defense. In four seasons in Texas he has hit .315 with a .893 OPS, averaging 29 homers and 94 RBIs. He's five homers shy of 400.
Clutch? In the fateful 2011 postseason, the Rangers falling one out shy of a World Series championship in St. Louis, Beltre had five homers, 14 runs scored and nine RBIs in 17 games.
Management thinks so highly of Beltre it waived the 586 plate appearances he needed this season contractually to trigger his option for 2016, the sixth and final year of a $96 million deal.
"It was really a no-brainer for us," general manager Jon Daniels said. "He is one of the best players in the game, a team leader and a future Hall of Famer. We didn't want it to be a story this season."
In a characteristically upbeat mood, Beltre deflected questions about his place in the game to discuss what's important to him: restoring the glow to the Texas franchise.
"It was difficult for everybody last year," he said. "We couldn't keep guys on the field; it was that kind of year for us. We all know what Prince can do. We missed that last year. It means a lot to everybody, having a guy like that in the lineup.
"This year we have a different mindset. Our team is good enough to win the West. It's open. The Angels are good, and Seattle got better [adding former Rangers slugger Nelson Cruz]. Oakland is always going to be in the mix. But we can do it."
Beltre, who will turn 36 in April, will do everything in his power to encourage and lift younger teammates.
"I try to do what I can to keep it together," Beltre said. "I lead by example. We have a lot of guys in here who can lead."
Former Brewers ace Yovani Gallardo has joined Yu Darvish, Derek Holland, Colby Lewis and Ross Detwiler in a veteran rotation. Neftali Feliz is back in the closer role.
"Everybody in the game respects Adrian for everything he's done, how he handles himself," Gallardo said. "He's had a great career. It's good to be on his side."
Just one request from Beltre: kindly resist mentioning the Hall of Fame.
"The media keeps asking about it, but I don't want to think about that," Beltre said. "One of these days I'll sit down and see what I've done."
Lyle Spencer has been a reporter for MLB.com since 2005, covering the Padres and Angels. He has covered Major League Baseball as a reporter and columnist since 1971.
This story was not subject to the approval of Major League Baseball or its clubs.