MLB.com Columnist
Mike Bauman
Donaldson already proving great fit with Blue Jays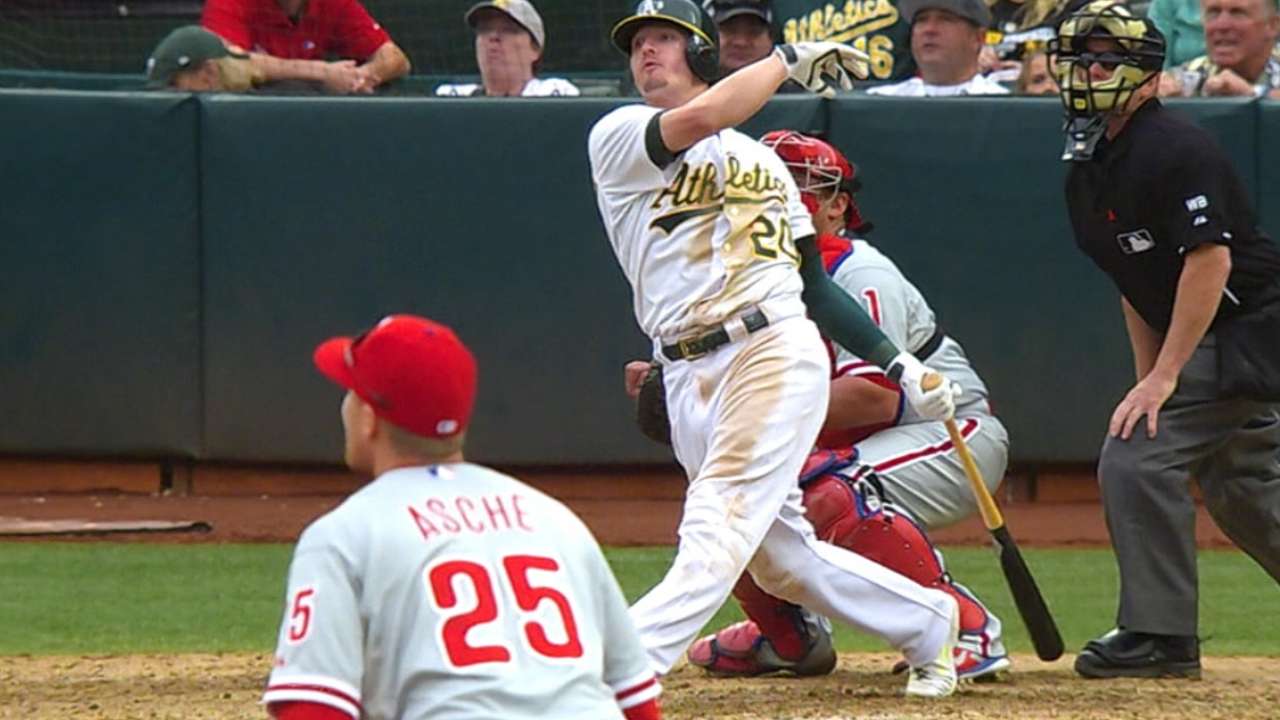 DUNEDIN, Fla. -- The Toronto Blue Jays are extremely happy to have Josh Donaldson in their lineup. Donaldson, for his part, is also very happy to be with the Blue Jays.
On the topic of Donaldson being with Toronto, what we have is a virtual festival of happiness at Florida Auto Exchange Stadium. With the significant additions of catcher Russell Martin and Donaldson at third base, the Jays have significantly raised their profile and increased their chances in the American League East. This has become Spring Training with glee attached.
Putting Donaldson in the middle of a lineup that already had considerable pop is a situation that creates the kind of anticipatory buzz that characterizes the best part of Spring Training.
And with Donaldson, better still, the Blue Jays are getting the total package -- run producer, defender, leader of men.
"We're really excited,"manager John Gibbons said Tuesday about putting Donaldson in the lineup. "He's one of the better hitters in baseball now. It makes us that much better.
"Donaldson is a complete player. It's hard to find a better third baseman than Brett Lawrie, but Donaldson is right up there. We shouldn't miss a beat. You look at what he's done the past couple of years, he's anchored a lineup that's put them [the Oakland A's] in the playoffs every year. That tells you something right there.
"He's a go-getter and a high-energy guy, too. I talked to [Oakland manager] Bob Melvin at the Winter Meetings and he loved him. He said [Donaldson] comes to play, and he's a very intense guy. You love when guys bring energy. You're playing every day. You want guys with some spunk."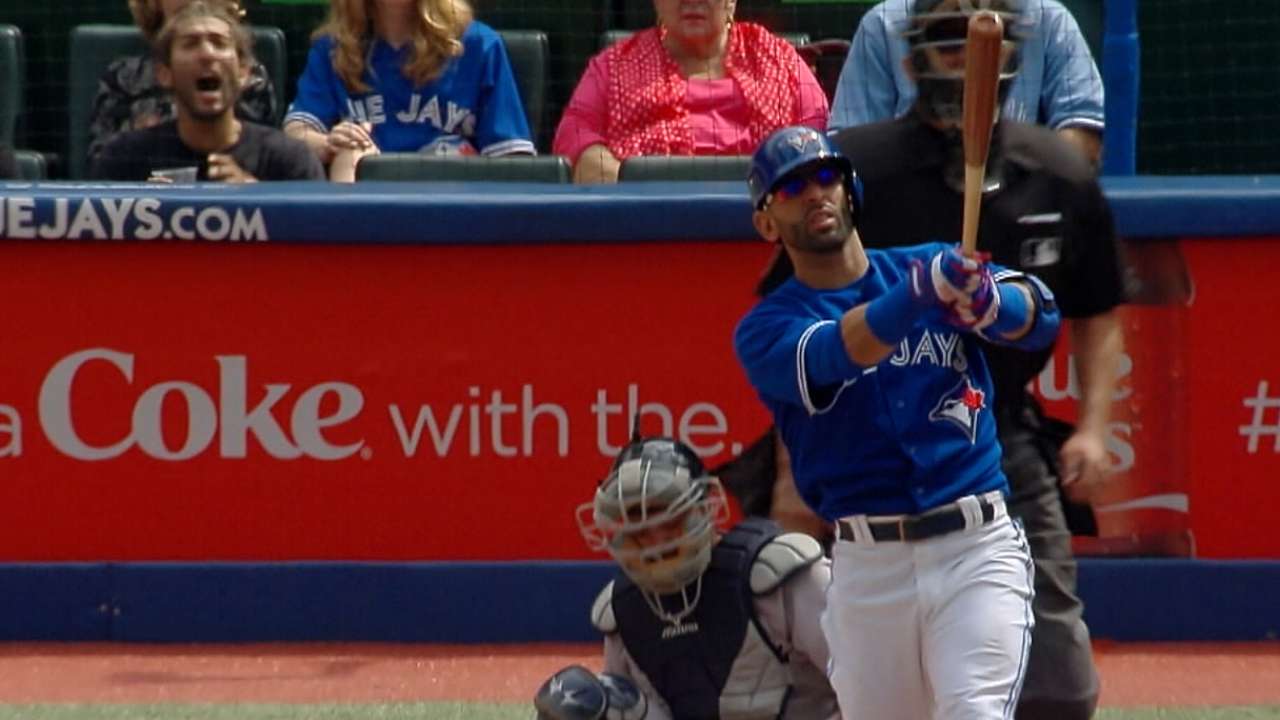 Donaldson's status within the game is lofty. He ranked second in the AL among position players in Wins Above Replacement in both of the last two seasons (8.0 and 7.4), according to baseball-reference.com.
In fact, acquiring Donaldson, who is under club control for another four seasons, through a trade, seems to be the equivalent of a minor miracle. In this case, it was also a tribute to the persistence and creativity of Alex Anthopoulos, Blue Jays senior vice president of baseball operations and general manager.
"I have a pretty good relationship with [A's GM] Billy Beane," Anthopoulos said. "We've done a bunch of small deals. The one thing about Billy, he's always open-minded and you can never offend him; you can ask about anybody at any time to make a deal.
"[Donaldson] is somebody we asked about right at the end of the season. We were adamantly told, 'He's not going to be moved.' Then we asked about him a little later. [Beane] was still adamant that [Donaldson] was not going to be moved. Then I guess, about a week before we did the deal, we asked about him again in a conversation, he again said he wouldn't move him, but it seemed in passing that one of the issues was they wanted to win this year. They might retool, but they weren't going to tear it down.
"[Beane] wasn't going to leave a hole at third base. I'm the one who introduced Lawrie at that point. We weren't going to trade Lawrie, but I wasn't getting anywhere with trying to get Donaldson. Once I introduced Lawrie to fill that hole for him, he seemed a little bit more open-minded and we took it from there. That was the only way I think things could get off the ground, because [Beane] still had every intention to win."
For the price of Lawrie and three other players, the Blue Jays gained an all-around plus in Donaldson. Donaldson, a big contributor on a team that had reached the postseason in three straight years, initially had a bit of a shock.
"It probably took at least two weeks to get over the shock of being traded, because I really wasn't expecting it," Donaldson said. "But after thinking about it for a while, I really felt this is going to be beneficial to me and my career."
One thing Donaldson liked was hitting in Rogers Centre for home games as opposed to Oakland's O.co Coliseum. The ball jumps off the bat at Rogers Centre, Donaldson said.
On the other hand, at the Coliseum, "It's cold at nights. The wind's blowing. We used to joke about it; there's an invisible wall out there because balls just go to the outfield and die."
Last year, Donaldson said, he and the other Athletics viewed the Blue Jays as a team that could reach the postseason until a quad injury sidelined slugger Edwin Encarnacion. Now that Donaldson is with the Jays, he is even more convinced that this should be a postseason club.
If the Blue Jays have this figured out correctly, they're going to get a top-notch run producer, a fine defensive third baseman and a nifty set of intangible qualities all from one individual.
"I play with a lot of energy," Donaldson said. "I'm not going to be this hoo-rah kind of guy, that's not who I am. But what I am going to do is bring a lot of energy, and guys are going to see that I'm very professional about how I go about my business. I'm here for the next guy, I'm not just here for myself."
You could have a good day, Donaldson suggested, if you went 0-for-4, but you sincerely helped a teammate. That is how winners think. The Toronto Blue Jays have helped themselves dramatically with the acquisition of this fellow.
Mike Bauman is a national columnist for MLB.com. This story was not subject to the approval of Major League Baseball or its clubs.