Farrell adds Bradley to center-field mix
Despite woes at plate, 24-year-old shined with glove last season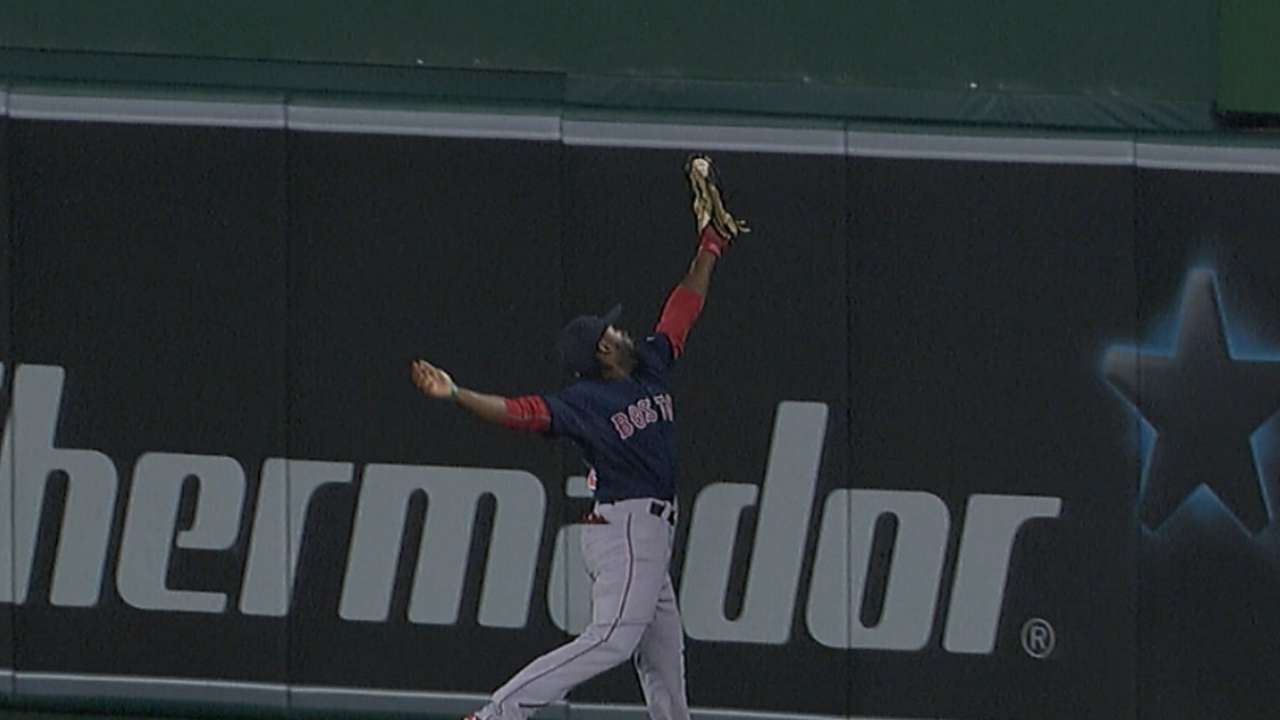 FORT MYERS, Fla. -- For all the talk about all the outfield candidates for the Red Sox, hardly anything has been said about Jackie Bradley Jr., the club's primary center fielder last season. Manager John Farrell changed that on Tuesday when he threw Bradley's name into the ring along with Mookie Betts and Rusney Castillo as the contenders to be the starting center fielder.
Of that group, Bradley is the best defender.
"There are three prime candidates in that spot," Farrell said. "If you're pinning those two [corner outfield] positions on Hanley [Ramirez] and [Shane Victorino], what's left over? That's where Mookie, Rusney and Jackie come into play. There are individual strengths that vary to each person, each player. That's what it begins to center around. And the durability and the dependability of the guys on the flanks will have some effect to the overall decision in the outfield."
Bradley's offense was anemic in 2014, as he hit .198 with one homer and 30 RBIs in 384 at-bats.
"He's working to establish himself more as an offensive player," said Farrell. "In my mind, he's the best center fielder in baseball and I'm not afraid of saying that. He's an extremely talented guy. There have been some offensive challenges, but don't deny what he can do, and he can play center field as good as anybody."
Farrell has seen some subtle changes in Bradley's swing, even in the early stages of camp.
"The BP that has been going on, it's a more compact swing," Farrell said. "He's not looking to pull the ball or try and lift the ball as I might have seen last year. Jackie might disagree with that, but I saw a guy who looked to hit the ball in the air a little bit more. He's back in the middle of the field, more of a line-drive approach. More to maybe a swing that's natural to him."
Ian Browne is a reporter for MLB.com. Read his blog, Brownie Points, and follow him on Twitter @IanMBrowne. This story was not subject to the approval of Major League Baseball or its clubs.