Face of MLB: Doolittle narrowly defeated by Bay rival Posey
A's closer floored by fans' support, creativity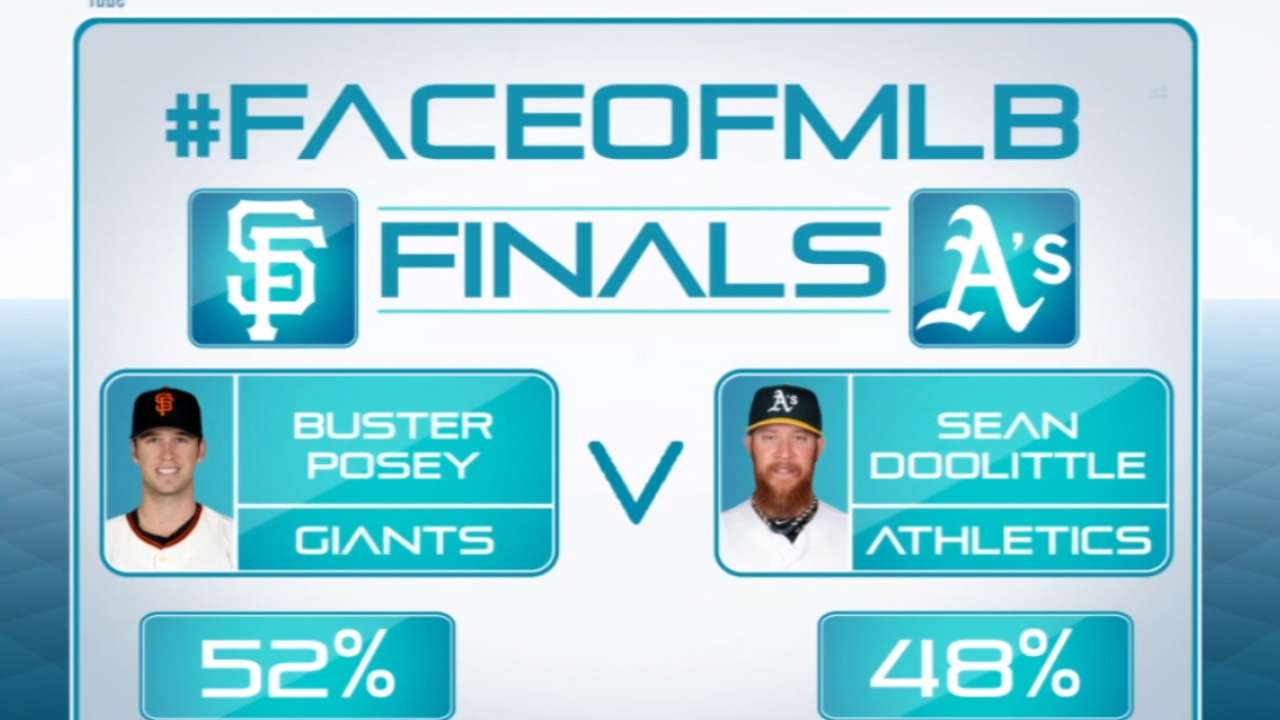 MESA, Ariz. -- The Face of MLB contest will continue on without Oakland's Sean Doolittle, who was narrowly edged by Bay rival Buster Posey -- and a bribe-heavy Giants campaign -- in the semifinals.
"Pretty good run," the bearded A's closer said Tuesday.
A's fans rallied for Doolittle through the wee hours of the morning, exposing unrivaled creativity. But the Giants prevailed in numbers, taking advantage of their explosive Twitter following. More than 750,000 people follow the club's account -- the A's have roughly 236,000 followers -- and the Giants even threw this tweet their way at one point: "Once this gets 2,800 RETWEETS, 1 fan wins 2 RT tix from @VirginAmerica."
Doolittle was unaware of this until Tuesday morning but could only smile.
"I'll take that as a sign of respect I guess. They had to pull out their big guns," he said playfully, pausing for a few seconds, before adding, "That's borderline desperation. But good for them."
Though his run is over, Doolittle remains floored by the fans' support and wild imagination they used to show it, inserting his face onto pop-culture icons and into movie scenes, including some of his favorites: "Star Wars," "Lord of the Rings" and "Top Gun."
"They were playing right into my strengths," said Doolittle, who beat Jose Altuve, Yadier Molina and Felix Hernandez to get to the semifinals. "I saved a lot of the pictures and favorited as many as I could so I can use them at some point.
"It was awesome. It's the same energy that they bring to the field. They have the signs that they make and the flags that they wave. There's the trumpets and horns and drums in the stands. Nowhere else in baseball are you getting that atmosphere, and it's that same energy they brought to this. It was fun watching them bring it, just like they do at the ballpark."
Jane Lee is a reporter for MLB.com. This story was not subject to the approval of Major League Baseball or its clubs.